Pressure increases on pointless Villa
Villa 0, Manchester City 1: can't fault the effort; shame about the quality. Villa weren't embarrassed by City Monday and were technically still in the game until the final whistle, but never seriously threatened Joe Hart's goal and finished with a whimper rather than a roar.

-- Tevez capitalises on Clark's mistake

To take any measure of encouragement from not being heavily beaten by the Premier League champions is scant consolation - 1-0 home defeats in March will do nothing to halt a slide towards relegation. Villa are running out of games to get out of this mess.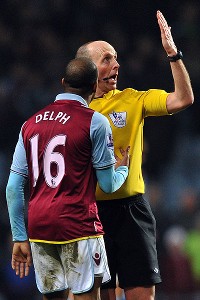 Paul Ellis/Getty ImagesThe yellow card that will keep Villa's Fabian Delph out the next two games ended a busy night for referee Mike Dean.
This was a Villa performance that couldn't be faulted for spirit, but, not for the first time this season, a degree of class was missing. Once City went ahead, on the stroke of half-time, the result was more or less confirmed.

Paul Lambert's team started well enough, spurred on by the ever-improving Fabian Delph. City looked jittery and sluggish, out of sorts. Christian Benteke headed a chance over the bar early on, before going closer on 20 minutes. Another corner, another header, and Carlos Tevez cleared off the line. It proved to be Villa's most dangerous moment.

The game shifted in City's favour five minutes later, though the unfortunate Jack Rodwell may not hold the same opinion. Rodwell's debut season at City has been punctuated with injury, and he was forced off with a hamstring problem. Tough break for the midfielder, who was probably City's best player in the opening period.

Nevertheless, his substitution brought Edin Dzeko into the game and broke up Roberto Mancini's cautious starting line-up. Plan B suited City better. With two strikers, the visitors looked more fluent and certainly more incisive, and they gradually assumed control.

Pablo Zabaleta hit the post on 36 minutes -- though Villa keeper Brad Guzan managed a crucial touch on the ball -- but City weren't denied for long. In first-half injury time, Ciaran Clark attempted his version of a Cruyff turn (at least it looked that way), predictably made a mess of it, and Tevez scored. Given the season Villa are experiencing, with defensive errors almost every week, Clark should have prioritized safety first. Poor decision-making is a recurring theme.

The game was up at half-time. The Villa Park crowd sensed it, the players felt it. So the second half was a slow march to defeat. City almost scored another couple of goals (Dzeko had one disallowed for offside), Villa nearly pulled off a passable impression of a team trying to equalise.

Right at the end, seconds before the final whistle, Delph was booked. The yellow card means the midfielder, one of Villa's more capable players in the past month, will sit out the next two matches - huge encounters against Reading and QPR. A sour end to a stale night.

'Play like that and we'll win more matches than we'll lose,' was the gist of Lambert's immediate post-match comments. While it's not hard to see where the Villa manager is coming from, it's a concern that the same faults remain: a lack of true creativity, a failure to respond to falling behind in games, an incurable phobia of keeping clean sheets.

There is little evidence of improvement, and certainly no sign of the momentum needed to push away from trouble. Lambert's Villa don't carry themselves like a team up for a relegation battle, and the question of how these players will mentally cope with the next two tension-riddled scraps could decide the club's Premier League future.