The importance of keeping Weimann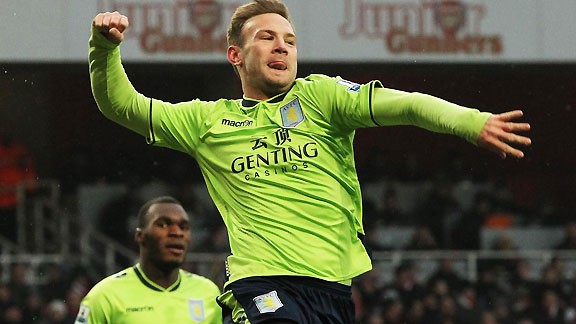 PA PhotosAndreas Weimann has scored ten goals this season
Thank the stars for Twitter, and thank the stars, particularly, for the message Andreas Weimann sent out to his near-30,000 followers earlier this week. "The reports in the papers about rejecting the contract are not true!" Weimann said (or typed). "I've always been happy here and talks are still ongoing!!"

- Weimann: I haven't turned down deal

A well-timed intervention from the Villa striker, reacting to national newspaper speculation that very morning that he had rejected a new contract offer and was prepared to enter the final year, 2014, of his current agreement. Nevertheless, a nagging sense of unease will persist among Villa fans; unease that won't dissipate until the 21-year-old agrees a new contract and extends his time at the club. There is recent, painful, experience of Villa players publicly making the right noises about new deals and plans - and then sloping off for something bigger and better.

This is a club that has struggled, and failed, to retain its brightest talent. And while Weimann is a long stretch from being as established and influential to Villa in the way that Gareth Barry, James Milner, Ashley Young and Stewart Downing - and further back, Gareth Southgate, Ugo Ehiogu and Mark Bosnich, all of whom left when still in their prime - were, should he choose to leave, it would be a bitter blow to the club.

Bitter because it would surely undermine everything Villa are trying to build and achieve. The strategy has been redrafted at Villa in recent seasons: a shift from spending significant transfer fees and wages on players who may only command a marginal resale value, to younger, hungrier, and cheaper players. A focus on youth development, and investment in potential. But all the good work - actually, the fine work - from the Academy upwards would feel rather futile if Weimann skips town for relative pennies.

Developing young players, all the way through from Academy level and into the Premier League, is actually not a cheap option: not when investment over a period of years is taken into consideration. Come the end of it all, the ideal is to have a fantastically loyal player who feels comfortable at the club, supported by fans who have kept track of his progress through the ranks, and ready to perform at the highest level. In short, a top-class footballer who loves the club, feels an integral part of it.

The strength of Villa's Academy is evidenced by the number of youth players who have graduated to become regular members of the first team squad this season. Weimann has arguably made the most exciting impact of them all, in what has been his first season as a regular first team player.

He hasn't been an overnight sensation. Far from it. Having joined Villa from Rapid Vienna at 16, he made his league debut in August 2010, as a substitute on the opening day of the season, against West Ham. Five days later, another substitute appearance - but this one ended literally in tears and jeers. He was injured within minutes of coming on, against former club Rapid in the UEFA Europa League, and was stretchered off amid sickening scenes of being booed and pelted by sneering home fans.

That was Weimann out for months. When fit, he joined Watford for six months on loan. The following season - 2011-12 - he was loaned to Watford again, but recalled after a month. His first league goal for Villa was a crucial one, a scrambled injury-time winner against Fulham in March 2012.

This season, Weimann has made the breakthrough, usurping Darren Bent to partner Christian Benteke. He brings a lot to the Villa attack. He's not lightning fast, but has a decent turn of pace. He's best in a central role but also effective in a wide attacking role, which is a real asset; Weimann isn't a one-dimensional striker, so he can fit into more than one formation. A coach's dream.

He's also a feisty character - his enthusiasm is evident, he celebrates goals with gusto, he reacts with obvious hurt to defeat. Fans love to see that. It makes players real.

And Weimann is also a very cool finisher. He's missed a couple of good opportunities, as any striker does, and his misjudged effort against West Ham a couple of weeks ago stands out. But he takes a chance very well, and he's happy to try his luck from distance: Arsenal and Manchester United will both testify to that.

The sickener for Villa is the prospect of losing the Austrian just when he's really showing his ability. Weimann's goal at Arsenal last weekend moved him into double figures for the season - five in 15 starts in the league, another five in cup competitions.

With some Villa fans already calculating which players would leave if the season results in relegation, Weimann would be one of those widely expected to stay to try to drive the club back into the Premier League. Bent would surely go, Benteke has an army of admirers; Weimann would be more than capable of leading Villa's forward line.

Then again, perhaps that line of thinking says it all. There's a danger that the loyalty of players who develop through the youth system is taken for granted. The assumption that Weimann is happy to stay, come what may, is misplaced. Villa need to consider the effects of the loss of one of their most promising of players, and take that into the next round of negotiations. Consider how much a replacement for Weimann would set them back. All in all, the shrewder decision is to make the striker an offer he can't refuse.