Wenger, Wilshere and wounded Arsenal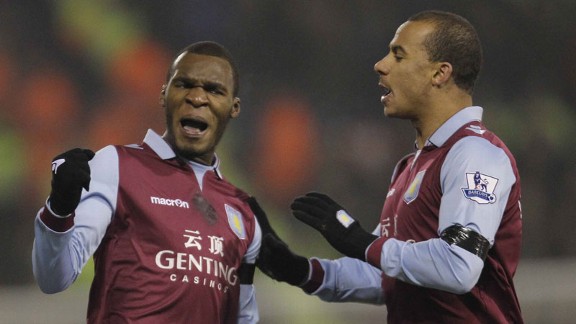 AssociatedBenteke and Agbonlahor will be eyeing Arsenal's dodgy defence
A manager under increasing pressure, a surprise cup exit to lower league opposition, and fans pining for departed star players while questioning the quality of replacement signings. That sentence could describe Aston Villa, but it's Arsenal, Villa's opponents on Saturday, I'm referring to.

- Mangan: Focus now 100% on Premier League
- Lambert bullish over Benteke stay

Arsenal's season threatens to implode: successive cup defeats at home, against first Blackburn Rovers and secondly Bayern Munich, means another season without a trophy is all but certain, and Arsene Wenger has found his transfer policy and team selections under increasing scrutiny. While Manchester United stroll almost serenely to another Premier League title, inspired in no small part by the goals and all-round excellence of former Gunner Robin van Persie, Arsenal are sweating on the top four finish that is required for their continued involvement in the Champions League next season. All is not well at the Emirates.

But perspective is needed. Do the unsettling events of the past six or seven days make Arsenal easy opposition for Villa, a team there for the taking, a squad in crisis? Not a bit of it. Don't be fooled. Finishing as high as possible in the Premier League table is all that the Gunners have left, and while the team may still feel a sense of loss over the departure of Van Persie, as well as other, top-class footballers who decided bigger challenges lay elsewhere - Nasri, Clichy, Fabregas, Song - there is still quality in abundance at the club. There are certain comparisons to be made with Villa, in that Arsenal have sold star players in recent seasons, but generally, the replacements Wenger has brought in are a level or two above new arrivals in the Midlands. Podolski, Giroud, Cazorla, Mertesacker - established international footballers. Villa, by contrast, have been shopping in the bargain section of the transfer market for the past year or more. Arsenal still have the means, and the pedigree, to pull big players in, and also don't overlook those they have convinced to stay. Persuading Theo Walcott to sign a new contract was a major boost.

As is the continuing form of Jack Wilshere, a player denied to Arsenal for well over a year through injury but now back in the thick of things in every way - in the hub of midfield, pulling strings, dictating play, driving his team on, speaking with candid authority off it (the player manages to project the message that he's in it for the long haul at the club). It's hard not to admire Wilshere, a footballer who possesses that rare skill of knowing exactly when to run with the ball, and when to release it, and doing so with perfect timing on every occasion, it feels. Charging from box to box, like a wound-up bull, is one thing, but carrying the ball 30-40 yards, before releasing a striker with an expertly-weighted pass, is quite another, and Wilshere has mastered the skill. He has the class to give Villa's midfield the run-around on Saturday.

Arsenal's misfortunes shouldn't mask the fact that the Gunners are currently fifth in the league, and Villa 17th. Nor recent results in the Premier League: Wenger's team have beaten Sunderland and Stoke, drawn with Liverpool, having been two goals down, and hammered The Hammers 5-1. No doubt Villa would take some of that crisis - two weeks ago, the nail-biting victory over West Ham was the team's first league victory in almost two months.

Given that the last time I felt Villa could exploit perceived vulnerability at one of the Premier League's big four (or five) was before December's visit to Stamford Bridge - with Chelsea hastily removing Roberto Di Matteo and replacing him with interim coach Rafa Benitez, an unpopular decision with a good majority of supporters - I hesitate to expect Paul Lambert's team to cause more problems for Wenger and Arsenal. We all know how that Chelsea game turned out; Villa are still feeling the effects of that disastrous afternoon.

However, Villa and Lambert may feel there are one or two reasons for cautious optimism ahead of Saturday's game at the Emirates.

Arsenal are slow starters, having been 2-0 down after 16 minutes against Chelsea in January, 2-0 down against Liverpool, 2-0 down early on against Bayern, and even conceded first against West Ham - though eventually winning easily, so it didn't influence the end result. But Villa have looked bright and positive in the last few away games, and may well believe a quick start is the best way forward. An early goal would quickly push Arsenal on to the back foot, and trigger a negative reaction from pessimistic fans.

Villa have tended to do well at the Emirates in recent seasons. In fact, the team has won two of the last four league games there, and only lost two of the last six. Memorable results include a 2-1 victory in May 2011, when Darren Bent scored twice, and also a 1-1 draw in August 2006: the first ever league match at the Emirates, notable for Villa defender Olof Mellberg scoring the first ever Premier League goal there. Last season, in the FA Cup, Villa scored twice and led 2-0 before collapsing in the second half and losing 3-2. Even so, this is a stadium at which Villa have scored goals before. There is no daunting previous record to overcome.

A win makes a massive difference, as does a rest. Beating West Ham a fortnight ago ended a miserable winless run for Villa, and enjoying a free weekend due to the FA Cup fifth round would have allowed Lambert's players to mentally clear their heads after what has been a very testing few weeks over Christmas and the New Year period. Villa are expected to be fresh, fit and raring to go, while Arsenal have played and lost twice in the last week. There's a bit of mental baggage there for Wenger's men to overcome.

Finally, Arsenal's defence is far from watertight (neither is Villa's, of course) and Lambert's team is beginning to score goals. With Benteke, Weimann, Bent, N'Zogbia and Agbonlahor (the latter two both expected to be fit following a calf injury and illness respectively), Villa's forward line has a little bit of everything in terms of range of attacking play. At the very least, Arsenal's defenders should have a difficult afternoon.

I'll fall short of saying Villa could get a result at Arsenal, but there's reason for hope.