Keeping hold of Christian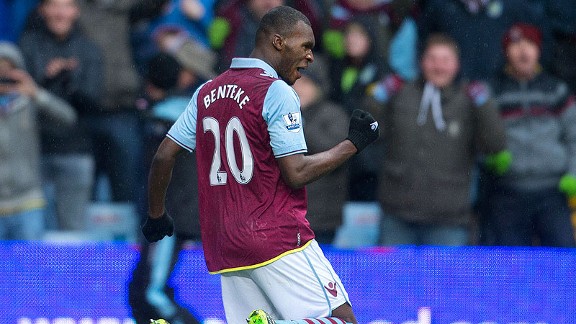 Neville Williams/Aston Villa FC/Getty ImagesAs he improves with every match, Christian Benteke's chances of staying at Aston Villa grow dimmer.
Existing besides Villa's battle to avoid relegation from the Premier League is another fight: Keeping hold of Christian Benteke.

The Belgian striker's reputation is growing stronger by the week, and so is his group of admirers. Spurs, Chelsea, Manchester City and Arsenal have all been linked with a summer bid for Benteke, and those clubs have reportedly been joined by two of European football's rising forces, Atletico Madrid and Borussia Dortmund. With Villa's focus firmly on staying in the league, the increasing speculation is unhelpful, distracting and rather depressing, particularly for a fan base which has seen some of its favourites leave in recent years. The prospect of Benteke, one of Villa's few unqualified successes on the pitch this season, moving on after a solitary campaign in claret and blue is gloomy, but not at all surprising.

- Agent: Benteke could make 'step up'

Benteke has been little short of a revelation in the last couple of months, having been plucked from Belgian league football at the end of August by Paul Lambert and almost immediately given the responsibility of leading Villa's attack at the expense of club record signing Darren Bent. After an understandable settling in period, Benteke has blossomed into one of the Premier League's most exciting and most dangerous centre forwards: He's scored 15 goals, 11 of those coming on the league from 23 appearances.

But it is not just the volume of goals that has marked Benteke out as someone who could be very special indeed; it is the range of them. He's a big lad, Benteke, but there's more to him than raw, brute physical strength. There's a clever footballer in there, too, and his goals have shown that. Reviewing just a handful of examples so far this season, we've seen a forceful header from a corner (Reading), a pile-driver of a long range strike (Liverpool), a brilliantly taken diving header (Everton), a rampaging run and finish (second goal versus Liverpool) and a couple of ice cool penalties (most recently last weekend against West Ham).

He's still raw, in many ways, but for a 22-year-old midway through his debut season in top flight English football playing for a team embroiled in a relegation scrap, Benteke's level of performance has been very impressive indeed.

He's deservedly become the new hero of the Holte End, the Villa fans' favourite. To see him poached by a bigger club would be cruel, to say the least, but Villa fans these days are acutely aware of their place in the pecking order. The club no longer pays the wages, nor hits the heights of achievement required to retain the very best talent. Villa were unable to keep hold of Gareth Barry or James Milner despite sixth-place finishes and European football; Ashley Young and Stewart Downing soon shifted at the first smell of trouble. Benteke may already have his eye on his next move, and if he doesn't, his agent almost certainly does.

The thoughts of that agent, Kismet Eris, were made public this past week, and they would have made worrying reading for Villa:

"It is normal that if you go to a club and do well, other clubs will show an interest. Why not take the step up to the next level if the opportunity is there? At the end of the season interested clubs will talk to Villa -- but it has to be right for Villa, the buying club and Christian."

Sounds ominous for Villa, and more of a question of when, not if. Plus, of course, there is the question of how much. Villa took the plunge with Benteke and paid Genk seven million pounds for him. His value now, having demonstrated his potential in one of the world's toughest leagues, should be at least double -- Lambert made comments along these lines recently. Thoughts turn to the 18 million pounds Villa paid Sunderland for Bent in 2011, and the 35 million pounds Liverpool spent on Andy Carroll. Inflated though that fee was, it demonstrates the market value for centre forwards in the Premier League.

It goes without saying that, whatever the future of Benteke, the key to any Villa attempt to keep hold of him lays with staying in the Premier League. Stay up, and Benteke may stay, too. Go down, and the 22-year-old is guaranteed to leave.