Ireland on the outside, looking in at Villa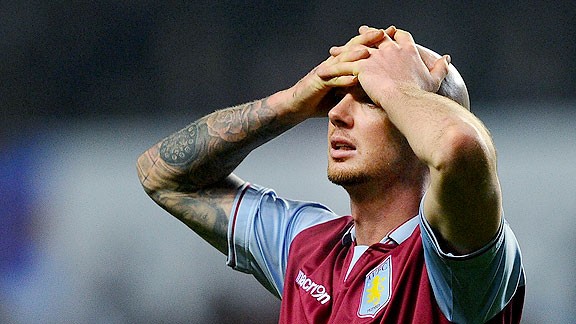 Laurence Griffiths/Getty ImagesStephen Ireland: A player out-of-favour at Aston Villa
Stephen Ireland's Premier League debut for Aston Villa ended in a 6-0 defeat at Newcastle; his most recent appearance for the club culminated in an ignominious League Cup semi-final exit to a team three divisions lower.

- Villa grateful for extended break

In between these two lows have been 50 or so occasionally encouraging, frequently ineffectual and sometimes downright disinterested appearances from a footballer whose face, it is fair to say, has never really fitted in at Villa. From the day he walked through the door at the club until today, where he finds himself outside the first team picture and training with the youth squad, Ireland's career has been stop-start. On, off, on, off. Now the midfielder's last opportunity may have expired.

Villa fans have waited three seasons for Ireland to show them his best stuff, the fabulous box-to-box goalscoring runs and the swashbuckling attacking midfield play which marked him out as one of the Premier League's brightest young talents during his early days at Manchester City. He came to Villa in August 2010, as part of the deal which saw James Milner move to the Etihad Stadium. Big boots for Ireland to fill; Milner was outstanding in 2009-10 and adored, above everything else, for his non-stop graft and workrate. The kid never stopped running, never hid, never shirked a challenge, whether that was a 50-50 tackle or a League Cup Final penalty. A tough act to follow.

Ireland was a different beast. Not a grafter - though he was supposedly one of the fittest players at City - but more naturally gifted than Milner. A scorer of spectacular goals, of flair, of sublime passing. Expectations were high, but even before Ireland had kicked a ball for Villa, doubt crept in. Martin O'Neill left suddenly, and it was difficult to totally dispel the theory that, perhaps, O'Neill had never wanted Ireland. In turn, Ireland didn't exactly sound enthralled at joining Villa, rather bitter about leaving City. A reluctant departure. Thus, in the time between signing for the club and actually playing for them, there was a very different feel to the whole deal once the new man got going.

Caretaker manager Kevin McDonald gave Ireland his debut, but it was Gerard Houllier who made a judgement midway through that first season. The Irishman did little to impress, and he spent the second half of the campaign on loan at Newcastle. He did nothing to impress there, either, though had Houllier stayed for a second season it's certain he'd have found a way to remove Ireland from his squad.

As it was, Alex McLeish succeeded Houllier, of course, and Ireland had another clean slate. He was more productive, and could at least lay claim to having made a contribution to the season, though he scored just a solitary goal, against Chelsea on New Year's Eve 2011. It remains his only goal for Villa, and his standout performance. That was over a year ago.

McLeish out, Lambert in: another new manager prepared to allow Ireland to cement a place in the team. And Lambert did select the midfielder regularly during the first half of this season, very often using him ahead of two deeper-lying, holding midfield players which should have enabled Ireland to roam, and prompt, and dictate to his heart's content. The statistics, which never tell the full story, shed light on the weight of his contribution, however. In the Premier League, nine starts, four substitute appearances, three shots on target and one assist. Not an influential figure, then, or a senior player stamping his authority on the team. For a so-called luxury player, his end product has been virtually non-existent. And the trouble with Ireland is that his manner on the field is one of almost casual indifference. If he's desperate to do well, it's hard to detect.

He hasn't started a league game since the December defeat to Wigan, nor a match at all since that depressing evening against Bradford. That game, you feel, was possibly the last time Lambert put his faith in Ireland; go on son, win us the tie. But Ireland wasn't able to do that.

He hasn't played a single minute of the four games since. When Lambert was asked why Ireland wasn't even in the matchday squad of 22 for last Sunday's game against West Ham, he simply stated: "I just picked a squad to win the game."

Has Ireland been made a scapegoat for the Bradford failure? Possibly, though the timing of his relegation from the squad probably has more to do with Lambert's options increasing. Fabian Delph is starting to thrive in midfield, Karim El Ahmadi is back from African Cup of Nations duty, Yacouba Sylla and Simon Dawkins were signed last month. Lambert has had half a season to assess Ireland as a footballer, and decided there are others who offer more. The way the team is currently set up still caters for that talented attacking midfielder, but it is Charles N'Zogbia who is seizing the chance, not Ireland. And Ireland isn't even next in line. Barry Bannan and Brett Holman have stronger claims.

It may not be over at Villa for Ireland yet: with a player of his undoubted ability, the door will never be totally closed. But the memories of his exciting spell at City are starting to fade, and there is only so long that he can live off a fine season several years ago. He cannot complain of a lack of chances at Villa, it is just that Ireland has failed to make the most of them.