Same old story as Villa concede late again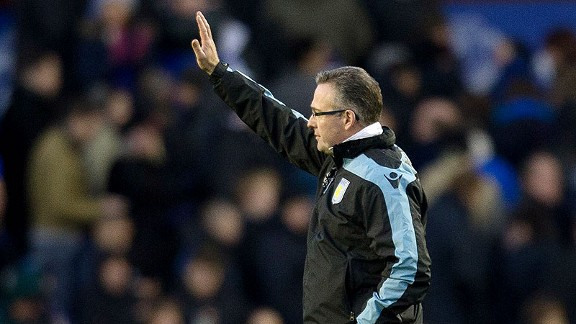 Neville Williams/Aston Villa FC via Getty ImagesAfter another late defensive meltdown by Aston Villa, will Paul Lambert be waving goodbye for good?
The frustration, and the unpleasant predictability of it all: the story of Villa's season is beginning to resemble the plot of Groundhog Day when the same events keep occurring. The 3-3 draw at Everton was the third successive Premier League away game in which Villa led going into the closing stages only to concede late on and surrender two points.

- O'Farrell: Defensive issues as Benteke batters Everton
- Lambert frustrated with late leveller

Everton, West Brom, Swansea. Villa's last three league games away from home, and the team have been in front in all of them. At Swansea, it took an injury time equaliser to deny Paul Lambert's men. Two weeks ago, West Brom made it 2-2 with five-odd minutes remaining. And at Goodison, Villa were ahead into the injury time period before Marouane Fellaini levelled in the 93rd-minute. Agony for Lambert, his player, and for Villa fans who must be wondering when -- or whether -- their team will ever win again.

In isolation, a point at Everton is a fine result, just as a point at West Brom is solid enough and a point at Swansea, too. Were Villa not in desperate trouble, these would be away points to be pleased with, if not quite proud of. But Villa are in trouble, and as the games fly by and things get tighter and tougher in the bottom three, these lost opportunities are wasteful. Collectively, that is six points dropped over the course of those three away games. Six points Villa had in the palm of their hand only to allow them to slip through careless fingers.

Here's a further, foul-tasting food for thought: Villa have actually contrived to lose 18 points from winning positions in the league this season; losing to Southampton and Manchester United at home after leading, and drawing against Newcastle (a), Norwich (h) and QPR (a), as well as the three most recent games after being in front. Those 18 points, had they been secured, would see Villa on 39 points and in sixth place in the Premier League table. That's the ideal scenario, of course, but if Villa had even kept hold of half those points, the season would feel very different indeed. An extra nine points and the team would be comfortably mid-table.

This team cannot close a game out. Until the match at Everton, there was a feeling that Villa needed to score three times to feel safe in a game. Not so now! What's required now? Four a week? Five?

Lambert's team have scored seven goals in these last three away games and still, it hasn't been enough. Even at 3-1 up against Everton with half an hour to go, the nerves were tangible. A collapse always feels likely, which is a downright shame. For much of the encounter at Goodison, Villa showed, just as they did a fortnight ago at the Hawthorns, that some of their attacking football can be slick, incisive and punishing.

Benteke, who scored twice, was at his monstrous, unplayable best. However Lambert's spell as Aston Villa manager will eventually be defined, the seven million pounds he paid Genk for the big centre-forward should go down as a masterstroke and arguably the signing of the season. Charles N'Zogbia, too, has looked sharp of late. Lambert has him playing to a standard Villa didn't see all last season.

With Gabriel Agbonlahor and Andreas Weimann also both on from the start, it was a front four that caused Everton's usually resolute defence no end of problems. When you also consider the presence of Darren Bent, it's no exaggeration to say that should Villa go down at the end of the season, they'll take with them one of the most exciting and talented forward lines in the Premier League; maybe the most talented to ever suffer relegation.

But scoring goals at will is no use if you also concede goals in the same manner, and Villa simply can't keep teams out. Everton just kept knocking on the door, and finally, as it always does, the pressure told. Nothing too creative or cunning about the third Everton goal either; a ball into the box, Ron Vlaar freezing and Fellaini (no surprise to see him help himself to two goals) pouncing -- a free header, six yards from goal.

The harsh and bitter truth is that Lambert's team cannot defend to save its life which is tragic, in football terms, as Villa's Premier League life very much depends upon it.