A tale of two strikers: Benteke v Lukaku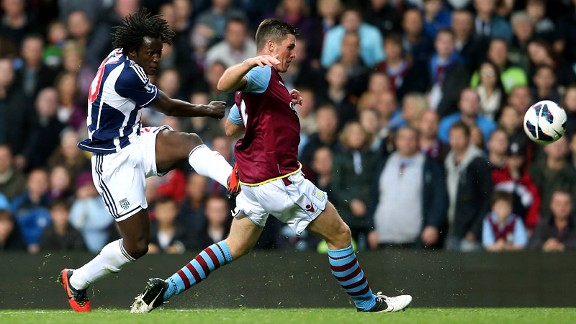 Julian Finney/Getty ImagesVilla again will have to keep an eye on Romelu Lukaku, left
A derby occasion and another precious opportunity for Villa to take three much-needed points are the headliners of Saturday's match against West Brom at the Hawthorns, but beneath lurks an intriguing subplot.

- Villa in desperate need of derby tonic

The game will showcase two strikers who are international colleagues and rivals, both competing for the same shirt - that belonging to the one on the back of Belgium's centre-forward. Come 5:30 p.m. Saturday England time, Christian Benteke and Romelu Lukaku go head-to-head. Comparisons are inevitable.

The tale of the tape, as it were, makes interesting reading. Benteke is the older of the pair, having turned 22 last December, while Lukaku is just 19, and won't be 20 until May. Their respective routes to the Premier League may have been broadly the same - both signed from Belgian clubs - but their reputations preceding their arrivals not quite so. Lukaku was top goalscorer for Anderlecht in the Belgian league at just 16, coveted by Real Madrid, and signed by Chelsea for 20 million pounds in the summer of 2011. Benteke was all but unknown in the UK when Villa paid Genk £7m for him in August.

In Premier League action, Lukaku has the edge, with 20 appearances to Benteke's 19, though the Villa man has certainly seen more pitch time; he's started 17 of those 19 games, while Lukaku's tally just eight starts.

It provides a clue as to the role of each player for his club: West Brom, with Shane Long, Peter Odemwingie and Marc-Antoine Fortune all contributing and supplementing attacking options, have been able to pace Lukaku's development. He is still a teenager, after all, and this is effectively his first season in the Premier League - he was totally underused by Chelsea in 2011-12, and Albion have him on loan so he can gain experience.

This is also Benteke's first season in England, but Villa have relied heavily on him. The two senior strikers at the club, Darren Bent and Gabby Agbonlahor, have frequently been injured, while the third forward, Andreas Weimann, is even younger. Since he arrived at Villa, Benteke has stayed in the side, and he's become the team leader in many ways - leading scorer with six league goals, most league assists (four), most shots at goal (62, 19 on target). He's also conceded more fouls than any other member of the squad, being penalised 30 times. Then again, he's also been the most fouled Villan - sinned against on 23 occasions.

Lukaku hasn't been as busy, but has been more productive. He's scored nine league goals and contributed one assis. While he's managed fewer efforts on goal than his international teammate, of his 47 shots, 24 have been on target. Which means he's scored nine goals from 24 shots; that's pretty clinical and impressively effective. He's been fouled twice and committed 10.

Current form is important, of course, and here is where Lukaku leaves Benteke standing somewhat. The Villa striker has one in the last five league games, a penalty at Swansea on New Year's Day, though open that sequence out to the last six games and you'll get to his double against Liverpool at Anfield. That afternoon Benteke looked close to unplayable. Given Villa's results since, it feels a long time ago.

Lukaku, on the other hand, is in a rich vein of form, with four goals in his last five PL matches. Last weekend, he scored twice at Reading, a fantastic individual performance eventually being overshadowed by the home team's miraculous comeback. Long and Odemwingie have both missed recent matches with injury, and Lukaku has obviously enjoyed the extra responsibility of being Albion's chief goal threat.

Speaking of form, West Brom's is perceived to be poor of late but although the team may have wobbled a little following a fine start, any slump is slightly exaggerated. A midweek FA Cup exit to QPR made it four defeats in five (before that, the remarkable Reading game, an FA Cup draw at QPR, home league defeat to Fulham, away league defeat at Manchester United) but either side of Christmas produced back-to-back league victories over QPR and Norwich.

Successive league wins is something Villa can only currently dream about - it hasn't been achieved all season. If Paul Lambert's team are to leave the Hawthorns with a positive result, Benteke needs to win the battle of the Belgian strikers.