Not quite rock bottom, but it feels like it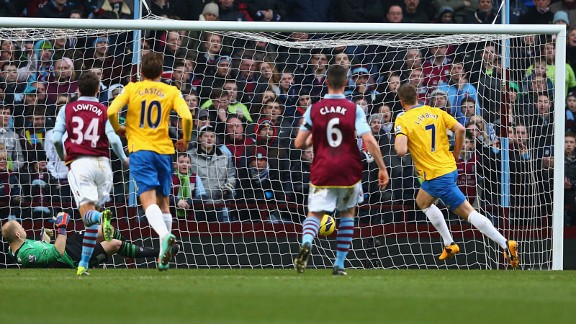 PA PhotosRickie Lambert slots home from the penalty spot for Southampton at Villa
Paul Lambert allowed a glimpse behind the public mask of a Premier League manager when, towards the end of a turbulent week for Aston Villa, he admitted he'd had difficulty sleeping. Judging from his expression at the final whistle - he had that shocked thousand-yard stare of a coach who cannot quite grasp how badly things are turning out - Lambert won't find the next few nights particularly restful either following yet another setback: defeat, at home, to Southampton, has sent Villa into the bottom three of the Premier League this evening.

- Rann: Saints weather late Villa storm for vital win
- Lambert: Halsey will be embarrassed

Statistically, and positionally, Villa have not hit rock bottom, but it certainly feels that way. Lambert's team were the only one of the league's bottom six to lose on Saturday. QPR took a point off Spurs in the day's early afternoon game, Wigan came back to earn a point at Fulham, Newcastle ground out a draw at Norwich. And Reading... to round off a miserable afternoon for the Villans, Reading scored an improbable three goals in the final eight minutes of their home match against West Brom to turn a 2-0 deficit into a 3-2 success. Now there's a team determined to claw themselves out of trouble.

But enough of what the teams in and around the club are doing. Villa are contributing nothing to their own cause, and everything to their own downfall; the points at stake against Southampton were critical. The opportunity was there to extend a lead, in the league, to three points over one of their relegation rivals. Even a point would have at least maintained the status quo. Losing the game, and allowing Southampton to leave Villa Park with all three points, was a disastrous outcome.

Lambert shuffled his pack again, and there was little wrong with the decisions he made. Fit-again midfield duo Ashley Westwood and Brett Holman back in, Enda Stevens for the ill Joe Bennett. The only really questionable call was going with Fabian Delph instead of Barry Bannan (Bannan perked Villa up when he came on in the second half). Ron Vlaar was deemed fit enough to take a place on the bench. But it is becoming more obvious, with every passing week and defeat, that what Lambert really needs are additions to his squad. The players he has, by and large, are struggling.

The first half was more or less bossed by Southampton. Villa didn't manage an effort on goal worthy of discussion, and while the goal from the visitors - the only goal as it transpired - was a contentious penalty, given when Jay Rodriguez went to ground despite the scarcest of contact, and confidently despatched by Ricky Lambert (the third goal the Villa manager's namesake has scored against the club this season) - it seems almost churlish to complain about Mark Halsey's decision. For it is just another example of woeful Villa defending - that is six penalties conceded this season - and also of the team's weak will when going behind. Villa have earned just two points from losing positions all season. Spirit, fight, defiance? All absent from this current squad.

The second half was better, though it showcased another Villa failing. The defence has come under intense criticism in recent weeks, but the team are misfiring at the other end, too, failing repeatedly to show any kind of composure in front of goal. Christian Benteke was wasteful, but there is little point re-opening the Darren Bent debate when the former England striker seems incapable of staying fit for more than a couple of games in a row. Crucially, that slice of good luck still evades the team - Nathan Baker hit the crossbar in the closing minutes.

It is not difficult to buy into the theory of the vision the owners have for Aston Villa, which is being channelled through Lambert: older players in a highly-paid comfort zone being replaced by young, hungry footballers on significantly lower salaries, driving the club towards financial stability while growing and developing together to eventually become a strong squad, delivering on and off the field. But in practice, the course of such strategies are never guaranteed to run smoothly, and Villa have run into difficulty. These players need help, they are being outclassed and overwhelmed, and all the long-term planning will count for little if Villa drop out of the Premier League at the end of the season.

Attention will now turn to the possibility of Lambert strengthening the squad. The manager himself has confirmed he is looking at 'one or two new lads' and he knows the team are light at centre-back and central midfield; the issue is one of finance. Here is where the boardroom powers at Villa need to think logically and rationally. With TV revenues reported to be £60 million per team from next season, releasing transfer funds of £10 million - for that, I believe, is all it would take to bring in a couple of quality new additions - would be loose change compared to the potential riches on offer.

The Premier League table tonight makes sobering reading for Villa. In 18th place, now just three points above Reading, and with a goal difference of minus 25. So no, not quite rock bottom, not officially, but there is a growing sense that the situation is beginning to feel... hopeless.