A night for Villa to forget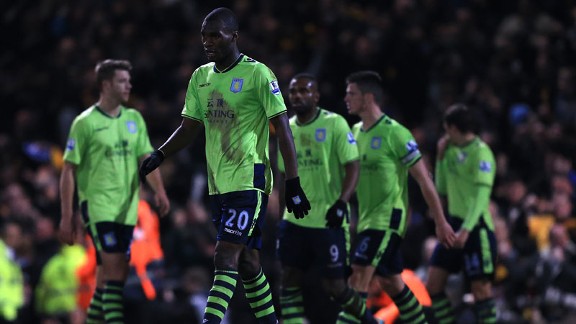 GettyImagesChristian Benteke cuts a dejected figure as he contemplates the size of Aston Villa's task following defeat to League Two Bradford
Although wiping this from the memory is easier said than done, for defeat at Bradford could hurt and haunt for a long time yet. If this is a season rapidly descending into a state of shambles, Villa outdid all previous efforts at Valley Parade on Tuesday night.

- Report: Bradford 3-1 Aston Villa

A 3-1 defeat in the first leg of the Capital One Cup semi-final is tough for Villa fans to swallow, let alone forget or get over in a hurry: there will be another two weeks of stewing and fuming until the second leg, after which, at least, the whole thing can be put to bed. Forget the post-match interview soundbites coming from a deservedly chuffed Bradford manager Phil Parkinson - his League Two side are the outstanding favourites to progress to Wembley. Villa have blown their chance spectacularly.

This was a truly horrible night for Villa, reminiscent of that awful cup surrender at Doncaster, many years ago under David O'Leary, and reminiscent, too, of the first part of that famous semi-final showdown against Tranmere in 1994. Villa lost the away tie 3-1 then, as well, but turned it around at home. That Villa side had quality right the way through it, however. The current squad is pitifully short of class and, more regrettably, character.

It is, sad to say, a team which inspires exactly no confidence from its dejected support. This Villa side can't be relied upon to do anything, other than concede soft goals and capitulate; Bradford certainly won't arrive at Villa Park on January 22 and be intimidated.

Football will be celebrating Bradford's success. Every neutral loves a good giantkilling story, and this is a big one. Given Bradford's quarter-final win over Arsenal, it was known that Parkinson's team had this kind of performance within them, but, even so, the manner in which this match developed was still something of a nasty surprise for Villa and their increasingly beleaguered boss Paul Lambert.

Villa, with a bold, attacking line-up similar to the one which started against Ipswich in the FA Cup last Saturday, started strongly, spurning early chances, but it was Bradford who struck first. After that, the hosts had tails up - Zavon Hines, in particular, was on his game, giving Villa left-back Joe Bennett a torrid time, and the Bantams threatened on several occasions.

The second half saw Villa pushing it. Agbonlahor and Benteke both went close, but truth be told, both efforts were struck more or less straight at Bradford 'keeper Matt Duke. Neither were difficult saves, and to claim Bradford were clinging on would be inaccurate. When Duke did get sloppy, making a hash of a Charles N'Zogbia strike, the ball bounced up, on a plate, for substitute Darren Bent. Bent rose high on the six-yard box... and nodded over. He didn't last the game, eventually hobbling off. The substitute substituted.

Bradford added a second, Villa pulled one back through Andreas Weimann, lending hope to thoughts of a late comeback. But it was the jubilant home side who scored again, profiting from a set-piece. Villa, Premier League football club (at least for now) seemingly have no answer to dead-ball deliveries - Bradford are the latest opponents to discover that, in order to score goals, they really don't need to do much at all. A decent ball into the penalty area does the job.

Parkinson and his players will rightly enjoy their night, and the next few days. They were worth the win, and in a fortnight, they should have reason to celebrate further. As for Villa, the players will be - or should be - shattered, and they and Lambert have to pick up the pieces once more.

There are drastic improvements required in order to put some stability and consistency on the season, and Lambert has urgent priorities to attend to - firstly, getting a result against Southampton on Saturday to ease relegation worries, and secondly, using the January transfer window to bring in the two or three signings that could make all the difference in the coming months.