Villa end 2012 in all kinds of trouble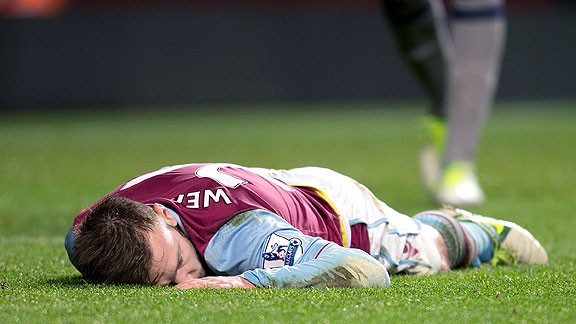 Neville Williams/Aston Villa FC/Getty ImagesAndreas Weimann and Aston Villla have been flattened the past three games
Just like that, Villa seem on the verge of crisis. The landscape has changed significantly within two weeks - having scored seven goals to win two away games, at Norwich to book a place in the semifinals of the League Cup, and at Liverpool - the team has lost three Premier League games in succession. And lost them hard. Lost them pitifully, embarrassingly, unacceptably.

While it is just about palatable to lose 4-0 at home to an excellent Spurs side, it is nigh on impossible to swallow and digest Saturday's 3-0 defeat against a Wigan team who had come to Villa Park Saturday in woeful form. Yet there was nothing fortunate about Wigan's victory. They imposed themselves on Villa, got the early breakthrough, and never looked like giving way.

It was a desperate performance from Villa, and a desperate result. Only an injury-time equaliser from Cameron Jerome - a former Birmingham City striker, no less - prevented Villa from finishing 2012 in the bottom three of the league, as Stoke (ten-man Stoke at that), clawed back a point at home to Southampton. That kept the Saints below Villa by a point. Villa occupy 17th, having been leapfrogged by Wigan, on goal difference - after three Christmas stuffings, Paul Lambert's men have minus-24 sitting in that GD column. It's as good as worth an extra point to the teams around them.

Villa: six days, three games, three defeats, 15 goals against, zero scored. The past week could not, in all honesty, have gone any worse for the club and the overwhelming concern is the psychological damage that will have been done to a largely young and inexperienced group of players. They look vulnerable, waiting for something to go wrong. Wigan coach Roberto Martinez would have known this, of course, going into Saturday, and no doubt emphasized the importance of a fast start. The visitors scored after three minutes. Game over, there and then.

There comes a stage in any season when supporters begin to ask serious questions, and many Villa fans are asking those now: there's a sense of deva ju in this, in that this is the third consecutive winter discontent has set in. Is this manager the right man? Are the players good enough? Will the team stay up?

Lambert made mistakes in his selection against Wigan. It was a mild surprise that he persisted with 3-5-2, in the wake of recent heavy defeats, but even more so that his midfield excluded both Karim El Ahmadi and Ashley Westwood, both players who act as that link between defence and midfield. It should be a case of either-or, with Westwood more effective of late.

To leave both out, and go with ball-playing duo Stephen Ireland and Barry Bannan, was an odd choice. Particularly as the third member of the midfield was Brett Holmann, who works tremendously hard but is best suited supporting the striker. You've got to have at least one central midfield player willing and able to assume a level of leadership. It's not a role to get the best from Bannan. I don't think it's a role Ireland even wants.

It has been commented on the last few days that this Villa side lack senior figures to look to in times of trouble. Going back to the question of whether this group of players are good enough - no, not yet. There is promise here, undoubtedly, but the youth need support, a player or two to take responsibility. Villa don't have many to turn to. Most are currently injured. The one or two who aren't don't seem capable of lifting themselves, let alone younger teammates.

The transfer window opens in a couple of days. Lambert has been cagey about his intentions. This team is screaming out for a couple of calmer heads, but Villa have embarked on a strategy of weeding out the overindulged and overpaid, and replacing with freshness and vigor - you can hardly commit to that for six months and then turn back at the first sign of panic.

The manager himself has only admitted publicly that he still has an interest in 'hungry' players. Young is only inferred to - I get the opinion that Lambert would consider the right kind of Premier League player, older than his squad average, if the attitudes are sound.

That has to be the primary criteria when assessing potential new signings over the coming weeks. Those not up for the challenge of resurrecting the fortunes of what is - it's truly sad to say - a falling giant of English football need not apply. There's a massive challenge ahead for Aston Villa; 2012 has been, in the main, wretched; the New Year must bring improvement and change.