Betrayed by a lack of quality, confidence - and bodies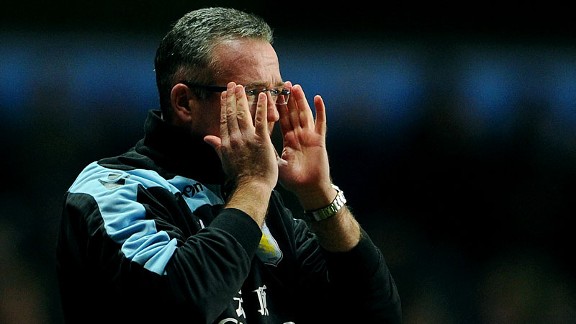 Michael Regan/Getty ImagesPaul Lambert has had plenty of reason to avert his eyes from the pitch in Aston Villa's past two games
After the nightmare before Christmas, the Boxing Day blues.

Aston Villa's 4-0 home defeat against Tottenham Wednesday may not have been as emphatic as the collapse at Stamford Bridge Dec. 23, but it was every bit as deflating. It may yet prove to have caused further long-term damage, with another two players forced off with injuries by half-time and increasing an already unhealthy casualty list.

Quality and confidence are two of the most valuable commodities for a football team to possess. Villa are, in truth, average at best - in Premier League terms - when it comes to the former and absolutely running on empty concerning the latter following that 8-0 defeat at Chelsea.

Against Spurs, Paul Lambert made changes. One was forced upon him, with striker Andreas Weimann injured (meaning three forwards - Darren Bent, Gabriel Agbonlahor and Weimann - were unavailable), but three others were the manager's choice.

Joe Bennett came in at left-back, and in midfield, Barry Bannan dropped out for Karim El Ahmadi. With another midfielder, Fabian Delph, taking Weimann's place, it made for a rather workmanlike core to the Villa side. The graft of Delph and El Ahmadi chosen ahead of the craft of Bannan and Stephen Ireland were selections that echoed Alex McLeish's tactics of last season.

Villa's shortcomings showed in a shockingly one-sided first half. Spurs had 15 corners, Villa one. The home side were merely clinging on. Centre-back Nathan Baker came off just before half-time. Lambert called Ireland on. After the break, Ashley Westwood failed to reappear. Marc Albrighton took his place. With two more attack-minded players on, and the 3-5-2 formation rejigged into something approaching a 4-2-3-1, Villa were significantly more positive. The atmosphere lifted; a couple of chances came and went. Hope grew.

And then Spurs simply stepped up and picked Villa off. No problem with quality nor confidence for Andre Villas-Boas' team. Jermain Defoe's cute finish was the first of four goals in 27 second-half minutes. Gareth Bale bagged a hat trick. Villa's second defeat in three days - 12 goals conceded without reply.

Lambert's young team have been ruthlessly exposed. Against the very best in the league, Villa can barely compete. Among the manager's post-match comments came this statement of fact, which puts the club's situation entirely into context. "For some of them, this is their first crack at Premier League football."

Some of that is Lambert's choice - he has signed young and inexperienced players, and started a long-term strategy for the club. Some of it is not, however: firstly, the wage bill is firmly managed at Villa, so a certain level of footballer is way beyond Lambert's reach. Secondly, if he wanted to, the Villa manager cannot turn to most of his more senior players. Barely any of them are fit for selection.

The injury list grows longer by the week. Bent and Agbonlahor, the team's two senior strikers, are injured. Captain Ron Vlaar, the Dutch international and rock at the heart of the Villa defence, has been missing for weeks. Not only is there no confirmed date for his return, there are mixed messages about his progress. It was first reported, a week ago, that Vlaar was back in training, but now it appears the player is still in rehab, making a return to the team for Saturday's match against Wigan unlikely.

Richard Dunne has been absent all season and is still unavailable. So, too, is Charles N'Zogbia. That's five experienced footballers currently sidelined. Add to that group Weimann, Baker and Westwood, all recent injury victims and doubts for Wigan, and Lambert's options look limited. With Delph out through suspension, having predictably clocked up another booking, Villa may have trouble filling the bench against the Latics.

The visit of Roberto Martinez's team comes at a crucial time. Wigan are in poor form, having lost five of their last six, though those defeats came at home to Manchester City and Arsenal, and away at Newcastle, Norwich and Everton, so hardly easy. The league table shows the implications of a defeat for Villa: the team stand 16th, on 18 points, and with a comfortable ten-point advantage over Reading (19th) and QPR (20th). In 18th position are Wigan, with 15 points.

A Villa win, therefore, opens up a healthy gap. Defeat pulls Villa level on points with a club in the bottom three going into 2013.

Unless a handful of players recover their fitness in the next couple of days, Lambert won't have a lot to toy with in his selection. Assuming all current injured players remain so, I would move Matt Lowton across to partner Ciaran Clark in the centre of defence, and bring Eric Lichaj in at right-back, dropping Chris Herd to the defence.

Into midfield, Ireland and Bannan should start in advance of El Ahmadi, who will sit in front of an inexperienced, and rather shell-shocked, defence. That leaves Albrighton and Brett Holman as wingers to support Christian Benteke at centre-forward.

That would, I believe, be as strong a starting lineup as Villa can muster if none of the injured group return. It means a likely bench of Shay Given, Herd, teenage defender Derrick Williams, Samir Carruthers, Jordan Bowery and . . . . well, almost certainly the likes of Graham Burke, Daniel Johnson, Jordan Graham, Jack Grealish, players from Villa's U21 squad, would need to be involved.

It's a timely reminder of the challenges facing Lambert as he focuses on guiding Villa up the Premier League table. There isn't a younger, more inexperienced squad in the league, and the pressures are starting to tell.