Difficult to keep a level-headed, long-term view after the manner of that defeat against Everton: the pragmatic writer flies out of the window and the frustrated fan in me comes to the fore.

Better to let the fume fizzle out and wait for the calm to return. Everything feels better after a win - even if it's in the League Cup against Tranmere - and so now, red mist having thinned a little, time to reflect on Villa's story so far.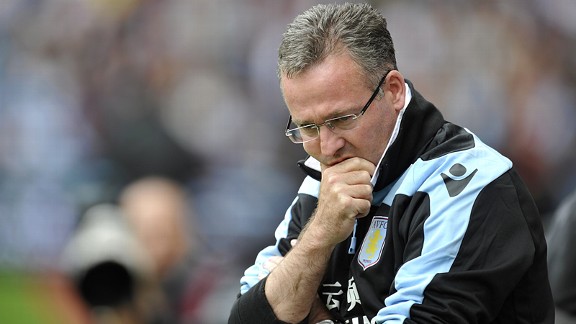 Paul Lambert wants to bring in reinforcements

© Empics



Successive defeats - putting Villa at the bottom of the table that no-one really pays much attention to in August - have certainly provided a wake-up call. Nothing has magically improved overnight. Paul Lambert has a big, big job on his hands. That much is clear. The manager is too canny not to have known this when he took the job in the first place, but that Everton defeat will have confirmed it.

Villa were abject in that game, woefully poor for the first hour. 3-0 down at half-time, chasing shadows, giving away soft goals. What Shay Given was doing for Everton's second goal, I've yet to work out. Fellaini's header was gentle, at chest height, and straight at him, yet Given flapped and fluffed and more or less palmed it in. That was game over, right there. Given has announced his retirement from international football. If he's not too careful, he'll be facing enforced club retirement too, soon. His performance certainly fuelled the growing suspicion that he's on the downhill slope, now heading towards his late 30s, and that it might, finally, be time to give Brad Guzan a proper shot at No.1.

The final 20 minutes, with Villa down to ten men after Ciaran Clark's red card, were brighter, but in truth Everton minds were on the journey home by then. El Ahmadi's goal was a decent strike, and Andreas Weimann's movement and shot (against the post) late on was an encouraging moment, as was the pass to play him in from Brett Holman. But as opening home matches of the season go, it was dismal stuff. Patience required, yes, but tough for fans to witness and not react negatively. Can anyone seriously condemn a home fan for booing that at half-time?

It's tough for Villa to take because it was Everton who took us apart. Three, four years ago we were level pegging with them, battling it out for a top four place and nearly getting there. Little has changed for Everton since then. Villa have had one hell of a journey. Whereas David Moyes has tinkered and tweaked, Villa need wholesale changes, and Lambert is the man in charge of doing that.

The reality of Villa's squad is that it is a disparate mix of one or two top-class players with proven PL ability (Bent, Agbonhalor - Given and Dunne with the pedigree but past their peak), three players signed from Dutch football who look strong but are adjusting to the league (Vlaar, Holman, El Ahmadi), young players who may or may not eventually make the grade (Clark, Lowton, Baker, Lichaj, Delph, Bannan, Albrighton, Stevens, Delfouneso, Weimann, Herd) and a couple of real talents who have still not, regrettably, shown anything like their best form for Villa (Ireland, N'Zogbia).

How many of those young players will eventually emerge strong enough to start in a Villa team that pushes, once again, for a top six finish? I'd say Albrighton, maybe Baker, maybe Clark - though Clark is a classic case of expectations being perhaps too unrealistic, with many just assuming he'll become a fantastic centre-back. To date, his best performances for Villa have come in a defensive midfield role. As a central defender he has looked erratic and ill-disciplined, and it's easy to forget that here's a player who probably hasn't had half a dozen league games in a row at centre-back. Much like the Villa squad as a whole, patience is required.

Easy to say, not easy to do after being humbled so comprehensively at home. The transfer window closes on August 31 and Villa definitely need two or three new faces by then - what a difference a player like Moussa Dembele, the Fulham powerhouse reportedly off to Spurs, would make to our lightweight midfield. Alas, Villa don't shop in the same stores as Tottenham these days - nor even Sunderland or QPR - and it's down to Lambert to pick up who he can.

Would the young Middlesbrough defender, Joe Bennett, make a significant difference to Villa's season? Would the raw Belgian striker, Benteke? Both have emerged as strong contenders this week. Both are players for tomorrow, which is fine as long as we are all clear on The Plan. Villa are building back up again. I have a feeling things will get worse before they get better.