Formation change steadies Villa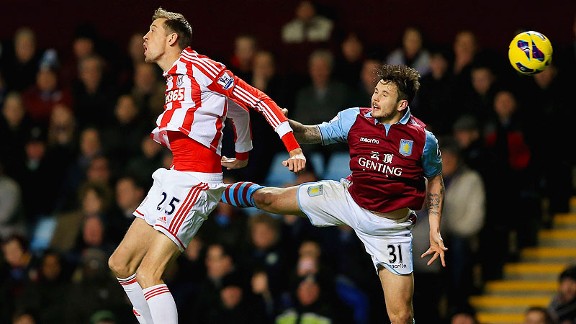 Richard Heathcote/Getty ImagesPaul Lambert's decision to play Chris Herd, right, has paid dividends
Villa's 0-0 draw against Stoke Saturday extended an unbeaten league run to four matches. If anything can be attributed to the team's new-found durability, it's a re-organised and restructured defence. In the run, Villa have conceded just once and can boast three clean sheets - a goalless draw against Arsenal, a 1-0 home win against Reading, a 1-1 draw at QPR and now the home stalemate against a Stoke side which came to Villa Park as one of the division's in-form teams.

Why have Villa tightened up in recent weeks? With captain Ron Vlaar limping off halfway through the Arsenal match, there was real concern the back four would be particularly vulnerable without the Holland international. Instead, Villa manager Paul Lambert has reacted by deploying a different formation, switching from a flat back four to a 3-5-2 setup. It's the tactical layout favoured most notably right now by Juventus, and Villa are trying it on for size.

- A bore, but a point, at Stoke

It's been thrust upon Lambert by injuries to defenders other than Vlaar - Enda Stevens has been sidelined since Reading, Joe Bennett longer than that - but Lambert's timing has been excellent. Using three central defenders twice now, against QPR and Stoke, has given extra protection and security for an inexperienced group of players. It's made Villa difficult to break down.

Lambert is down to his only two fit central defenders, Ciaran Clark and Nathan Baker. Both left-footed, the pair do complement one another (Baker is robust and commanding, Clark the more gifted footballer). But bringing the versatile Chris Herd in alongside has been an inspired decision.

Herd can play right-back, midfield and has a few games under his belt in central defence. He's a tenacious, strong boy, good in the air, and decent on the ground. Slotting him into the defence has provided balance and cover.

With Herd, Clark and Baker the central defenders, outside are Matthew Lowton and Eric Lichaj. Lowton is well on his way to becoming one of Villa's best performers; Lichaj is filling in soundly enough at left back, though it's not his favoured side.

Lowton is definitely the more convincing going forward, and so Lambert has rigged the defence to work a particular way. Lowton has scope to advance into a right midfield role when the situation allows, comfortable in the knowledge that, behind him, Herd can step into an orthodox right-back position.

Lichaj is more cautious on the other side, but covering for him if he does advance is Baker, who has game time at left-back and can shuttle across easily enough.

At a time when defensive injuries could have really shown Villa up, the reality is the team have instead looked more solid and in control than at any point previously this season. Stoke are not exactly bursting at the seams with attacking brilliance, granted, but even so, Villa kept the visitors very quiet Saturday, and stood up to any pressure. They were rarely troubled.

Having used 3-5-2 with reasonable success, it's intriguing to see what Lambert will do in coming weeks. Towards the end of the month, Villa meet Liverpool, Chelsea and Tottenham, who will threaten more offensively, you would think.

The system certainly suits the players Lambert has. He has rarely, if ever, used orthodox wingers this season, so deploying wing-backs provides any missing width. The formation may stay, but I'd be surprised if the players don't change if the injury picture improves.

Vlaar would surely be recalled immediately (probably at the expense of Herd) and that would maybe allow Clark to operate slightly further forward, like a sweeper in front of two central defenders (he has, after all, played plenty of football as a defensive midfielder).

Lichaj is likely to drop to the bench when Stevens or Bennett return. Being naturally right-footed, it's difficult for Lichaj to provide that touchline-hugging width. Bennett has already shown a quick turn of pace and aptitude pushing forward, and with him on one side and Lowton on the other, Villa would have two wing-backs capable of linking defence and midfield.

While Villa are still not tanking through the gears, it's encouraging to see them becoming hard to beat and creating momentum by picking up a point. Good teams are built on a strong defence, first and foremost, and it may be that, approaching the halfway stage of the season, Lambert has hit upon the formation which suits his young team best.