Statistically speaking, Villa need staying power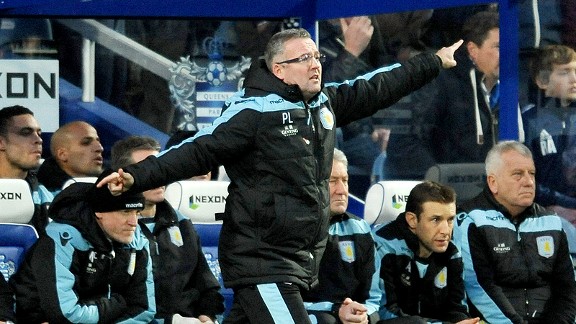 Christopher Lee/Getty ImagesPaul Lambert's side has not statistically soared in the final half hour of matches this season.
Someone once told me that statistics don't count for an awful lot-- that you can interpret them any way you like, two sides to every story, and all that. And although in football, the only definitive statistic that can't be denied is the one which comes at the end of 90 minutes -- the goals scored by each of the two competing teams -- I feel it doesn't do any harm to analyse the facts and figures once in a while.

- Lambert: Stoke more than just muscle
- Villa want 18 million for Bent

Villa's are quite enlightening. A good while spent studying the club's statistics page elsewhere on the ESPN site throws up some interesting clues about Villa's struggles this season. There's plenty to digest, but the goals conceded information is an eye-opener -- not the volume of goals Villa have given away, but the timing of those goals.

Paul Lambert's team have shipped 23 league goals so far during the current Premier League campaign, and there's a real unbalance in terms of when those goals have gone in. Villa have conceded six times during the first half of matches -- and 17 times during the second half. Not only that, but 11 of those 17 have crept in between the 61st minute and the 90th.

In contrast, Villa have scored just six goals themselves in the second half of matches this season (mind you, only six in the first halves too). So, the total seasonal second half aggregate score reads: Villa 6 Opponents 17. Ouch.

That lays things down loud and clear -- Villa are not exactly blasting opponents away during the first half of games, but they're absolutely falling apart in the latter stages of matches. Running out of steam, or shape, or losing concentration, or discipline; whatever it is, the second half performances, and particularly the final half an hour, are not up to scratch.

Villa have clearly got to learn to last the pace. Staying power is seriously lacking.

Why has this been happening? It's hard to say, for certain. The youth of Villa's squad this season is well known so it could be that concentration is an issue, that the younger players haven't yet the experience to pace themselves for the full 90 minutes.

It could also be a confidence thing -- Villa have rarely been in commanding positions heading into the second half of matches, and anxiety could come into play. Also, if the team has been trailing at half-time, belief dips and hearts have simply sunk. This would apply during Villa's 5-0 defeat at Manchester City, when heads dropped and the team wilted.

The statistics aren't all disastrous, however. Looking at ESPN's monthly summary, data hints at a Villa recovery. In August, Villa's results ranked them as the 19th most successful team in the Premier League during that month, with zero points from two games, four goals conceded and one scored.

September yielded improvement at 11th, October saw a drop to 18th (three games, one draw two defeats, an average of just 0.33 points per game). But in November, Villa perked right up, with an average points yield per match of 1.40 (five games, two wins, two defeats, one draw), making them the eighth best-performing team in the league. So far in December, Villa have the ninth-best record, though that stands for little with just one game played.

All of which brings me neatly (if you call 500-odd words of stat-chat neat) to Saturday's opponents, Stoke. They certainly have their detractors, do Stoke, but those same set of statistics show that Tony Pulis' men are currently a team to be feared.

Stoke's performances and results in November (three wins from five games, one draw and one defeat) made them the fourth-best team in the league during the month -- ten points taken, an average yield of two per game.

They are unbeaten in five league games, and have won three on the bounce, most recently an impressive victory at West Brom. Over those past five games, Stoke are ranked the best team in the Premier League.

The 'time of goals' statistics show that Stoke like to start fast -- they've scored four times in the opening 15 minutes of matches this season so Lambert will want his boys to be focused from kick-off (and they usually are -- Villa have conceded just once during that period).

The Villa manager may also like to know when Stoke are vulnerable. Unlike Villa, it is not towards the end of games. Stoke have let in just three goals between the 61st and 90th minutes. But they tend to get sloppy either side of half-time, conceding four times between the 31st and 45th minute, and three times between the 46th and 60th; seven times in the 15 minutes just before the break.

Certainly no harm in looking at the stats, but now it's up to Villa to make sure no second half harm is done versus Stoke.