Villa's Christmas wish list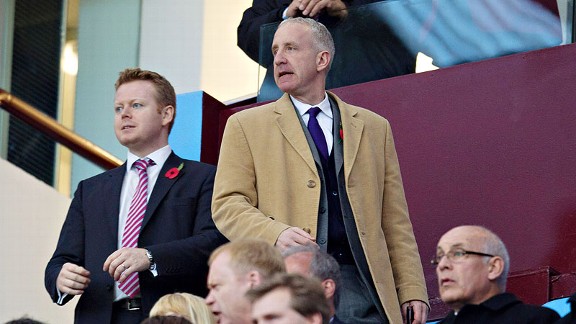 Neville Williams/Getty ImagesAn interview with owner Rander Lerner, center, is something Aston Villa fans would appreciate seeing soon.
It's December, festive lights are beginning to twinkle in the windows of houses up and down my street, and the first signs of snow appeared in the UK today. It can only mean one thing: Christmas is coming. And that means it's high time to scribble out a wish list for you-know-who.

- Guzan hails Given support

Here's what I think should be on every Villa fan's list for Christmas 2012:

A PENALTY
Several would be nice, but one will do. Following the latest round of Premier League matches (December 1-3), six clubs were still without a single, solitary spot-kick so far this season; Villa are one of them (Liverpool, Norwich, Sunderland, Spurs and Swansea the others). And Villa (Liverpool are the same) have had three penalties awarded against them, making Paul Lambert's team statistically the joint worst off in the league. This season is tough enough as it is, a helping hand -- literally -- would be welcomed.

LAMBERT AND BENT: THE CONFESSIONAL
The biggest talking point of the season so far, with Villa's record signing, Darren Bent, struggling to get any game time at all, his manager evading questions and thousands of fans scratching their heads. Wouldn't it be great to get the pair of them on live, primetime television, facing the music and airing their grievances? Complete, maybe, with frenzied studio audience, loads of booing, and large banner headlines running across the screen: 'HE MADE ME CAPTAIN AND THEN DROPPED ME!'
It would be great fun, wouldn't it? Or is that just me?

INJURY AMNESTY ON DEFENDERS
If there's one area of the team you want settled, it's the defence. So, in this regard, Villa haven't had a lot of luck, with personnel at the back being changed on a regular basis, if not every match. Ron Vlaar, Ciaran Clark, Nathan Baker, Eric Lichaj, Joe Bennett, Enda Stevens and Chris Herd have all been injured at some point this season and missed games. Richard Dunne has been crocked since the summer. An injury-free back four for a month or so would be wonderful.

A RANDY LERNER INTERVIEW
Villa's publicity-shy owner has purposely stayed in the background for the majority of his tenure at the club, barely giving an interview in his six years at the helm. That's his right, naturally, but I think hearing from the owner would give many fans a real boost and an insight into the thinking of the most powerful man at the club. And I'd like to hear his thoughts on some of the real burning issues that have cropped up over the years: why did Martin O'Neill leave the club? Why did you decide to appoint Alex McLeish? Who's been your least favourite Villa player since you took charge? Who's the biggest earner at the club? And, most importantly of all, would you get another Aston Villa tattoo?

ALBRIGHTON BACK ON FORM
Who can forget the impact Marc Albrighton made a couple of seasons ago? Quick, sharp, enthusiastic, cutting a swathe past hapless full-backs, thrilling Villa Park with his incisive running and pinpoint delivery? Not I, that's for sure. Now the poor lad can hardly get a game. His form has drifted and with manager Lambert not exactly an advocate of wingers, it's beginning to look as if Albrighton might be edged out of the picture. I hope not. There's still a cracking player in there.

BARGAINS IN THE JANUARY SALES
As any shrewd present purchaser knows, it's folly to spend a fortune at Christmas when the January sales bring the opportunity for bargains galore. Villa have to be careful with cash these days, but I'd hope Lerner has been stockpiling the vouchers ready for Lambert to hit the sales in the New Year. A midfield general and a central defender with a bit of pace would suit me.

THREE POINTS ON BOXING DAY
Seriously, the best Christmas present a Villa fan can hope for. The season's been desperately short of cheer so far, but an instant pick-me-up would be victory and three points at home to Tottenham on Boxing Day. The atmosphere at Villa Park will be crackling with expectation, and a win over Spurs would not only put a positive finish on a pretty poor 2012, but send the team into 2013 with renewed belief.