Villa's Academy is officially top class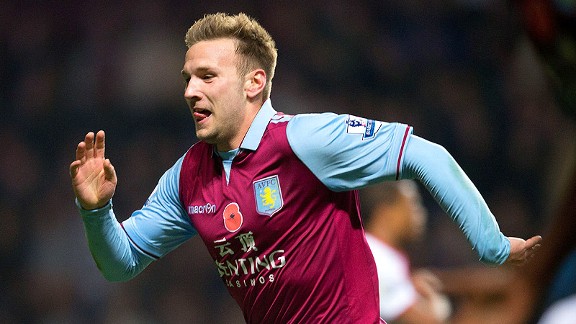 Neville Williams/Getty ImagesAndreas Weimann, who scored a brace versus United on Saturday, is one of the many promising players to have emerged from Aston Villa's top-ranked Academy.
It's official -- for young footballers, there is no finer club at developing talent than Aston Villa.

Confirmation arrived this week that Villa had secured Category One status for its Academy following an independent audit of club youth development programmes, which forms part of the Premier League's Elite Player Performance Plan. Not only that, but the Aston Villa Academy emerged number one out of every Academy in the UK.

The audit considered criteria including productivity rates, coaching provisions, quality of facilities, education and welfare provisions; all while invoking a category status of one to four, with one being the most elite. The benefits to Villa for securing Category One are wide-ranging, but two things stand out starkly -- the higher a club's category, the more central funding it will receive from the Premier League, and with a commitment to youth development, the budget for that is £300m over the next four seasons.

Secondly, and also key, Villa are able to recruit any player aged 14 and over from anywhere in the country. Quite simply, it is the place to be.

Villa's focus on developing young players is no secret if you support the club or take an interest in its fortunes. But while the media at-large will make the occasional reference to such things, it's usually in the form of a throwaway sound bite, and evident only when picking over the bones of a game on television.

Study Villa's squad over the course of this season thus far and it's obvious that the average age is among the youngest -- if not the youngest -- in the Premier League. It may get discussed after Villa's 'young guns' push Manchester United all the way, for example, but the club's overlying strategy continues somewhat under the radar. Perhaps it will always be the way until a genuine world-class superstar emerges from within.

The reality is that, even before Randy Lerner took ownership of the club in 2006, Villa were committed down this path of nurturing youth, and Lerner bought into it. One of the first projects he signed off on was a development and overhaul of the training ground at Bodymoor Heath. It wasn't about window dressing and making the place look nice and making sure the millionaire fraternity at the top end of the senior squad was indulged, it was about ensuring the facilities were first-class. It was about recognising that, if developing outstanding young players is crucial to the club's progress and sustainability, then impressing the parents of a promising teenage footballer, spoilt for choice with interested teams, is as vital as impressing the agent of an established international available for transfer.

"Clubs have had to produce facilities, the qualities of which were far beyond all expectation and belief even ten years ago, with swimming pools, hydrotherapy pools and the highest standard of pitches that are now considered essential requirements," said chief executive Paul Faulkner via the club website. "While we have achieved considerable success at reserve and youth team level, the most important element will always remain the development of individuals to become Premier League players," he continued. "We try to do things the right way at Aston Villa and our Academy is a vibrant symbol of the values we espouse."

On that theme, it's worth identifying exactly who falls into that category this season -- Gabby Agbonlahor, Ciaran Clark, Andreas Weimann, Barry Bannan, Marc Albrighton, Chris Herd and Nathan Baker are all active and involved members of the first team. Gary Gardner, who came on as substitute at Southampton on the opening day of the season, would have been as well had it not been for a cruciate knee ligament injury. Nathan Delfouneso also appeared earlier in the campaign before being loaned to Blackpool, while others are knocking on the door: midfielder Samir Carruthers isn't far away and defender Derrick Williams was on the bench against Manchester United on Saturday.

Some broader statistics to consider, courtesy of the club: from 1998, the year the Premier League's Academy system was established, to through the 2010-11 season, 145 players came through the Aston Villa Academy. Of those, 52% have played in the Premier League, the Football League, a top European league, or remained at the Academy. Some 17% have played in the Premier League alone, and 26% in the Football League or a top European League. In that time, Villa have produced 15 full internationals and many more younger age internationals.

That one, true world-class footballer still evades Villa -- that is fair to say. But even if one never materialises, does it even matter when the club is now developing enough quality youth talent to fill its senior squad? Is that not success in itself?

Villa have taken the long-term route to producing Premier League-standard footballers, and success this way does not come overnight. While Barcelona's outstanding La Masia training school has received wonderful and well-deserved praise following the excellence of Messi, Xavi, Iniesta and Pique, it shouldn't be overlooked that these players are the finished products of a master plan that was put in place a generation ago. Before that, the standard bearers of youth development were Ajax. There are no shortcuts to producing gifted young players year after year after year -- it requires investment, commitment, continuity and dedication.

Dovetailing neatly with the Academy news is the confirmation that Villa have secured the signing of Swedish starlet Khalid Abdo, who has joined from little-known Division Two club Larje Angered. Having read all that has gone before, it won't be a surprise as to why he chose Villa when Chelsea and Hamburg were reportedly in for him. "The Aston Villa Academy was the best of those I was with," said the 16-year-old. "I feel I can develop here. My goal is to step up to the first team and maybe move to a bigger club."

I'll put that last sentence down to youthful naivety, though that is the challenge Villa will continue to face -- when they produce young players of considerable talent, they want to keep them throughout their prime years. Let's hope that dilemma solves itself in time.