Reshaped Villa show signs of recovery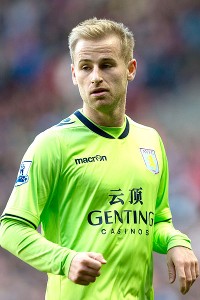 Neville Williams/Getty ImagesStarting Barry Bannan (along with Stephen Ireland) gave Villa a boost in their winning effort against Sunderland.
I felt confident Villa would beat Sunderland on Saturday one hour before kick-off, when I heard the team announced. A 1-0 win over Sunderland, one of the few teams in the Premier League who could rival Villa for poor form across the first quarter of the season, is nothing to get too hyped up about, but what was encouraging is that Paul Lambert's men appear to be edging close to some sort of shape and understanding.

Lambert made changes to the team which looked dysfunctional against Norwich. One was enforced - Karim El Ahmadi was suspended, which was disappointing, but otherwise the manager had clearly recognised the individuals who contributed to the league cup victory at Swindon: into the midfield came Barry Bannan and Stephen Ireland, with Fabian Delph and Marc Albrighton dropping out.

In the purest sense of the term, Bannan and Ireland are footballers, whereas Delph and Albrighton come from a more athletic, explosive strand of player. Delph can pass a ball, but he's also quick and aggressive, and a little too hasty to jump into a challenge, or rushes in possession. Albrighton is cut from the cloth of an old-fashioned winger; push him wide, give him the ball, let him run at a full-back and get a cross in. Both players have something to offer Villa, but I don't see either of them deserving starting roles as things stand, and certainly, starting both in a midfield four - as Lambert did against the Canaries - leaves the team lightweight in a crucial area.

Bannan and Ireland are similar, in that they do the simple things well. Pass and move and pass and move and pass and move again. When Bannan is disciplined enough not to go seeking the long, diagonal 'Hollywood' pass with every other touch, and Ireland stays involved in the game and doesn't drift into ineffectual areas, they can bring a control and a composure to Villa that has been all too rarely seen of late.

It's encouraging to see both players on from the start, which hasn't always, or often, been the case. The English football psyche is so deeply ingrained that footballers in the Bannan and Ireland mould can sometimes be viewed with mistrust; physically, neither are up to much, they don't 'get their shorts dirty' or put themselves about, so the question of whether they can both be included in a midfield is often asked. The temptation has been to use Bannan in a wider position on the left, and Ireland playing just off a striker, a role which can leave that particular player totally isolated if the game is buzzing on around him.

By using both in a central area, they can dictate a game, or at least have a significant influence on the flow of proceedings. So it proved at the Stadium of Light on Saturday. Villa's midfield benefited from a further layer in the shape of Ashley Westwood, a thoughtful passer of the ball making his first Premier League start of the season (actually, of his career) as deputy to El Ahmadi.

Westwood impressed - not bad for a player who was with Crewe last season. He's been compared to Michael Carrick, and the style is reminiscent. With him being neat and tidy, and Bannan and Ireland getting on the ball just ahead of him, Villa moved the ball around very effectively. And comfortably too. Don't be fooled by some of the skillful match highlights editing you may have seen in the UK on Saturday evening - Villa were good value for the victory.

Lambert may have found the right mix. Ahead of the much-improved midfield, the front three combined well, with Andreas Weimann back on from the start and full of running on the right, Gabby Agbonlahor looking sharp roaming infield from the left and Christian Benteke continuing to impress at centre-forward; he really is beginning to look an awesome prospect in the making. Suddenly, it's not so hard to see why Darren Bent cannot get a start in the league. But more of him later in the week.

When Lambert takes time this week to reflect on the performance at Sunderland, as he surely will, he'll be unable to overlook the pattern in his selections and Villa's better displays - the draw at Newcastle, and both the league victories, against Swansea and Sunderland. Bannan and Ireland started all three games, as did, incidentally, Weimann.