New deal for Lambert, no deal with Lerner
Transfer deadline day passed with barely a ripple of excitement around Villa Park, but there has been no shortage of drama since Jan. 31.

Rumours of owner Randy Lerner putting the club up for sale were splashed all over one newspaper at the weekend, and that was followed swiftly by another story: Manager Paul Lambert is to be offered a new contract.

Villa chief executive Paul Faulkner acted quickly to deny any suggestion that Lerner was looking to sell, but talk of Lambert's contract extension appears to be accurate, and genuine. A development, then, for Villa's manager, but nothing in terms of the owner selling up and moving on: deal, no deal.

Ordinarily, both items of news might be seen as overwhelmingly positive. Given the slightly confused state the club appears to be in, however, there are some Villa supporters who might be feeling a little disappointed with either. Or both.

- Lambert in contract talks

Let's look at Lerner first. The 51-year-old American is a difficult man to fathom, and increasingly seems more distant with each passing season. Lerner's public profile is beneath low: never seen and rarely -- save for the very occasional carefully prepared statement, usually in the way of a letter to season-ticket holders -- heard.

That does not mean, of course, that his focus on Villa is any less diminished than it was in 2006, when he bought the club for 62.6 million pounds. Indeed, Lerner has invested somewhere in the region of 250 million during his time at the helm.

If he was seen at Villa Park, even just once or twice a season, clapping enthusiastically or punching the air to celebrate a goal, it would go a long way to assuaging supporter suspicion that his commitment, passion and interest has taken a dip in recent years.

Of course, Lerner doesn't need to be at Villa every week, immersed in the running of the club, because he has someone to do that on his behalf -- Faulkner -- whose statement, denying rumours of a sale, seemed clear enough:

"I can categorically confirm Aston Villa Football Club has absolutely not been put up for sale and that Randy Lerner is not actively looking to sell the club," he said.

Clear? Possibly. Though the key word there is "actively." There won't be any public advertising of the football club for sale, but if an enquiry happens to be made, that might be a different story.

In any case, a cynic might suggest that by such reports arising in the national press one day, followed by an official denial 24 hours later, there could be no more effective method of raising awareness to the possibility of a change of ownership.

Regardless of Lerner's non-attendance at matches, the direction of the club is a more pertinent discussion. Where are Villa going? What is the plan? The need to reduce wages and to operate more shrewdly in the transfer market was understood, but it was expected to be a temporary measure while Villa rebuilt.

The big earners have steadily and gradually been removed from the squad -- Stephen Ireland was the latest, securing a permanent move to Stoke in January -- but though there are still a handful to go, Villa seem no nearer to being able to rejoin the ranks of even the modest spenders. The club completed just two loan deals -- for Grant Holt and Ryan Bertrand -- during the transfer window.

With such meagre investment, despite obvious areas of weakness in the squad, it's no surprise some fans viewed this level of inactivity as the strategy of a club preparing itself for sale.

After all, in Doug Ellis' final year at the helm of the club, his last manager, David O'Leary, was more or less totally financially handicapped in the transfer market and couldn't buy a pair of boots, let alone a player to fill them.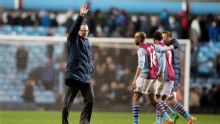 Neville Williams/Aston Villa FC via Getty ImagesLambert has been in charge at Villa Park since June 2012.
Lerner seems content for Villa just to be a part of the Premier League. Certainly, there's little urgency or ambition to move in an upward direction.

In this light, rewarding Lambert with a contract extension is the right decision. The manager kept Villa in the Premier League last season and appears to have the team on track to stay out of the relegation battle in 2013-14.

If Lambert is working to a brief of keeping Villa out of the bottom three, while remaining within budget and reducing overall player costs, he's well worth a new contract. The past 18 months have been testing, and the next 18 months might be very similar: Villa's progress is slow and steady, rather than spectacular.

The club are in a brighter position -- in points and league placing -- than 12 months ago, though there are those who still harbour doubts over Lambert's ability to take Villa to the next level.

His signings over the past year or so have been hit-and-miss, and he's failed to strengthen a couple of positions which have obviously been an issue for some time.

The style of football Lambert has presided over has also, too often, been grim at worst, uninspiring at best, with the team's most disappointing performances occurring at home. That's never a good thing, in trying to get supporters onside.

Villa are treading water, really, drifting around in mid-table with no immediate or short-term prospect of getting anywhere near the top six. A dynamic change of ownership might change that, but it could also have a negative effect: The continuation of the Lerner-Lambert partnership at least delivers stability.