Forget the penalty, admire the performance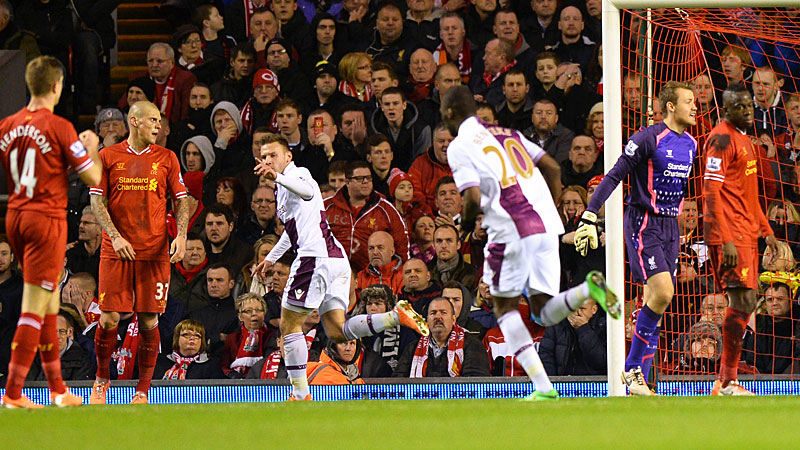 GettyImagesThe Liverpool inquest begins after Andreas Weimann scored.
Better. Much, much, better from Villa. A sense of disappointment, at failing to capitalise on a 2-0 lead, and legitimate complaints about the nature of Liverpool's equaliser from the penalty spot, should not detract from what was a vastly improved performance by Villa in drawing 2-2 at Anfield.

Villa have not played like this in a good while, it has to be said. At it right from the kickoff, pressing high up the field, flooding Liverpool's midfield, winning the second ball, creating chances. For 45 minutes, Villa were in control. In periods of the second half, with Liverpool level and perhaps smelling victory, Villa retained their composure and calm. It was no backs-to-the-wall, nervous finale.

In recent weeks, Villa have been a pale imitation of a football team, passive opposition seeking to stay in games for as long as possible. Against Liverpool, the same group of players who had collapsed witlessly against League One Sheffield United in the FA Cup bristled with purpose, focus and determination. And no little confidence. It was not a performance anyone had expected.

- Walsh: Rodgers dealt midfield lesson by Villa
- Gerrard: Point could be crucial
- Jolly: Defensive woes continue to hinder Rodgers

Tactically, Paul Lambert played it perfectly. The Villa manager is not seen in the same visionary light as Liverpool's Brendan Rodgers, but he won the battle of coaching minds, in the first half at least. Rodgers, curiously, opted for a 4-4-2, unable to resist the temptation of re-uniting Luis Suarez and Daniel Sturridge as a front pair but also, perhaps, somewhat blinded by goals, with Raheem Sterling and Philippe Coutinho in the wide positions, the Reds were set up to attack.

Maybe Rodgers expected his team would simply overwhelm Villa. Instead, Liverpool were pushed on to the back foot as Lambert's midfield trio of Ashley Westwood -- sitting slightly deeper than his two colleagues -- Fabian Delph and Karim El Ahmadi dominated those crucial areas. Villa should have been a goal up inside a minute, when Christian Benteke's flick-on freed Gabby Agbonlahor to run clear and poke it wide, and would have been had Ciaran Clark's header not bounced back off a post.

Villa's opener came from a swift, controlled break. Delph's interception and pass into Benteke was then moved on to Agbonlahor, whose surging run down the left took him past Kolo Toure before crossing into the six yard area for Andreas Weimann to side-foot home. Weimann had sprinted from the edge of his own penalty box to get into position. Villa's front three have not enjoyed the best of seasons so far; that goal was a reminder of how devastatingly effective they can be.

Agbonlahor was hugely influential. His cross, from the right this time, allowed Benteke to head Villa 2-0 up. His exit, through injury, just four minutes into the second half, had a significant impact in the balance of the game.

Liverpool had already pulled one back by then, and reshuffled their formation -- Lucas replacing Coutinho -- to gain more of a foothold in midfield. Without Agbonlahor, Villa lost pace from their forward line, and Lambert may have been better off introducing Marc Albrighton, who would have stayed wide and stretched the Liverpool defence, rather than new loan signing Grant Holt. Still, Lambert clearly wants to get Holt involved as much as possible, and the striker showed some decent touches during his time on the field.

Villa's other debutant, Ryan Bertrand, did well. The left-back hasn't played much football at all this season, which showed towards the end as he was substituted with ten minutes remaining. Before his legs tired, however, he was solid and sure-footed, coping well with Sterling, and it's to be hoped that Villa's weakness at left-back has been temporarily resolved.

The penalty deserves comment, for it cast a shadow over the remainder of the second half, and the post-match hours. A shame, given the quality of the match. A view of the decision, given after Suarez tumbled as Brad Guzan dived at his feet, will always be clouded by the colours you wear.

It was not clear cut. If there was contact, it was minimal, for Guzan's arms and elbows were pulled in, and 'contact' doesn't automatically equate to a foul. There would appear to be different rules for goalkeepers making challenges inside the area, and challenges elsewhere on the pitch.



Nevertheless, it was an outcome seen too often: goalkeeper goes down, player goes down, penalty. Any 'keeper who does that is aware of the risk, for referees have just an instant to make a decision. Usually, however, in those circumstances, there's a card for the offender. Guzan wasn't even booked.

A controversial decision, certainly, but that should not detract from what was a surprisingly good display by Villa. As was written at the time, the finale to Monday's defeat to Arsenal generated much-needed momentum. Benteke's goal against the Gunners restored some of his confidence, and a couple of new additions to a struggling squad also seemed to have contributed to renewed belief in the Villa camp.

From expecting the worst, in terms of results, against Arsenal and Liverpool, Villa have instead come out of both games reasonably well. There is now a wait of a week and a half before the home clash with West Brom. A pity. After doing so well at Anfield, that match can't come soon enough.