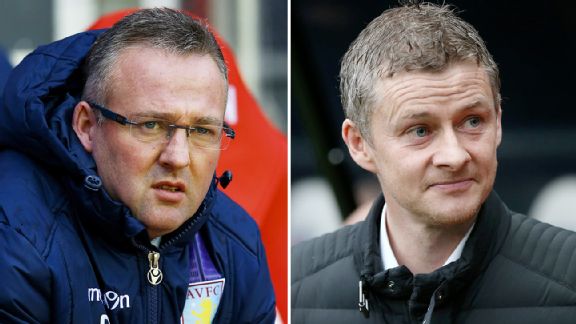 Getty ImagesSome Aston Villa fans wonder if Ole Gunnar Solskjaer, right, had been named Villa manager back in 2012 instead of Paul Lambert, left.
Cardiff City fans will be bursting with anticipation now that Ole Gunnar Solskjaer has been confirmed as the club's new manager, but the progress of the Norwegian will also be watched with a keen interest from the Midlands.

It is no secret that Solskjaer was in the frame, when Villa owner Randy Lerner and his chief executive, Paul Faulkner, were commencing their third search for a new manager in a little over two and a half years. In May 2012, having just dispensed with the services of Alex McLeish following a dismal campaign, Lerner and Faulkner were again on a recruitment drive.

Solskjaer was the unexpected candidate from leftfield. Villa as a club had gone stale and bloated, and the squad was in desperate need of an overhaul. By the time the news of Solskjaer's meeting with Lerner had broken -- the American sent a private jet to Norway to collect the Molde coach and deliver him to Birmingham -- Villa fans were excitedly coming round to the idea; that this could be the man to lead the restoration project and bring a freshness to the club seemed plausible.

- Report: Villa keen on Guidetti

Molde confirmed the talks, which Solskjaer himself insisted were informal, while also revealing Villa had other candidates to speak to. Nevertheless, the act of charting the jet seemed significant. Within a couple of days, however, Solskjaer withdrew from consideration, citing a reluctance to uproot his family from Norway. In all probability, another factor would have been pressure from Molde's owner and chairman; Solskjaer had just steered the club to the domestic title and into the Champions League, and was just a year into his contract.

Villa didn't actually offer the manager's position to Solskjaer, and where he was in the order of preference in the minds of Lerner and Faulkner is not known. He may have been first choice, ahead of Paul Lambert, or he may have been Villa's Plan B, an option had a deal not been struck with Norwich for Lambert's release. Or he may have been further down the list than that.

What is fair to assume is that Villa weren't an attractive enough proposition for Solskjaer to take discussions a stage further. In 2014, after further championship success with Molde and heading towards the final months of his contract, he's seen something in Cardiff to tempt him to the Premier League. It may be that, 18 months down the line, he feels more equipped to take the step up. It may be that the reported generous transfer budget available this month was the clincher, even if Solskjaer will now be working for an owner with a very different profile and reputation than Lerner.

Solskjaer's arrival at Cardiff gives Villa supporters a direct comparison to Lambert, the manager Lerner and Faulkner did appoint, and at a time when the focus on the Scot is at its fiercest. Lambert has presided over a revolution at Villa in terms of squad personnel, but not in style of play, with performances this season too often ragged and patchy.

On Saturday in the FA Cup, Solskjaer recorded his first win as Cardiff boss, his new side beating Newcastle 2-1. Both goalscorers were substitutes Solskjaer had introduced, while at Villa Park, Lambert's second-half change led to a Villa goal, with Nicklas Helenius replacing Aleksandar Tonev and equalising against Sheffield United. While that was merely the pre-cursor to the League One visitors scoring a late winner, Solskjaer's scorers secured a first Cardiff win at St James' Park since 1963.

That was the ideal start for Solskjaer, but the coming weeks bring a challenge of a different nature with the transfer window now open. Like Lambert, the early indications are that the Norwegian will go with what he knows. While the Villa manager recruited widely from the lower leagues -- he cut his managerial teeth outside the Premier League -- Solskjaer will source from his homeland.

He's expected to finalise deals for Norway midfielders Magnus Wolff Eikrem and Mats Moller Daehli (Daehli is at Molde) shortly, and the duo won't be the last arrivals. 'His' Cardiff team will take shape in the final third of the season, and Solskjaer's influence, his philosophy, and tactical understanding will develop.

Villa have a five-point lead over the Bluebirds, sitting in 11th position compared to the Welsh club's current 17th place, but that numerical advantage won't prevent many claret and blue fans monitoring Solskjaer's work and wondering what might have been.

Unfairly or not, by some Lambert is always judged against Roberto Martinez, who Villa approached to succeed Gerard Houllier in the summer of 2011. Martinez had already pledged his future to Wigan before Villa's request to speak to him, and the Spaniard, having gone on to win the FA Cup with the Latics, is enjoying an impressive season with Everton.

His record at Goodison Park is a constant reminder to Villa, again, of what the club potentially missed out on. Martinez walked into a very different environment at Everton than the one which awaited Lambert at Villa -- a strong, settled and talented squad left by David Moyes, rather than a rebuilding job on a budget.

But the slight adjustments he has made to Everton's style, introducing a more possession-based game and encouraging attacking freedom, together with some shrewd additions -- the impacts of loanees Romelu Lukaku and Gareth Barry have masked the lack of contributions from Arouna Kone and Antolin Alcaraz -- have re-invigorated the team and made a top-four finish a possibility.

There is a positivity not only about Martinez's team but the manager's demeanour: polished, sharp, charming and confident, which is at odds with Lambert's struggling Villa and his own dour public image.

It makes Everton, and Martinez, the envy of many a suffering Villa fan. For their sakes, it is to be hoped they do not feel the same about Cardiff and Solskjaer in six months' time.