A point doesn't ease the pressure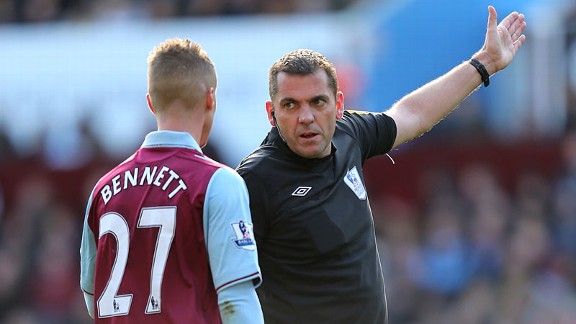 GettyImagesJoseph Bennett receives his marching orders from referee Phil Dowd
It was my son's birthday this week, so I'll share his thoughts on Villa's performance against Norwich.

"If Villa win this, they'll be up to 15th!" he said, reacting to Christian Benteke's opener. Now, if he'd just reached a teenage milestone, you might have expected this comment to have been made with a heavy dose of adolescent sarcasm. But he's just turned nine years old: my son genuinely thought climbing to 15th was a positive. Bless him. I suppose recent history suggests 15th is about par for the course for Villa these days.

- Canaries leave Lambert frustrated
- Lambert bemoans red card
- Blog: Battle of Norwich old and new
- Tactics Board: Old school at Villa Park

In fact, 15th must look appealing to Villa right now - they're a couple of places below that, having seen their half-time advantage overturned by a Norwich side who came to Villa Park playing with the kind of spring in their boots that comes after beating Arsenal.

Villa had a lack of spring - three defeats in the last four league games will do that - but a 1-0 lead promised to restore some. As befits a team playing with low confidence, a goal can transform, and Villa looked comfortable after Benteke's finish. That comfort evaporated once Joe Bennett was sent off almost at the start of the second half, and the whole match was turned on its head.

Villa fought hard and nearly scraped over the line: Guzan was outstanding in goal, and a defence that was already reshuffled due to injuries to Ciaran Clark and Nathan Baker coped well. Vlaar and Herd made several vital interventions. But it wasn't enough, and once Norwich equalised, the worry was they'd go on to take all three points.

A point. A sigh of relief on one hand, a feeling of frustration on the other. This was a game Villa needed to win, for points and for momentum going into November. The slide towards the bottom three is on, and you can almost feel the wider football audience watching with interest and excitement. Villa are getting sucked in, getting into trouble. One of the Premier League ever-presents could lose that status. It's a decent story, and it's gathering pace.

Without pressing the panic button, the concerns are there. The depth of the squad has already been exposed, with just a couple of injuries. The defence is particularly susceptible with Richard Dunne's return now estimated at Christmas - Vlaar is currently the only fit centre-back in the first team - and Bennett's suspension will stretch the back four further.

Villa's midfield looks disjointed. It's not really working. Leaving Stephen Ireland out was, I thought, justified, because as much as we can talk about his talent, that talent is seen only occasionally. But starting with Albrighton was odd. He's an old fashioned winger who needs to hit the byline, not really the type to keep the ball. Fabian Delph still appears rash to me, and I don't understand Paul Lambert's continued reluctance to choose Barry Bannan. Charles N'Zogbia may have offered an alternative, but a knee ligament injury is going to keep him out for three or four weeks.

The biggest positive was Benteke, who took his goal well and nearly had another. He's picked up an early and unfair reputation as a fluffer of chances, but that's not really accurate: he's a powerful boy, quick and aggressive, and already has two league goals to his name. If anything, he should have stayed on longer than he did, for he was the biggest threat to Norwich.

All in all, it's another disappointing weekend for Villa. Next stop, Swindon in the League Cup on Tuesday - Villa should hope this is the perfect distraction from the pressures of the Premier League. There is a quarter-final place at stake, don't forget, and Villa need a pick-me-up.