Villa have the fear factor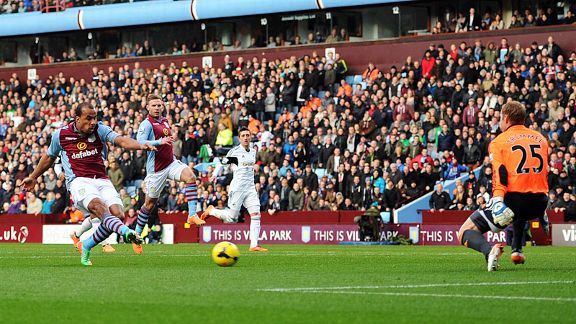 GettyImagesGabriel Agbonlahor fires Aston Villa in front at home to Swansea.
During the course of the 1-1 draw against Swansea, the identity of Villa's most difficult opponents of the next few weeks was revealed.

Fear has swept in to rudely disrupt the season, to prey on supporter anxiety and player confidence. It is not an easy fight to win, but this Villa team must overcome its frailties if it is to stay ahead of the relegation places.

That Villa took a point against Swansea was the source of some comfort, following four straight defeats and, indeed, the balance of play at Villa Park. Without wanting to further damage supporter spirit, it's fair to say the visitors were vastly superior with the ball. Michael Laudrup's gifted side passed and moved with such grace it was impossible not to admire, even while cringing at the same time at Villa's rather agricultural methods.

- Honours even in dour draw
- Lambert confident in Lerner backing

It was a real clash of culture and style. Villa, starting with a bog-standard 4-4-2 formation, were intent on simply getting the ball forward as quickly as possible, by whatever means necessary. As Paul Lambert continues to juggle the players he has available -- and Ron Vlaar and Christian Benteke remain absent -- to find a solution to the current poor run of results, it's understandable why he selected as he did against Swansea.

Pairing Gabby Agbonlahor and Andreas Weimann as a front two made sense, for both players are most comfortable as central strikers, and it meant Villa carried a mobile threat in the forward areas. Fielding Leandro Bacuna and Aleksandar Tonev as right and left wingers laid Lambert's plans clear: to get the ball out wide and supply his strikers.

It started well enough. Both Bacuna and Tonev whipped over early crosses, and Weimann and Agbonlahor combined nicely after just seven minutes when the Austrian ran at the Swansea defence and played in his partner to demonstrate sound composure and side-foot past Gerhard Tremmel.

A first-half goal for Villa -- the first at home, in the league, all season, on the last matchday of 2013 -- was duly celebrated, and the entire team surged towards Lambert, his coaching staff and the substitutes to rejoice.

Villa's effort and application couldn't be faulted in those first 15-20 minutes, but any shape to their game soon regressed as the fear factor kicked in. Bacuna and Tonev retreated further and further back, Weimann drifted out into wider areas, leaving Agbonlahor alone through the centre, and there was no evidence of any interplay between the two. Instead of working the ball to the feet of their strikers, Villa merely crashed it skywards at any and every opportunity. Swansea's central defenders, Ashley Williams and Chico, happily gobbled up anything in the air.

It was frantic stuff from Villa. Swansea, meanwhile, stroked the ball around patiently and accurately with their midfield trio of Jonathan de Guzman, Jose Canas and Jonjo Shelvey adept at finding space in and around Villa's chasing pack. It seemed effortless: Canas would drop back into space, receive and give; de Guzman the same. Shelvey was the one prepared to carry the ball, at times.

With Villa lining up in strict straight lines, there was room for intelligent players to operate in the gaps. Swansea's default move was the floated pass out to the right to Roland Lamah, who gave Antonio Luna a difficult first half. It was Lamah who scored Swansea's equaliser, climbing above Luna to head in at the far post after Shelvey had opened up Villa's defence with a clever short pass that Pablo Hernandez ran on to cross.

That Villa got to half-time level was a source of relief, and to give Lambert credit, he made changes for the second half to try to stifle Swansea's dominance. Weimann reverted to a right-wing role and Bacuna moved inside to make a third central midfielder. It worked to a point, though Villa still struggled to find any kind of rhythm.

Too often there were hurried, panicked actions from Villa players. Brad Guzan repeatedly kicked long and into areas of the pitch where no team-mate lurked. Nathan Baker, with no opponent anywhere near him, met a dropping clearance with a first-time volley that soared high in the air and straight back to Swansea. Worst of all came from Luna, who contrived to hit a left-footed clearance, near the touchline, almost over his own head and back into the Villa penalty area to open up a chance for the visitors.

It was at that point that a subdued Villa Park found its voice. This is a home crowd that has had, over the course of the last three or four seasons, very little to cheer about, but the support for players -- and management, despite the growing doubts over Lambert -- remains. Again, over 37,000 were in the stadium and the noise level increased, almost as if to steer the team through the final 20 or so minutes.

Villa actually finished the game fairly strongly. Agbonlahor lashed a shot wide and hit the side netting, and Fabian Delph tested Tremmel with a swerving 20-yarder. The hosts found a measure of control of the game which, although far from convincing, was at least more encouraging than the frenetic kick-and-rush of the first hour. It was noticeable, in particular, how more assured Villa looked with Karim El Ahmadi on the field. If nothing else, the Moroccan has a sense of calmness about him, and an underrated willingness to play the simple pass.

A point won? Given the way Swansea bossed the game for such periods, definitely. Lambert should take some positives from this, primarily that Guzan was barely tested, and that Baker and Ciaran Clark, and indeed his defence as a whole, was reasonably solid. Delph grew more influential as the game wore on and Luna, eventually, after a tough afternoon, found the encouragement to offer a few decent forward runs. The Villa manager will have been delighted by the way his team worked tremendously hard, too. That work ethic can certainly not be faulted.

On the downside, Lambert has to find a way of calming his players down and negating the fear that is almost paralysing their decision-making. Hammering the ball forward, high and hopefully, or down the line, isn't about technique; it's about composure. Finding out why a player like Ashley Westwood, who took pride in retaining possession last season, has regressed into a midfielder who puts his foot through the ball first and thinks later, should be a priority.

Villa's players are better than this -- they've demonstrated that already. But when confidence is low, players retreat into themselves. They need to start loving the football again, and not treating it like something to avoid. Fear is Villa's biggest enemy right now.