The cracks are widening at Villa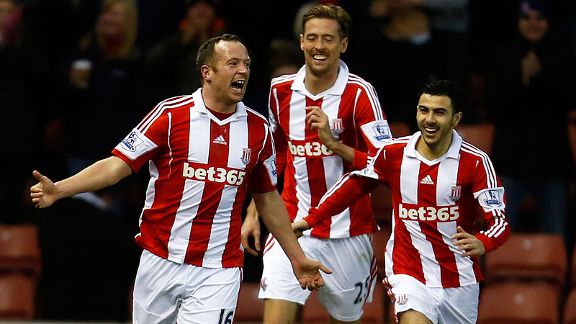 GettyImagesStoke celebrate after Charlie Adam put them in front at home to Aston Villa.
There are no doubt many ways to describe Villa's performance in the 2-1 defeat against Stoke on Saturday -- 'excellent' is not one which springs readily to mind.

Paul Lambert's assessment of his team's first-half display at the Britannia Stadium was wide of the mark but borne out of good intentions; just as at the same stage last season, Villa are under-strength, vulnerable, and making mistakes. The manager's words are intended to maintain whatever semblance of confidence remains in this squad; now it has experienced three straight defeats and the wrong end of the league table looms ever closer.

Villa were not excellent against Stoke, but did at least match the hosts in just about every area; 14 efforts on goal, four on target, against 12 attempts, and two on target (both goals). Possession of the ball during the match was fairly evenly split - 53 percent to 47 in Stoke's favour, and while Villa's passing accuracy of 61 percent was dismal, their opponents weren't much better, at 65 percent.

On another day, with another referee, Villa might have benefited from seeing Stoke reduced to 10 men in the first half. Marc Wilson tripped Andreas Weimann when the striker was through on goal, right on the edge of the penalty area and practically dead centre, but escaped with a yellow card. And, on another day, Libor Kozak's fine volley, late on, might have found the net rather than Asmir Begovic's grasping fingertips, and secured a point.

Lambert's comment that Villa didn't deserve to lose was probably a fair one. A questionable decision by the official, a couple of presentable goalscoring opportunities, the handicap of playing in a strong wind, a performance with plenty of spirit, if not quality. These are the things that football managers hold on to, publicly, in the wake of a defeat. What really goes on in the mind is a different matter.

Villa's manager must be perturbed by the manner in which a season which started brightly enough has now degenerated to the extent that the club is just one point better off than at the same juncture in 2012-13 -- 18 points after 17 matches then, 19 now. The club's fans have been asked - or forced, to be more accurate -- to buy into a vision and plan of long-term progress. There is little evidence of that at present.

At the root of the current predicament, just the same as 12 months ago, is an injury to the captain, Ron Vlaar. Without Vlaar, one of the few players of experience Lambert has signed, Villa have conceded nine goals in 3 1/2 games. A goal every 35 minutes. The problem has been exacerbated by the lengthy loss of Jores Okore, and the continued absence of left-back Joe Bennett; two players who, along with Vlaar, could quite conceivably make up three-quarters of the team's first-choice back four.

Certainly, had Vlaar and Okore been able to play a lengthy run of games together, Villa would probably be several places higher up the league table. As it is, Lambert turned to Chris Herd, Nathan Baker and Ciaran Clark against Stoke, three of the defenders who struggled against Fulham a fortnight ago. There was not a lot else he could do, with left-back Antonio Luna woefully exposed last weekend against Manchester United, and youngster Janoi Donacien clearly not yet in his thoughts.

Clark and Baker have both shown they can cope at this level, with the right player beside them. But Clark is no left-back, and Baker was rolled all too easily by Charlie Adam in scoring Stoke's opener. Herd continues to divide opinion, and he has his admirers. My take is that I've yet to see anything from him that suggests he can play at centre-back in the Premier League, though he could yet turn out to be a competent defensive midfielder.

Stoke's winner came when the Australian failed to cut out Geoff Cameron's cross, and Peter Crouch scored from close range. Whoscored.com gave Herd a ranking of 5.6, with a passing accuracy of 38 percent, though he did win six aerial duels, the most of any Villa player.

It would be unfair to pin all of this on Villa's defenders, however. This was the same combination of players which struggled so much during the midway stage of last season, yet here Villa are again as a result of bad fortune but also poor planning and recruitment. There was always a chance the lack of strength in depth would be exposed. The bottom line is that Villa have the numbers but not the quality.

That is partly down to the manager, for too few of his summer signings have come good -- Kozak is beginning to display an eye for goal, Leandro Bacuna and Luna, to a point, might be considered minor successes -- and it's worth noting that four of the 10 outfield players who took the field at Stoke were already at Villa before Lambert's arrival.

But it's also a result of the structure at the club which means Lambert has to work carefully within a strict budget, at least in terms of wages. Villa are no longer big payers. As debate over Lambert's suitability intensifies, as it will, given recent results, it's impossible to overlook the requirements of an Aston Villa manager today, and ask who, if not Lambert, could get more out of a squad of players that collectively have little Premier League pedigree.

It's a difficult dilemma. The manager can only work with what he has, and what he has, particularly with the existing injury situation, is a group of players short of genuine quality -- but he's also responsible for recruiting many of the current squad.

Lambert can obviously identify talent -- his newest signing, Kozak, looks better with every game -- and some of his most recent selection decisions prove he has a handle on form; recalling Marc Albrighton, who has been Villa's best player over the last two games, and dropping Bacuna and Luna, who have both been below par of late.

There would be some justification in the club considering Lambert's future, but it's doubtful whether Villa owner Randy Lerner has the appetite for yet another managerial recruitment drive following a turbulent few years.

Villa fans may have to stick it out, continue to passionately support the side, and hope results pick up. A Boxing Day win over Crystal Palace would transform the mood almost instantly -- the supporters deserve nothing less as a reward for patience again being tested.