Winter of discontent haunts Villa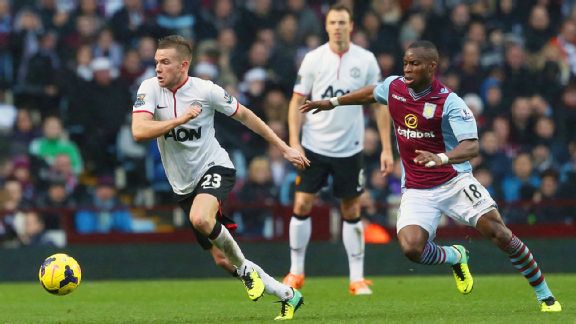 John Peters/Man Utd/Getty ImagesYacouba Sylla and Aston Villa were seemingly a step behind Manchester United all match long on Sunday.
Worse than losing a game of football is losing it by literally handing the result on a plate to the opposition, which Villa exactly did in their 0-3 defeat to Manchester United on Sunday.

- Jolly: United deliver at Villa
- Report: Aston Villa 0-3 Man United

The problems experienced by the current Premier League champions have been well documented, but United enjoyed as comfortable an afternoon as their under-pressure manager, David Moyes, could have wished for. The visitors were 2-0 up inside 20 minutes, 3-0 up part-way through the second half and could quite easily have finished with four, five or more.

It was all too easy, and United barely had to break sweat to take, and then increase, the lead. All three of their goals were as a result of casual, sloppy, Villa defending. For the first, Rafael had the luxury of time and space on the right-hand touchline to fashion the cross which eventually fell for Danny Welbeck to tap in. United's right-back should have been closed down, for Villa had players around him.

Goals two and three were simply down to defensive errors. Villa were in possession of the ball on both occasions. First, Nathan Baker's pass forward into midfield no-man's land was easily picked off, allowing United to break and score again through Welbeck. Not only did Baker play a careless pass, he then reacted painfully slow to try and provide cover and make a recovery run.

The third was just as bad. Antonio Luna's short pass was intercepted, and United countered to send Tom Cleverley through on goal. His shot beat Brad Guzan at his near post.

Luna took to Twitter after the match to berate his own performance, an admirable example of a brutally frank and honest self-critique. The Spaniard was poor, but while he comes out of the post-match analysis badly -- there is no escape from that -- he wasn't alone, and the root of Villa's current problems go a little deeper than lapses of judgement from their fit-again left-back.

Villa fans have seen and learnt enough of Paul Lambert during his 18-month spell in charge to realise the coach has a preferred way of setting his team up, but his reluctance to move away from a 4-3-3 model is causing issues. It's a formation which works when the players within it are all fit and on form, but too many of them are currently not.

Given that Lambert was without the two men who have been, without a doubt, Villa's most consistent players so far this season -- Ron Vlaar and Fabian Delph -- competing with United was always going to be difficult. Vlaar holds the Villa defence together, and Delph is virtually, at present, irreplaceable in midfield. Retaining the typical set-up without those two was never going to work -- not when United had the personnel, and the strategy, to take Villa apart. Moyes' 4-5-1 was crafted to do exactly that.

Lambert's ideal has a midfield three, all deployed reasonably narrow. When one of those is Delph, who is happy to move across to the left side, and does so almost naturally, it works well enough. Take him out of the equation, however, and the picture changes. Against United, Ashley Westwood, Karim El Ahmadi and Yacouba Sylla all started, and none of them are particularly comfortable when moving away from the central areas.

It's the reason Antonio Valencia had a field day. He had no player directly in front of him and was almost given a free run at Luna all afternoon. Sylla was exposed more than once trying to get across to help out. On the other flank, Adnan Januzaj also enjoyed plenty of freedom.

From a Villa point of view, the opening 10-15 minutes was as bright as anything seen in recent weeks, but ten good minutes a week isn't enough to win Premier League matches. Taken in isolation, losing to Manchester United doesn't warrant reaching for the panic button -- it's not an unfamiliar result, after all -- but Villa's performances have been questionable for weeks.

If something's not working over a sustained period of time, it's time to consider a change. Delph will be back for Villa's game at Stoke on Saturday, Vlaar's return isn't confirmed, and Agbonlahor, having picked up his fifth booking of the season for being shoved by United 'keeper David De Gea, will be missing. With the players available, Lambert should play it simple with a 4-4-2.

Despite his curious reluctance to regularly use wingers as wingers, Lambert has three to call on: Leandro Bacuna, who seems most comfortable in a wide midfield role, Marc Albrighton, Villa's best player by some margin against United, and Aleksandar Tonev. All three can play on the right or the left flank.

The soundest choice would see Albrighton, clearly motivated and eager to make the most of what could be his last chance to establish himself at Villa, starting on the right with Bacuna (who played left wing-back against West Ham) on the other side. Both players have the qualities to provide defensive cover, too -- something Villa's under-strength and out of touch back four would welcome. It would also allow the full-backs to concentrate on defending first and pushing forward later.

It's a switch Lambert should seriously consider. After successive defeats and dismal performances, the current mood reprises that of last Christmas, when Villa experienced a horrendous run of fixtures. Vlaar was absent for a series of games which saw one-sided defeats 12 months ago, and the parallels with December 2012 are unavoidable.

Last season saw games against Chelsea, Spurs and Wigan; this time the fixtures look less daunting, with Stoke, Crystal Palace and Swansea the opposition, and yet there is a sense of unease and trepidation around Villa which says everything about the current state of play.

The departures since the weekend of Steve Clarke and Andre Villas-Boas, coaches whose former teams both outplayed Villa earlier in the season, demonstrates that club owners only have a finite measure of patience, regardless of budget, ambition, or agenda. Lambert is now the sixth longest-serving manager in the league. The next month will be a critical time for him, and for Villa.