Substance over style as Villa upset Southampton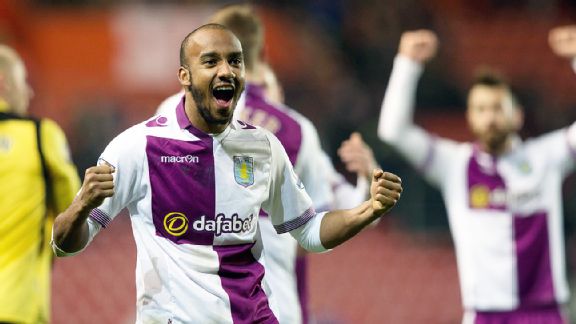 Neville Williams/Aston Villa FC/Getty ImagesFabian Delph played a key role in the win over Southampton and will be needed again Sunday at Fulham.
Warning: the following statistics may cause upset, or offence.

The numbers from Wednesday night's Premier League match between Southampton and Villa have been publicised almost as comprehensively as the result -- Saints had the ball for 77% of the game, Villa for just 23% of it. Southampton completed 85% of all passes attempted, Villa just 49%. The home side had 21 efforts on goal, nine on target. Villa mustered six, three of those on target. All three resulted in goals, enabling the surprise 3-2 victory.

- Report: Southampton 2-3 Aston Villa

"I can't wait to go back and play Villa because I thought they didn't deserve to get anything out of the game and we deserved to get a result. I want to go there later on in the season and get three points," said Southampton midfielder Adam Lallana, quoted in the Independent. His manager, Mauricio Pochettino, insisted it was the type of game you lose maybe "once in a 1,000."

Villa manager Paul Lambert believed his side deserved to win, citing an outstanding performance. It was not. It was a one-sided contest in terms of the balance of play, with Southampton superior on the ball, continually forcing Villa on the back foot. But Lambert's viewpoint is a valid one. There have been occasions, this season, when his team have had a more equal share of the ball and have come away with nothing -- against Everton at home, when Villa spurned a penalty early on and missed a handful of clear chances during the first half, springs to mind.

There's been precious little credit coming Villa's way, despite being the first and only team this season to go to St Mary's and win. There was an element of luck involved, of course, in that Saints were unable to take advantage of their dominance, but then again, a statistic which hasn't been given nearly as much emphasis is that 50% of Southampton's possession came in their own half. Villa simply allowed the hosts to have as much of the ball as they wished in that harmless area.

It was a deliberate tactic. Lambert may well have taken heed of Chelsea's approach against Saints last Sunday -- Southampton bossed possession in the first half of that game, and in the second, Jose Mourinho had his side playing quicker and more direct, and the Blues ran out 3-1 winners. As a coach, Mourinho is never afraid to mix things up, to do whatever is required to win a game of football.

The pattern of the game at St Mary's was entirely predictable. Having deployed a 3-5-2 system in recent away matches, Villa were always likely to do so again, and did. Southampton were always expected to have the lion's share of the ball, and did. It was always going to be about how effective Villa were at countering Saints' attacking play -- wing-backs helped to cover the flanks -- and breaking forward. And that was where Villa really were outstanding.

There's a significant difference between pumping long balls upfield and playing 'into the channels', and constructing swift, incisive, counter-attacking football. None of Villa's three goals were from set-pieces, knock-downs, deflections, scuffed shots, lucky bounces. All three were well worked and certainly not at all fortunate.

The first was an excellent, first-time pass -- along the ground, not high in the air -- from Fabian Delph, into the path of Gabby Agbonlahor, whose surging run, skipping past Joe Fonte, and little dinked finish beyond Paulo Gazzaniga was very, very good. Villa's second owed much to the willingness of Karim El Ahmadi to press Jack Cork into an error near the right touchline, win the ball and float over a cross which Libor Kozak headed in from six yards out.

The third was simply a screamer of a strike from Delph -- 25-30 yards out -- after Villa cleared a corner. Even then, it wasn't a case of hacking the ball clear of danger; it was played into Agbonlahor's feet for the striker to control, turn inside and lay a pass for Delph to run onto. The midfielder carried the ball 30, 40 yards forward and had substitute Christian Benteke pulling away into space on his left and available, but opted for the spectacular finish himself.

That quality of approach play, not to mention finishing, deserves recognition, as does yet another example of spirit and determination from a Villa side which rolled over far too many times last season but appears in no mood to be considered pushovers this. There was also the added complication of an unwelcome defensive reshuffle to contend with, as captain Ron Vlaar was withdrawn at half-time with a calf injury, and right-back Matt Lowton came into the back three.

In all honesty, no Villa fan should be under any illusion that their team can concede 77% possession in a game and win every time. While it's possible to build successful teams around a strategy of pressing, and counter-attacking football -- that's not too far away from the model Borussia Dortmund is based on -- completing only half of all passes attempted is no recipe for sustained results. The ideal is to win, of course, but win well, playing a brand of football which is admired by neutrals. That's ultimately how Villa supporters want their team to play, not least because being tagged as a 'long ball' outfit is unwanted and takes a while to shift.

Last season, a feature of Villa's play was patient passing, usually in areas which didn't trouble the opposition, and more often than not, for the first six or seven months at least, the result went against the club. Villa must have been a nice team to play against -- pedestrian in midfield and vulnerable in defence.

The 2013-14 version is somewhat meaner, more competitive and resolute. The style of play needs to improve, and the ball retention definitely must, but Villa should not apologise for the way they beat Southampton. It remains an excellent result and extends an unbeaten run to five league games.