Forgettable fare from Villa
Villa claimed a point from Saturday's 0-0 draw with Sunderland, but are winning nothing in terms of flair or artistic merit. The 33,000 fans who sat throughout 90 minutes of mostly mundane, uninspiring football -- Prince William, watching from an executive box, was among that number -- must have trudged out at the final whistle, wondering whether time would have better spend elsewhere.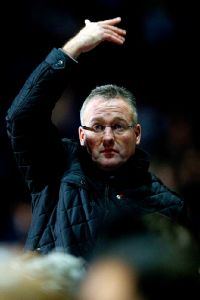 Neville Williams/Getty ImagesAfter another uninspiring Villa effort, it might be time for manager Paul Lambert to change tactics.
This is becoming a real problem for Villa, these listless, cautious home performances. Yes, there was that giddy 3-2 victory over Manchester City, but the rest of the Premier League games at Villa Park have been tough going.

The win over Cardiff came late on, and after an afternoon of forgettable football. Villa were scoreless in defeats to Everton, Tottenham and Liverpool, and disjointed and outplayed in a 2-1 loss to Newcastle. Home comforts have been relatively scarce -- six goals in seven goals, but just one in five if you take away the City and Cardiff successes.

Against Sunderland, Villa lined up offensively, reverting to the recognisable 4-3-3, with Gabby Agbonlahor and Andreas Weimann flanking Christian Benteke, and Fabian Delph restored to central midfield. With that setup, Villa shouldn't struggle for penetration and goals, but do. As with too many previous home matches, Paul Lambert's side started looking very much as if Plan A was to contain and play conservatively. All well and good if, say, Arsenal are in town, but not when hosting the club which were bottom of the table at kick-off.

Villa's hands-off approach just allowed Sunderland to settle. Having conceded 24 goals so far this season -- the worst defensive record in the league going into the game -- the Black Cats have obvious frailties, but instead of making the opening period of the match a testing one, Villa asked too few questions. Sunderland confidence increased as the game wore on, and it would be fair to say Gus Poyet's players created the better chances.

Emanuele Giaccherini scooped an easy chance over the bar and in the second half, Fabio Borini headed against it. With a disallowed goal and a penalty shot, Sunderland could easily have won. Villa, by their own manager's admission, wouldn't have deserved to do the same. Agbonlahor, Villa's most willing attacking player and certainly one of the few who actually looked as if he wanted to win the game for his team, at least had a couple of decent efforts. Genuine highlights were almost non-existent.

Lambert has some puzzles to solve. This wasn't an uncharacteristic display at home; it's been the norm for too long. Faced with the challenge of breaking down a visiting side, of taking the attacking initiative and dictating the game, Villa fall short. Lambert picked what just about amounted to his first-choice, full-strength side against Sunderland. Not for the first time, his preferred players failed to gel. Benteke, again looking like a shadow of the player he was last season, was handled fairly easily by John O'Shea and Wes Brown.

The formula isn't working. At some point, Lambert might have to consider a change from choosing three central midfield players, and shake things up a bit. He's never been overly keen on wingers, at least not while at Villa, but recognised the need for width by bringing Marc Albrighton and Aleksandar Tonev on with 20 minutes to go. Both men can be relied upon to run at defenders and stretch full-backs, and they bring a certain unpredictability and variation to Villa's play.

The downside is that including one, or both, from the start, means that Villa are less disciplined. Albrighton will track and cover players, Tonev less so -- as witnessed against West Brom, where he showed almost zero defensive responsibility. There are always sacrifices to be made when trying to strike the right balance.

A happier medium for Lambert might be restoring Matt Lowton to right back and pushing Leandro Bacuna into right midfield. The Dutchman has a decent understanding of the defensive side of the role and would still enable Villa to retain a solid shape.

The 4-4-2 is hardly en vogue with modern coaches, as it's seen as typically English and, unfairly, somewhat archaic and basic. But it can be effective, and it could be for Villa -- two central midfielders, with a winger or wide player either side, and two strikers; either side-by-side, or one slightly behind the other. Lambert has the players to do it, but whether he's prepared to shuffle things around to try and win games, rather than play safe, is another matter.

"It was not a classic but if you can't win a game then don't lose it," Lambert said after the Sunderland game. The Villa manager might have to modify that thinking.