Benteke seeks end to his goal 'drought'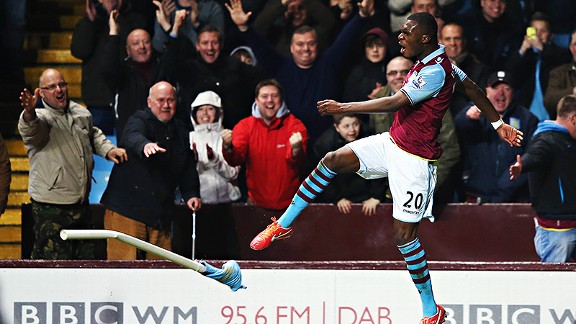 Richard Heathcote/Getty ImagesChristian Benteke had a 17-minute hat trick the last time Sunderland visited Villa Park, when the hosts defeated the Black Cats, 6-1.
Half-a-dozen appearances without a goal in the Premier League hardly constitutes a crisis, but if Christian Benteke's barren run continues for much longer, Villa will have genuine cause for concern. The club's golden boy losing his magical touch was not on the agenda this season. Fortunately for the striker, Villa's home game against Sunderland on Saturday should trigger nothing except positive thoughts.

Benteke started the campaign like an express train, scoring four goals in his first four league games and hitting another in the League Cup. But he has noticeably run out of steam in recent weeks and has been stuck on that tally of five since September. It's not quite the desperate goal drought that more sensational headlines suggested -- in the build-up to Monday's derby draw with West Brom, Villa manager Paul Lambert had to fend off questions about his top scorer's dip in form. But there was a little bit of mischievous poetic licence at play in listing Benteke's five games without scoring.

-Lambert open-minded on N'Zogbia

Factually correct -- Benteke had played in five games since his last goal. But one was a mere 28 minutes he managed before exiting, injured, at Norwich, and another the 29-minute appearance against Spurs as a second-half substitute. In between, the best part of a month out injured.

Nevertheless, after blanking against Albion, the striker has now played four straight 90-minute games without scoring; 360 minutes of football. That's not a huge amount of time, but in Benteke's world, it must feel like it. For a man who turns 23 next Tuesday, the past couple of months have been a testing experience. First, the only real injury problem as a senior professional, now the first kink in a Villa career which has otherwise been explosive, impressive and, above all else, prolific. Benteke has 23 goals in 41 league starts, 28 in 50 appearances in all competitions.

Against West Brom, Benteke looked totally out of sorts. Matters weren't helped by his manager's decision to deploy him in a deeper role, behind Libor Kozak. Benteke was supposed to feed off Kozak, and vice versa. But apart from one first-half flick-on from the former which enabled the latter to fire off a fierce volley, it didn't really work. Benteke has a ton of talent, but a playmaker he is not, so when the ball fell to his feet he wasn't able to do anything creatively. He spent most of the half straight behind Kozak, the two statically central with little or no movement around them in the wider areas.

When a chance came his way, Benteke's draining confidence betrayed him. Midway through the first half, a half-chance -- a right-foot volley, admittedly at a difficult angle. The ball was fired wide. There was no deflection. It was simply a horrible, sliced attempt. Minutes later, a calmer, side-footed effort from 20 yards hit Kozak in the back. A similar shot in the second half harmlessly rolled towards goal. The clinical, instinctive finishing has gone. For now.

Facing Sunderland should provide encouragement for Benteke. This was the fixture last season in which the Belgian scored a hat trick on a pulsating night in April, and not just any hat trick -- three goals in 17 minutes, in Villa's 6-1 win.

While that scoreline won't happen again, Benteke should cast his mind back to that evening. He was unplayable, battering the Sunderland defence, storming through at will and scoring one goal, in particular, that will long live in the mind -- towering to what seemed like level in height to the crossbar to bludgeon a header past Simon Mignolet.

He wasn't the only hero that night. Also on the scoresheet, among others, were Gabby Agbonlahor and Andreas Weimann. Neither player has been in good form recently either, and that has not helped Benteke at all: The two wider strikers do so much to disrupt defences with their pace and direct running.

It's worth noting that, in these last four goalless 90 minutes for Benteke, this trio have started only game together, the home match against Everton. With Agbonlahor and Weimann both returning from injury as second-half substitutes against West Brom, there's a chance the three could line up from the start against Sunderland.

If Benteke might have spent the last few days watching a DVD of his last performance against Sunderland, Lambert should have been glued to replays of the West Brom match. More to the point, the shape of his team in the first half, and how he changed it in the second. He can tweak tactics and formations as much as he likes, but if players are pressed into positions and roles for which they are not suited, they usually won't function well.

Villa's back four were too far apart at the Hawthorns, with large gaps between Ron Vlaar and Nathan Baker -- spaces that Shane Long exploited, isolating Vlaar, the team's best centre-back, and zeroing in on Baker.

Ciaran Clark, again filling in at left-back, seemed tasked with pushing forward, instead of just staying close to his centre-backs, leaving Villa's defence too open, while Yacouba Sylla, curiously, repeatedly kept popping up wide on the right of midfield. Not only did he block off Leandro Bacuna's forward progress, his delivery from that area was poor. That's not Sylla's game at all.

On the left of midfield, Aleksandar Tonev was torn between getting forward and covering as a left wing-back; Karim El Ahmadi drifted into areas on the left, too, while Kozak and Benteke essentially wanted to fill the same central space. There was little width. It was too narrow, too cluttered, and too confused.

Lambert's substitutions tidied everything up, and Villa's players were happier with a shape that saw Weimann and Agbonlahor either side of Benteke, Bacuna pushing into a right midfield role, El Ahmadi and Ashley Westwood side-by-side in midfield and Fabian Delph on the left of midfield, content to step back and cover at full-back. It felt and looked familiar. Villa found some rhythm.

With players returning to the squad -- the latest being left-back Antonio Luna, who is expected be fit again after a three-match absence -- Lambert shouldn't have to squeeze round pegs into square holes on Saturday. Sunderland are likely to face an XI much closer to Villa's strongest possible team, which can only help Benteke to rediscover his goal-scoring gift.