Time is Lambert's biggest battle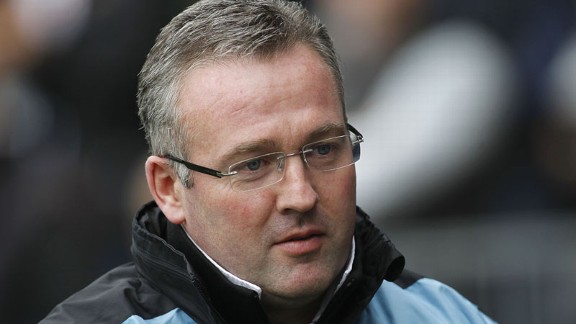 PA PhotosPaul Lambert has a major rebuilding job on his hands at Villa Park
There's no denying it: things are beginning to look distinctly wobbly at Villa. Defeat at Fulham on Saturday was the team's fifth in the opening eight matches of the campaign. November is a week away, and the dreaded R word has already been discussed.

Too early to panic? Of course, but try telling that to many of the club's supporters, who have fretted through two near misses in as many seasons and are under no illusions about Villa's standing in the current Premier League, the quality of the squad, and the size of the job that lies ahead for Paul Lambert.

It's called rebuilding for a reason - there is extensive work ahead before Villa can get anywhere near the top six again. I still believe Lambert can get Villa there, but a rough start means optimism is being eroded with every passing defeat, and I can sense the restlessness building. Lambert will be able to sense it too. So will the players.

It makes Saturday's home game all the more important. As is often the way in football, that next game has added resonance: it's against Norwich, the club Lambert left in the summer. What a wicked little twist that is.

Lambert's successor at Norwich, Chris Hughton, has not had a great start to his own new challenge, but Saturday's victory over Arsenal was massive. The Canaries have taken a couple of pastings in the last few weeks. Those will be all but forgotten after taking Arsenal down - three points, against one of league's giants, brings points, confidence and, more importantly, time.

The same can be said for another coach who was on the move during the close season. Brendan Rodgers has a coaching vision that could take Liverpool back to where they once belonged, right at the top of English football, but if results this season are below par, he might not get the chance. Last weekend's slender win over Reading, then, served to give Rodgers some much appreciated breathing space. That's what Paul Lambert needs, and quickly.

So do many of his squad, particularly his summer signings. It shouldn't be forgotten that not one of them had played any Premier League football before signing for Villa, if you overlook Joe Bennett's 45 minutes as a substitute for Middlesbrough on the day they dropped out of the top flight.

Holman, Vlaar, El Ahmadi, Bennett, Lowton, Benteke, Westwood, Bowery - all adjusting to the pace and intensity of the Premier League. Bowery hasn't played for the first team yet. Westwood has, but briefly. And while the first three on that list are seasoned internationals, and have been among Villa's best players so far, the step up from the Netherlands' Eredivisie is significant. Benteke's rawness is plain to see, not surprising as a 21-year-old who arrived from Belgium in the final days of the transfer window. The rest of the ensemble all hail from the Football League.

This is a group growing together. Of course, it was the manager's choice to do his shopping outside the Premier League, and if Villa continue to struggle, those decisions will be thrown back at him. But Villa have signed household names before, paying over the odds for not just first-team stars but benchwarmers, and got caught out. What Lambert is doing is more sustainable, more strategic, more sensible - and progressive.

Given time, the tactic will work. But the Premier League is an unforgiving environment with no patience. No-one is afforded much of a honeymoon period to get settled. Just like Hughton and Rodgers, Lambert could do with a timely victory to put the dampeners on any festering disquiet.