Vlaar: Villa's defensive rock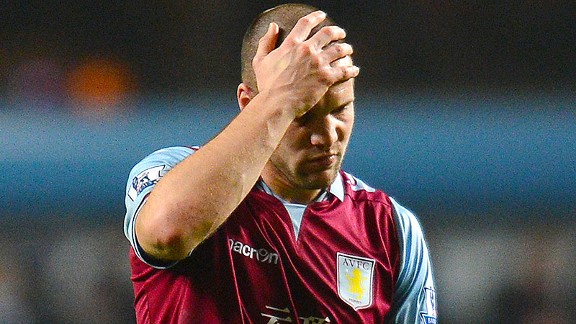 Andrew Yates/AFP/Getty ImagesVeteran Ron Vlaar struggled at times last season, but now is a steady presence in the Aston Villa defence.
Radamel Falcao claimed not to have heard of Ron Vlaar before Colombia's midweek international friendly against the Netherlands Tuesday, but in all other respects this is developing into a significant season for Villa's captain, a campaign laced with positives.

Villa's defensive problems have not disappeared completely into the ether, but they are being addressed and managed, and the improvements are evident: the shut out against Cardiff City in the club's last Premier League fixture Nov. 9 was the team's fourth clean sheet in 11 matches. Nowhere near a record to rival that achieved by Roma in Serie A this season (seven consecutive games without conceding), of course, but even so -- progress for a Villa defence which, for the majority of the 2012-13 term would simply seem to fall apart whenever a set piece was delivered into the penalty area. This season, opponents are having to work that little bit harder to score against Paul Lambert's team.

Vlaar has been an ever-present so far -- 11 of 11 Premier League games, 990 minutes played. Lambert has even been reluctant to rest the centre-back in cup matches; Vlaar played against both Rotherham and Spurs in the Capital One Cup, which would have been opportunities for the player to take a break.

Not so. Vlaar has played every single second of Villa's season, the one constant in a back four which has seen several enforced changes. He's had three central defensive partners, in Jores Okore, Ciaran Clark and Nathan Baker, and movement in both full-back positions, with Matt Lowton and Antonio Luna missing games.

Amid a disrupted defence, Vlaar has been immovable, a model of consistency and authority. In front of Brad Guzan, and with Fabian Delph and Christian Benteke ahead of him, he gives this Villa side a strong core. It's not difficult to imagine Lambert pencilling those four names onto his team sheet every week, and then simply filling in the spaces around them.

While several of Villa's squad have been experiencing what is commonly called 'second-season syndrome' -- a drop in performance levels following a good debut campaign -- Vlaar has improved his game. He arrived from Feyenoord with something of a reputation as a tough leader. Fresh from playing for the Netherlands at Euro 2012, he was a marquee signing in the midst of Lambert's mainly lower-league recruitment drive. Expectations were set reasonably high, but Vlaar struggled to adapt, struggled to keep his head while Villa's defenders were collectively losing theirs, and missed periods of a testing campaign through injury. His absence coincided with Villa's worst run of the season. He was missed.

The tide turned towards the end of the season, Vlaar's form, aided by an upturn in confidence, boosted by spectacular goals against Sunderland and Wigan. This season, he is competitive and composed. His stats are good. An example, from the comprehensive squawka.com database -- Vlaar has made 19 interceptions, blocked five shots and executed 80 clearances, across his in 11 appearances. A direct comparison with John Terry -- who has also played 990 minutes in 11 games -- is 12 interceptions, nine blocks and 83 clearances. Terry has won 44 percent of his tackles, Vlaar 73. Crucially, Vlaar hasn't made any defensive errors.

That is by no means an exhaustive examination of Vlaar's performances this season but it pits him directly against a player who has been one of the finest Premier League defenders of the last 10 years, one who remains one of the most accomplished in the division. It is also representative of the Dutchman's contribution to Villa this season.

But Vlaar's influence extends beyond his on-the-field ability. He is becoming a leader off the field, taking on the mantle of club spokesman, the public voice of Lambert's young team. Just this week, the club website published his thoughts on Okore, who is recovering from a cruciate knee ligament injury -- Vlaar has had and overcome two of them in his career. Vlaar has been checking on the progress of his defensive team-mate regularly; he's also found the time to offer consoling words to the likes of Marc Albrighton and Gary Gardner, who both have experienced injury setbacks of late.

Such behaviour is the natural instinct of a leader.

Back to Falcao, the much-heralded super-striker of the modern era, and the rumoured target of future interest from Chelsea. His comments on Vlaar might have been born of arrogance, or ignorance, or possibly merely of innocence: after all, the Villa captain's career has been something of a slow burner -- at 28, it is only now that people are beginning to take notice of his name, and his talent.

The Monaco forward may feel slightly differently after Tuesday's night's international encounter. Vlaar kept a pretty right rein on him throughout the 0-0 draw, despite Holland playing a large chunk of the game with 10 men. Falcao was substituted towards the end of the game.

Understated, as always, Vlaar had done his job with the minimum of fuss. That is the manner of performance Villa have become to expect -- all in all, a great return from a player who cost a shade over three million pounds.