Guzan injury raises inevitable Given question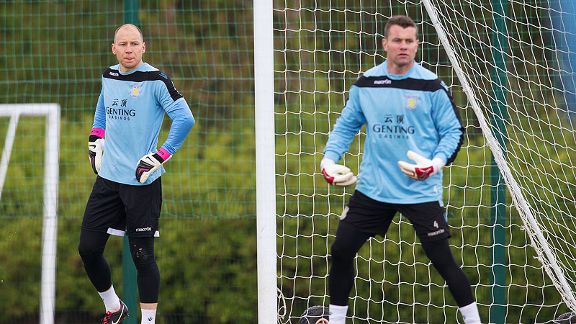 Neville Williams/Aston Villa FC/Getty ImagesWith Brad Guzan, left, reportedly sidelined with an injury, it could fall on Shay Given to man Aston Villa's goal.
Brad Guzan is injured.

That brief sentence appears to sum up the situation regarding Villa's No.1 goalkeeper, who was withdrawn from the United States national team squad ahead of their upcoming matches against Scotland and Austria. The type of injury, and the extent of it, hasn't been widely published -- for a couple of days now; it's been reported as a 'mystery injury' and an 'injury scare', ambiguous phrases which could cover just about anything.

- Report: Guzan 'not available for selection'

There doesn't seem to be much undue concern coming from the Villa camp, however, with suggestions that Guzan was left out of the USA set-up as a precautionary measure. All being well, the guess is that Guzan is feeling a slight nagging injury which means he shouldn't be unnecessarily risked, and which will clear up during the course of a break from the current Premier League campaign. There's no reason to believe anything else, at this stage. This is not a scaremongering article.

And yet... Villa have a habit of springing unwanted, late, injury news upon an unsuspecting public. Just last weekend, there was disappointment when Fabian Delph, who been expected to return to the side following illness, was nowhere to be seen. It transpired that the midfielder had a knee injury. Ciaran Clark was a late withdrawal a couple of weeks before that. Little was revealed of Joseph Bennett's current injury until Antonio Luna, who has deposed Bennett as first choice left-back this season, was ruled out himself and then it became apparent Bennett would not be able to step in. Gary Gardner's continued absence from the matchday squad was explained by the news that he's struggling with a back problem, with no return date scheduled.

In the last couple of days, finally, there was an update regarding Charles N'Zogbia, who ruptured his Achilles tendon in June. There have been no images of N'Zogbia in rehabilitation, no interviews from a player determined to roar back to fitness, nothing of substance from his manager. The winger was expected to return to training around now, possibly to challenge for a place in the squad during December. That has now been revised to the New Year, possibly beyond. The unfortunate N'Zogbia, it has been clarified, has suffered a setback. A setback when on the brink of return -- it's fairly common for recovering athletes, but also sounds very similar to the Richard Dunne saga of last season.

There is nothing wrong with Villa manager Paul Lambert keeping the injury cards close to his chest. Not everything needs to be in the public domain, and not everything should be. A positive update on Guzan's situation would be most welcome, though.

Any potential lay-off for Guzan poses an interesting question, and throws up a real dilemma. The American has been nothing short of outstanding for Villa in the last 18 months, and his meteoric rise from reserve to clear No.1 relegated Shay Given; first to the bench, and then completely to the sidelines. Guzan's deputy this season is Jed Steer -- 21 years of age, full of promise, but inexperienced. One for the future, without a doubt, but he has yet to play at all in the Premier League and his career at Villa has been limited to two Capital One Cup appearances.

Steer was comfortable enough in the first of these: the 3-0 win over Rotherham, but conceded four in the next round's defeat to Spurs. Steer actually played competently enough in that tie, making two or three smart saves, though he should have done better with Nacer Chadli's goal. By association with a 0-4 scoreline, it was an unhappy experience and far from the ideal rehearsal for further exposure to the Premier League. Pitching him into the Villa line-up as a replacement for Guzan would be a concern, as it would for any 21-year-old rookie.

Of course, there is Given. Still at Villa, and still part of the set-up, having been included in the club's official 2013-14 squad, with No.31 on his jersey. The distinction with that, in contrast to Alan Hutton, who was not named in the 25-man group and therefore cannot play for the team in any situation, is that Given can step in if needed.

The option for Lambert is there. Turning to Given would represent a climb-down on his decision to remove the 37-year-old from the matchday squad, and a deviation from his principle game plan of gradually weeding out the senior players, the higher earners, and developing a new young breed. But Given has continued to train professionally and rarely -- if at all -- allowed his true feelings on the subject of his demotion at Villa to be aired publicly. Unlike some of his former team-mates who have moved on from the club, his ability is not in question.

He's coming towards the end of his career, but it's been a superb career: he is one of the best goalkeepers to grace the Premier League in the last 20 years, and his performances for Villa, under Alex McLeish in his one and only full season were sound.

Just last month, Lambert spoke of Given. 'He's a great goalkeeper,' he told The Telegraph. 'If anything happened to Brad I would have no problem with him coming back in on a matchday.'

Clever phrasing from Lambert there, avoiding the finer detail of whether Given's return would be back in as No.1, or again warming the bench. A poll among Villa fans would be revealing. One suspects Given would be the popular choice to start. A safer pair of hands you could not wish to find.