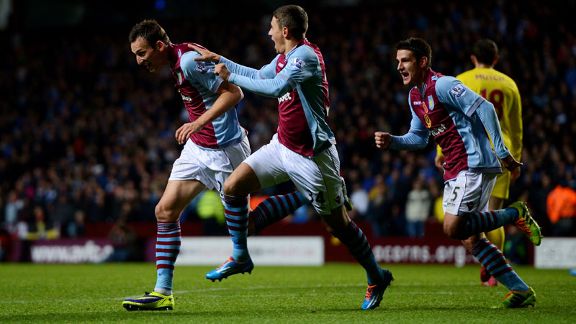 GettyImagesLibor Kozak made sure of the points for Aston Villa with the second goal against Cardiff.
At last, goals to talk about. After over seven hours of Premier League drought, two in a matter of minutes late to secure a 2-0 win for Villa over Cardiff Saturday. Just as an impatient crowd at Villa Park were primed to combust in frustration and angst, having watched Paul Lambert's team huff and puff and paw at the Cardiff defence, a moment of magic unlocked the stalemate and broke the deadlock.

Leandro Bacuna's free-kick was brilliantly executed, and brilliantly timed. This was the second time this season Villa Park has been treated to his set-piece expertise, and his finish against Cardiff was possibly even better than the goal he scored against Manchester City -- Villa's previous league win. On that occasion, his strike was an orthodox right-footed one, over the wall and into the top left-hand corner.

This one was also right-footed, but curled around the other side of the wall, the near side, and past Cardiff keeper David Marshall at his near post. Not the obvious spot to pick, and not an easy skill to deliver. It was a free-kick which suggests hours of dedication on the training ground. This is why Bacuna, a quarter of the way into his debut Premier League season, is forging a reputation as a free-kick specialist.

Watching Bacuna's decisive goal further emphasised why the Dutchman is best suited to an attacking midfield role rather than anything else. As the season progresses, Lambert is learning more about the new players he brought to the club, and how they fit into the side he is patiently building. Bacuna has done a good job at right-back -- and, actually, also at left wing-back, his position in the previous game at West Ham -- but he offers so much more farther forward.

Lambert's second-half substitution was designed to push Bacuna into more attacking areas. Villa were visibly running out of energy and ideas when Lambert withdrew Karim El Ahmadi and introduced Matt Lowton; Lowton, perhaps harshly and unwisely left out in the first place, took up his customary right-back role and Bacuna moved to central midfield.

It made a difference. Cardiff had been stifling Villa, but Bacuna's running gave the Welsh side something extra to think about, and the opening goal stemmed from a surging run by the Dutchman. Swapping passes with Libor Kozak, he burst through the heart of the visitors' midfield and drew a blatant foul from Gary Medel, who pulled him back. Sometimes, there's a place for neat, controlled passing, and sometimes a call for a player who can shake things up by running at opponents. And it was that simple.

Underlining the effect of the earlier substitution, it was Lowton who provided the assist for Villa's second, arriving late on the right touchline to keep Aleksandar Tonev's cross alive by heading the ball back into play. Kozak steered a 6-yard header into the bottom corner. It was a decent header, too. There was little pace on the ball as it came to him, so the Czech had to generate most of the power himself.

Credit must go to Villa's players for continuing to drive on, in search of the winning goals, and also to Lambert, who had the foresight to make a change which might not have looked obviously positive at the time. Instead of turning to the two strikers he had on the bench (Niclas Helenius, Jordan Bowery) as he searched for a goal, he chose to send on a right-back instead.

That change totally up opened the game, and the end finale and result was a huge mood-changer. Villa go into the week-long international break on a high, rather than dwelling over missed opportunities and scoreless runs.

It was also a game in which Villa's back-up players and new signings stood up well. Bacuna is, all things considered, the new recruit who has made the most impressive impact so far but Kozak and Tonev put in decent shifts against Cardiff. Kozak won't ever be as complete a striker as Christian Benteke, but he landed three headers on target, and, of course, got his goal.

Tonev may be one of the few players ever who should have 'don't shoot!' screamed in his direction by 40,000 supporters when within range of goal -- his shooting remains wildly inaccurate -- but, like Bacuna, there's a lot to be said for having a player who can offer width and pace, and it was his cross which led to Kozak's goal.

All in all, a match which was patchy at times and tense for the majority, until Villa's late flourish. It wasn't a perfect performance, but three points and another clean sheet -- Villa's fourth in 11 league games -- was the perfect outcome.