No guarantees from Cardiff visit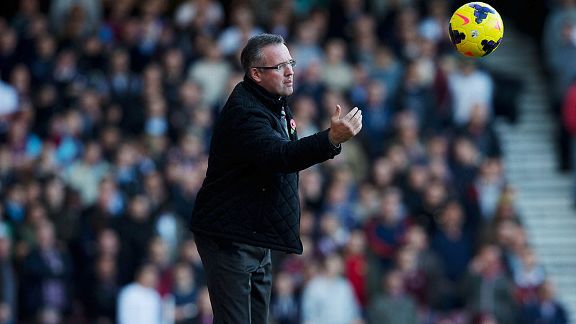 Neville Williams/Aston Villa FC/Getty ImagesAston Villa manager Paul Lambert has a bit of an injury quandary to deal with ahead of Cradiff's weekend visit.
Cardiff, at home, on Saturday. If you're one of the Villa fans viewing this as a 'bread and butter' fixture, a home banker, a guaranteed three pointer, or consider anything less than a victory to be a total disaster and a reason to scream for the departure of Paul Lambert, here's a late call for a re-adjustment of expectations.

- Report: Lowton backed to rekindle form

Not a lowering of expectation, exactly; more a management of expectation, which is required because not only due to Villa's recent home record, but also, more pertinently, because if today's Premier League has taught us anything, it is surely that the gaps between clubs are getting tighter and tighter.

Already, in the first week of November, the 'big' clubs, those with realistic ambitions of winning the title or qualifying for next season's Champions League, have all lost games they were expected to win. That edge of invincibility has been dulled; Chelsea beaten by Newcastle, themselves beaten by struggling Sunderland the week before. Manchester United falling at home to West Brom, Spurs humbled 3-0 by West Ham. Arsenal losing, of course, to Villa at the Emirates. Liverpool's consistency was spoiled by a 1-0 defeat to Southampton at Anfield.

And Manchester City? Defeated not only by Villa, but also by Villa's weekend opponents, Cardiff -- and conceding six goals in the process.

At the same time, Cardiff represent the latest example of a newly-promoted club reaching the Premier League and adapting very quickly, and very smoothly, into a competitive force. Time was when the three new clubs, the two promoted automatically and the play-off winners, seemed more or less destined to drop straight back down -- enjoy the season and the novelty of visiting the UK's finest stadia, for theirs was but a short-lived flirtation with the top flight.

Not so now. Clubs, flush with the momentum that a successful promotion campaign brings, very often adjust, thrive and progress in the Premier League. Swansea have gone from strength to strength, Southampton were solid enough last season and have since developed into one of the surprise packages of the 2013-14 campaign so far. Cardiff, along with Hull, have been doing pretty well so far this season, leaving Palace as the newbies struggling to cope.

All of the above is a rather convoluted way of getting the point across, which is that Cardiff are upwardly mobile, playing with a certain amount of steel and self-belief, and are definitely not the kind of opponents to pitch up at Villa Park and cave in.

The Welsh club's summer recruitment drive was a sound one: trust in the majority of the squad which secured promotion from the Championship, and prioritise the signings of a handful of new players who would raise the quality of the starting XI. Steven Caulker, at centre-back, and Gary Medel, in central midfield, have done exactly that and although injury has restricted striker Andreas Cornelius to just a single substitute appearance so far, Cardiff coach Malky Mackay has other strikers to turn to. Craig Bellamy, Peter Odemwingie and Fraizer Campbell are all reasonably quick types with clever movement.

Villa's preparations this week have been disrupted by further disappointing injury news. It's not the depth of the injury list which will trouble Lambert exactly, it's that problems have reduced his options in particular positions. Villa will be without both senior left-backs against Cardiff, Antonio Luna and Joe Bennett, and two strikers, with Gabby Agbonlahor's ankle ligament injury failing to clear up and Andreas Weimann's hamstring strain enough to rule him out.

Lambert will get around the left-back issue either by continuing with the three-at-the-back set-up he deployed at Upton Park -- most likely using Matt Lowton and Leandro Bacuna as wing-backs, or using Nathan Baker or Bacuna in the position in a flat back four. None of these solutions are ideal, but needs must.

The absences of Agbonlahor and Weimann will create opportunities elsewhere. The duo have contributed just one Premier League goal between them all season, but being without both will hurt Villa. Libor Kozak and Nicklas Helenius are in contention for starts -- surely playing both from the off alongside Christian Benteke would be wildly ambitious.

A surer bet would be on Lambert pairing Kozak with Benteke, for he has given the Czech centre-forward more game time than Helenius, although the latter would be a more popular choice with supporters eager to see if the Dane's rather more subtle attacking skills could give Villa an extra dimension.

Kozak and Benteke would be out-and-out power. The potential advantage of this partnership is that Benteke may well be encouraged to drop a little deeper and get hold of the ball instead of standing with the last defender and awaiting service which, in recent weeks, has been intermittent. An opportunity to involve the Belgian more in matches can't be easily dismissed.

An alternative formation, which is well worth considering, could be a 4-2-3-1 line-up with Bacuna and Aleksandar Tonev providing width either side of fit-again Fabian Delph, and Benteke at centre-forward.

There's no question that this is a game Villa could win, arguably should win, and undeniably need to win, given a disappointing recent run. But Cardiff's performances this season, Villa's worsening injury situation, and a poor home record -- Lambert's team has lost five of six matches played against Premier League opponents at Villa Park in 13-14 -- mean that it's far from a certainty.