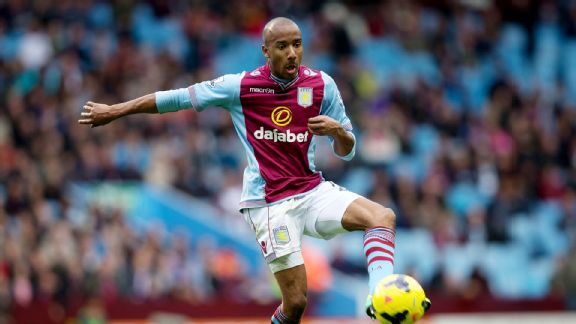 Neville Williams/Getty ImagesFabian Delph and Aston Villa have failed to find the back of the net in their last four Premier League matches.
Creativity. Still the elusive quality which evades this Villa team, currently in a scoreless run of four league matches, a worrying sequence which emphasises the lack of a top-class attacking midfielder -- alongside a central defender, quite possibly the next highest priority on manager Paul Lambert's summer shopping list. Or it should have been.

- Report: Vlaar: Goals will come for Villa

The summer's come and gone. An opportunity missed, and the January transfer window is still almost two months away. Lambert must find the key to unlocking the extra dimension in his side, and the answer may lie with a player who has yet to score a single Premier League goal: Fabian Delph.

It might seem an outlandish suggestion, nominating a player who, until this season, was more known for hot-headed, rash tackling than anything else. But more than any other midfielder in Villa's squad, Delph has the ability and the tools to step into, and up to, the demands of a more attacking role -- if not exactly the 'No.10' position, then certainly a 'free' role; one where he has less defensive responsibility, and greater licence to get into more advanced areas.

It suits his style, and, just as crucially, suits the other players around him. With Villa commonly fielding three midfield players this season, the blend has to be right. Basically, the ideal mix in a three is a destroyer -- a defensive type primarily recognised for his athleticism and capability to go and win the ball; a deep-lying playmaker, known as a regista in Italian football terms and also a metronome, who dictates the pace of a game and keeps things ticking over; and an attacking playmaker, a trequartista, to again use Serie A parlance. Each player brings different qualities to the team's engine, and these skills complement each other.

Breaking down's Villa's midfield options, too often there is no trequartista. Ashley Westwood is the team's regista, Yacouba Sylla the destroyer. Delph is usually deployed as a combination of both, so too Karim El Ahmadi. It's the reason why when Westwood, Delph and El Ahmadi all start together, which has been Lambert's preferred selection for the majority of the season, Villa's midfield is flat and conservative.

Delph is the one member of the group who could thrive in the advanced position, and with Westwood and Sylla (El Ahmadi would be the cover for either player) providing the solid base behind him, he'd be able to concentrate on working the final third of the pitch, the crucial area in which Villa have lacked inspiration and guile.

I've felt for some time that the offensive side of Delph's play has been shackled by the responsibility of the tactics and strategy of first Alex McLeish, and now Lambert. Because he is a physical, all-action sort, because he has near limitless energy and tenacity, and a natural competitive spirit, which does sometimes boil over, it's understandable that the 23-year-old has become Villa's midfield dynamo. Delph will run, press, tackle and close down all day, and his performances this season have been consistently good -- the club's Player of the Month, in fact, for three successive months: August, September and October. He'll put in a defensive 'shift' and do so happily.

Yet, when Villa signed Delph in August 2009, it's fair to say a midfield enforcer was not expected. He'd caught the eye during a breakthrough season with Leeds because of the goals he'd scored. Less about the number, more the quality; spectacular strikes from distance, one or two of them capping incisive dribbles and runs.

I take the point that these goals were scored four, five years ago, and that they were scored in League One, two divisions below the Premier League. Defending isn't as sharp, or switched on, space not so difficult to find. But no player scores goals like those without technique, and superb technique like that is rarely lost.

This season there have been glimpses of that attacking verve. The 20-yard strike which rattled Arsenal's post at the Emirates, and the fabulously-crafted goal against Rotherham in the League Cup -- lower-league opposition, yes, but Delph's burst of pace, touch and composure was undeniably impressive.

It's not just about goals, of course. What we've seen from Delph this season is movement, ambition and quick-thinking. He can switch the direction of play, beat a player and make the right decision. His close control is good: a relatively low centre of gravity means that Delph can twist and turn, and retain possession until an option presents itself. Grant him the freedom to do that 30, 40 yards from the opposition goal and he could really open up rival defences.

In a perfect world, Villa would have two Fabian Delphs -- one to harry and hassle, to win the ball and get the team moving, and the other to push further up the field and create. But there are others in Lambert's squad who can do the first job effectively, but very few to manage the second. Andreas Weimann will always have a striker's instinct and not a midfielder's vision or touch. Aleksandar Tonev is improving, but still too erratic. Charles N'Zogbia injured. So too is Gary Gardner.

The longer-term solution to Villa's problem position could be Samir Carruthers, or Jack Grealish. In the mid-term, a January transfer could provide an answer. But until then, the best immediate option is Delph. It would be a shame not to at least see what he could do once encouraged to get forward and play.