Highs, lows and injury woes in first quarter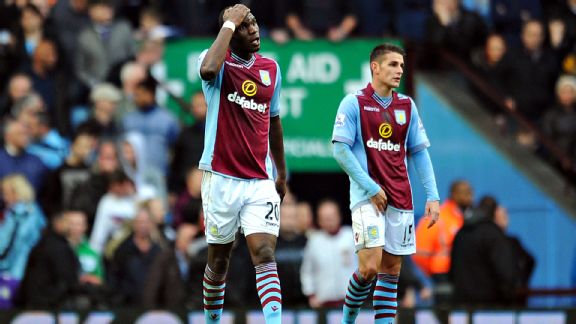 Chris Brunskill/Getty ImagesIt was a long day at the office for Christian Benteke and Aston Villa on Saturday versus Everton.
Believe it or not, when the half-time whistle blows at Upton Park on Saturday, Aston Villa's 2013-14 Premier League season will be more than a quarter of the way through -- 10 matches into the 38-fixture campaign. So, with about 25 percent of the season gone, it's a suitable time to review Villa's progress to date -- and what an unpredictable opening quarter it has been. . . .

The story so far

With nine games played, Villa stand on 10 points, a net gain of a whisker above a single point per match. Mediocrity in itself, perhaps? Not considering the teams Villa have faced. Arsenal, Chelsea, Liverpool, Manchester City, Tottenham and Everton, are all among the opponents and, on reflection, 10 points is a respectable haul. It certainly could have been a lot worse, and in looking for evidence of reasonable progress, consider both Villa's points tally after nine games a year ago, and also results against the same clubs in the corresponding fixtures.

-Benteke backed to regain form after penalty miss

After nine games in 2012-13, Villa had six points, and didn't reach double figures until Nov. 24. Results compared to last season put Paul Lambert's team in a favourable light, too. Putting the draw against Hull to one side -- the Tigers weren't in the Premier League last season -- Villa have taken nine points from fixtures which yielded just three last time out, winning again at Norwich but improving by beating Arsenal and City.

Highs... and lows

Unpredictable and inconsistent, spirited and submissive -- this Villa side has shown itself to be a strange beast. On occasion, they have been aggressive, positive and absolutely buzzing with confidence and class, and on others, subdued and tame. The opening-day victory at Arsenal was a great comeback, and it was same again at Chelsea, albeit without the end result; the 3-2 home win against City saw Villa outplayed for long periods, but the final flourish was stunning. However, who would have imagined, in the glorious aftermath of Andreas Weimann's winner, that it would be the last goal Villa would score for three games? Lambert's team have fired blanks ever since.

At the other end of the spectrum, home defeats to Newcastle, Liverpool and Spurs were lacking in cohesion, quality and balance, while the 0-0 draw at Hull was just plain poor. The points were there for the taking, but Villa seemed content to pass up the opportunity. Coming just a week after banging in three goals against one of the best sides in the country, the change was almost baffling.

New-look? Not yet...

With all due respect to the players Lambert brought to the club in the summer, most have yet to assert themselves and genuinely improve the quality of the side. Antonio Luna can be considered the first-choice left-back, while Leandro Bacuna has recently settled into the right-back role, though that seems a temporary state of affairs with the Dutchman better suited to midfield and Matt Lowton's recall probably a matter of time.

But elsewhere, Aleksandar Tonev has started just two league games, Libor Kozak appears destined to act as a stand-in only for Christian Benteke -- and has not exactly been convincing when he has -- and Nicklas Helenius has barely been seen (unfortunately). Which is a shame, because the Dane may yet be the forward to provide a bit of subtlety in the final third, if he's ever given an opportunity. There's a creeping suspicion that Lambert may have recruited a handful of players to fill out the squad, without actually raising the quality of his starting X1.

Injury woes

That the one new addition who looked most capable of rising above all others and becoming a key player will miss the entire season, is one of the biggest disappointments of the first couple of months. Jores Okore was impressive in his first 2-2 1/2 matches before rupturing his knee ligaments; a bitter setback for a young, yet composed, central defender. Okore hasn't been the only injury casualty -- though he is a long-term absentee -- and Villa have also been without Benteke for a spell.

The team actually won two games and drew once without the Belgian on the pitch, but the effect of the hip-flexor injury showed itself sharply when Benteke returned, looking less than 100 percent, against Spurs and Everton, missing good chances in both games. What difference might an ever-present Benteke and Okore have made to Villa's current position?

The main players

Villa's most influential and impressive performers have been slightly surprising. Ashley Westwood, Weimann and Lowton were all superb during the last third of 2012-13, but the trio have had their struggles this time around, Gabby Agbonlahor has blown hot and cold, and Benteke has missed a sizeable chunk.

In contrast, Ciaran Clark had a tough time last season, yet has blossomed in the absence of Okore and alongside a more consistent Ron Vlaar. Karim El Ahmadi, more or less phased out during the second half of last season, has recaptured his place and contributed positively. The two constants have been goalkeeper Brad Guzan and midfielder Fabian Delph -- outstanding, every week.

Progress?

The exhilaration of that breath-taking win over City has given way to restless concern following three winless and scoreless matches, making Lambert's messages to supporters this week particularly timely. It's not a quick fix, was his reminder to any fans impatient for success.

He's right, of course, for rebuilding Villa won't happen overnight, and Lambert has been in charge for around 18 months only. Plenty achieved, but plenty still to do, and Villa have made positive steps already, winning matches they wouldn't have -- and didn't -- last season.

On the other hand, the concern remains about Villa's style. Too often it's hit-and-miss, relying on the opposition to come out and play, and utilising the pace of Weimann, Benteke, and Agbonlahor on the counter. It works sometimes, but it's raw, and too many other sides have worked out how to nullify the threat. The challenge for Lambert will be taking this group forward and developing them into a unit which can control games and win comfortably.

There's also a question mark over the sustainable success of a strategy of signing players perhaps a level below top-class -- no complaints with the ideal, as several unheralded talents have already grown into Premier League footballers -- but Villa would benefit hugely from just one or two experienced, quality additions over the next year. Whether there is the budget, or the intention, to bring those players in, is unknown.

Overall, a decent start by Villa, but the team is now entering a sequence of matches during which they should really kick on. Having played all the league's strongest teams, other than Manchester United, the next flurry of opponents all seem less daunting -- West Ham on Saturday, followed by Cardiff, West Brom and Sunderland. A reasonable November awaits, and Villa have the opportunity to move up the table.