Misfiring strikers give Villa a new headache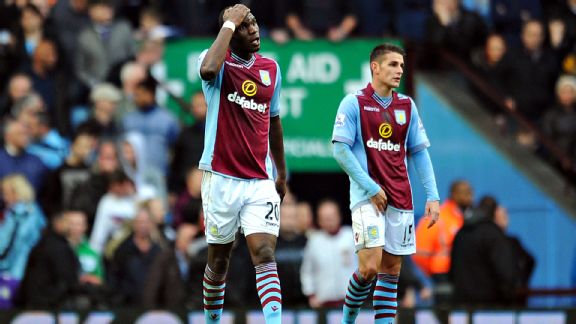 Chris Brunskill/Getty ImagesIt was a long day at the office for Christian Benteke and Aston Villa on Saturday versus Everton.
The benefit of a cooling-off period after games is that the post-match analysis is usually more measured than if it were delivered in the immediate aftermath of the final whistle.
Villa's 2-0 defeat against Everton was a fourth in five home Premier League fixtures, and no amount of tactical deconstruction can change that. But on the basis of performance alone, this was definitely an upgrade on the rather lame surrender to Tottenham six days ago; there really wasn't much between Villa and an Everton side which hasn't been far away from the top four in several recent seasons and, on the evidence of a strong start to the 2013-14 campaign, will be contenders again.

- Report: Aston Villa 0-2 Everton

The difference was composure in front of goal. Villa had none. Everton eventually found theirs reasonably late on in the game and clinical finishes from Romelu Lukaku and Leon Osman ensured Roberto Martinez's team left the Midlands continuing their upward trajectory. Villa were left to rue missed opportunities, and reflect on big moments in the match which slipped through their grasp. You have to take the chances when they come your way, or suffer the consequences.
It was a bitter pill to swallow, not least as neither of Everton's goals really came from genuine chances; rather half chances. The goals were almost identical, swept home expertly from around 18 yards -- finishes of quality, from players demonstrating technique and self-belief.

How Villa could have done with a slice of such quality. Instead, a much improved performance was undone by wastefulness and sloppiness in front of goal, as Paul Lambert's men blew four very presentable chances. This game was in the balance for the best part of 70 minutes, and for much of that time Villa were in good shape -- positive, energetic, creative. Everything the team were not against Tottenham.

Lambert's latest line-up saw Karim El Ahmadi drop out, leaving the midfield duties to Ashley Westwood and Fabian Delph, and introducing the more expansive talents of Aleksandar Tonev. The Bulgarian's Premier League career has been decidedly hit or miss thus far, but his movement and attacking instinct gave the side a fresh dimension from the middle of the park and helped to push Villa onto the front foot.

Of all the challenges and problems Lambert might have expected to come his way throughout the season, he couldn't have predicted a collective drop in form and confidence from his three-pronged forward line. Last season, the performances of Christian Benteke, Andreas Weimann and Gabby Agbonlahor were ultimately the difference between the club staying in and dropping out of the Premier League; the trio were absolutely unplayable on occasions, masking defensive frailties and an inexperienced midfield. Not so this season, with all three struggling to regain those heights.

Benteke can be excused somewhat, still regaining match fitness and looking to shake off the rustiness incurred after a month out injured. Maybe he's not actually fully fit; Villa haven't wasted any time in getting him back into the starting line-up. His eighth-minute penalty miss set the tone for the afternoon, though he deserves credit for winning the spot-kick himself with a typical thrusting run in the area which tempted a clumsy trip from Everton defender Seamus Coleman.
The penalty was reasonably struck but not decisive and visiting goalkeeper Tim Howard's save was smart. Unlike the opening day at the Emirates, when his kick was returned back to him to head the rebound in and score, Benteke didn't catch a break this time around. Howard flicked the ball over the bar and to safety.

Later in the half, Villa pierced the Everton defence again, but Benteke, running clear, side-footed straight at Howard. It was the kind of opportunity he'd have rammed into the net without a second's hesitation last season, and, indeed, probably two months ago, before acquiring the hip injury which has interrupted his rhythm. Just as the header he planted over the bar against Spurs would usually have been buried.

Weimann's moment followed. Again, fine approach work from Villa dissected the Everton backline, straight through the middle, but the Austrian's indecision highlighted an individual currently struggling mightily to replicate last season's ruthless finishing. Weimann hesitated as Howard sprinted from his goal, failing to get any significant strike in at all before the 'keeper blocked the ball and his scrambling, covering defenders shut the door.

Lambert was right; Villa could and should have been 3-0 up by half-time and even into the second half, with Everton ahead through Lukaku and beginning to assume control, another golden opportunity was spurned. This time it was the third member of Villa's golden triumvirate, Agbonlahor, who was the culprit. When the ball was cut back to him in the Everton area, Agbonlahor was no further than ten yards out, central, and ready to receive on his right foot. The connection was more of a swing than a strike, and more or less dollied into Howard's arms. Officially a save, but one of the 'keeper's easier ones. With that, the last of the impetus drained from Villa, and the Merseysiders secured the points comfortably enough.

In this Villa team, you'd want such chances to fall to Benteke, Weimann and Agbonlahor, but of late, the team's big three have not been firing on top form. Benteke, Villa will hope, is merely just re-finding his feet and re-tuning his game after injury. Weimann hasn't looked at his sharpest all season, it has to be said, while Agbonlahor hasn't a league goal to his name in 2013-14.

If the situation continues, it gives Lambert a real dilemma. The manager has constructed a system to enable him to field all three every week -- their names are printed in indelible ink on his team-sheet and, if fit, they play. Without fail. Weimann and Agbonlahor have been converted from central strikers to wide forwards, supporting Benteke, and the front three are never rotated, never truly challenged. It's only the three midfield places behind them which are up for grabs, it seems.

The uncomfortable truth is that Villa would arguably be a more balanced side without three forwards; with one striker either alongside, or just behind, Benteke, and four midfielders, of varying style and type, further back. That set-up would certainly assist Villa in getting more control in games, instead of playing quick on the counter.

Whether Lambert would ever contemplate picking a team without one of his three star forwards is doubtful, though if the manager witnesses many more afternoons like the one just seen at Villa Park, his opinion could be for changing.