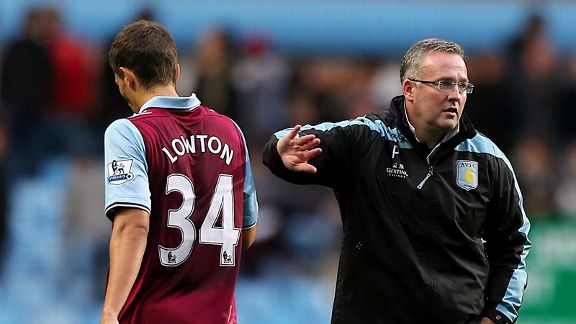 Press Association/AP ImagesWith Villa hitting form, consistency is now the key for Paul Lambert.
Paul Lambert certainly knows how to drop a player -- just ask any of those excluded from his plans last season, and reflect on their current status at Aston Villa.

But the recent fate of Matt Lowton, demoted from Villa's starting line-up and, in some cases, the matchday squad altogether, is one of the more surprising twists of an already unpredictable season. And as Villa prepare for the visit of in-form Everton on Saturday, it may just be time to end Lowton's exile, and restore him to the side.

Lowton's fall from grace at Villa wasn't expected. Last season, he was an absolute model of consistency, starting every Premier League game of the campaign other than the final home game against Chelsea, which he missed through injury. In fact, the 24-year-old played every single minute until the moment he picked up that injury at Norwich, and left the field after 27 minutes; 3,267 minutes of league football played from a total achievable of 3,420.

Not bad for a right-back recruited from Sheffield United for around £1.5m, and, of course, Lowton also scored two spectacular goals, against Swansea and Stoke.

This season has been a completely different experience for Lowton. With an improved contract, agreed during the summer, and expectations raised after his debut campaign, his early performances were below the standard he set in 2012-13.

He was particularly troubled during the home defeats against Liverpool and Newcastle, and it wasn't a total shock to see him left out of the squad which won at Norwich.

What has been surprising, however, is that Lowton's omission wasn't a one-off. He hasn't played in the league since that 2-1 loss to Newcastle on Sept. 14, appearing only in the League Cup exit against Spurs, and on two occasions (Norwich, Hull), he failed to even make the bench.

Lambert can be ruthless and single-minded with his decisions, but his treatment of Lowton is all the more unexpected given that he signed the player himself, and that he's been patient with one or two others in the Villa squad who, like the right-back, have struggled to hit the heights of a year ago.

The Villa manager seems prepared to allow the likes of Andreas Weimann and Ashley Westwood the time and opportunity to rediscover improved form, while Lowton has been unceremoniously dumped, it could be argued. On performances alone, it's difficult to justify continued starts for that pair. Second-season syndrome appears to be catching at Villa Park.

The door has not shut on Lowton. "The challenge is there for him," Lambert insisted last week when asked about the absent defender, and the manager should consider a recall against Everton. Leandro Bacuna has done an accomplished job in stepping into the right-back position but he's not a long-term solution; Lambert wouldn't have had that role in mind for the Dutchman when he signed him during the close season.

Bacuna plays the position like a midfielder filling in. Which, essentially, is what he is. Villa's best moments in the 2-0 defeat to Spurs last Sunday came when Bacuna surged forward to provide width and delivery, and his crossing accuracy is pretty good this season. That's the side of his game Villa can really benefit from, and he'll always be shackled somewhat by the defensive requirements at full-back.

Everton's most influential player is Leighton Baines, and if Villa can force the left-back to concentrate on his defending on Saturday, they'll improve their chances of a positive result. Limiting his attacking surges will be key, and Bacuna's pace and athleticism would keep him occupied and certainly, the England defender will know he can't afford to allow the Villa man the space to get in behind him. The security of Lowton at right-back should free Bacuna up to focus on offensive play.

Lowton in means someone out, and the pressure should be on not only Westwood and Weimann, but also Karim El Ahmadi. I still maintain that Westwood and El Ahmadi struggle to thrive in the same midfield space together, especially if Fabian Delph is on the field, and the way he's been playing of late, it would require a suspension (which is probably not long in coming, given his accumulation of yellow cards) or injury (touch wood, Delph has had enough of those to last an entire career) to keep him out of the side. A combination of all three leaves Villa's midfield rather one-dimensional.

The Villa manager must surely see this, and one of Westwood or El Ahmadi may drop out. Or maybe both -- pairing Delph with Yacouba Sylla, who cannot be overlooked for a start much longer, would be a popular decision; the duo have enough tenacity, work rate and athleticism between them to allow Villa to then go with a genuine attacking midfielder/No.10. This is the role Weimann would be perfectly suited to, instead of running wide channels. He needs to be central, and he needs to get into and around the penalty area far more often.

Following tepid displays against Hull and Tottenham, Villa need some freshening up. Lowton could be one of a handful of changes in the manager's mind, and it feels as if the time is right to bring him back. While Villa have faced difficult opposition in the first part of the season, there's also no escaping the fact that out of four Premier League home matches, three have ended in defeat. Continue like that, and there's only so long that Lambert will persist with the same starting line-up. Some of those have been in pretty ordinary form for weeks, and can't assume their place in the team is safe.

My Villa XI vs. Everton: Guzan; Lowton, Vlaar, Clark, Luna; Sylla, Delph; Bacuna, Weimann, Agbonlahor; Benteke. Subs: Steer (GK), Baker, Bennett, Westwood, El Ahmadi, Tonev, Kozak, Helenius.