Benteke back but Spurs shut Villa out yet again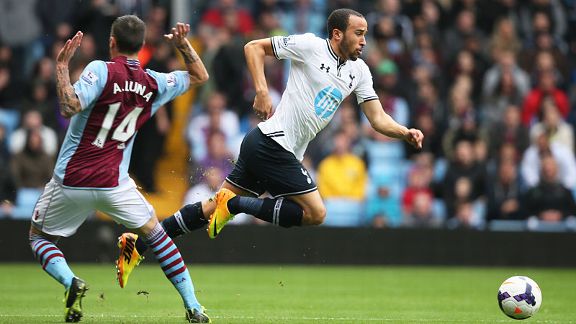 GettyImagesAntonio Luna struggled to deal with the pace of Andros Townsend all afternoon.
The change in atmosphere was unmistakable. With the game barely past the hour mark, Christian Benteke made his eagerly awaited comeback, and for the next eight minutes, Villa Park buzzed with anticipation, expectation and above all else, belief.

The return of the talismanic striker drew an instant response and, for a few minutes at least, Villa threatened to change the course of a game which eventually finished in a reasonably comfortable 2-0 win for visiting Tottenham. Benteke's mere entrance enlivened not just the Holte End and the home support, but his teammates, too.

Leandro Bacuna found his feet and drove forward two or three times on the overlap to send over threatening crosses, his opposite full-back Antonio Luna pulled off a perfect sliding tackle to dispossess the excellent Andros Townsend. Benteke bulldozed a header a yard or so over the bar, screaming in annoyance at the realisation of a great opportunity missed, within around a minute of coming on. The Belgian connected with another header, a half chance, before bouncing a tamer effort into the arms of Spurs keeper Hugo Lloris.

- Brewin: Townsend's star continues to rise

The ineffective Libor Kozak, who had made way for Benteke, having had little service, must have been sitting and cooling down on the substitutes bench wondering why Villa's players were suddenly sending in cross after cross into dangerous areas, when they did anything but during his time on the field.

Unfortunately for Villa, those eight minutes were as good as it got. Spurs put the result beyond doubt, with a little more than 20 minutes remaining, with a goal which showed up not only Villa's flaws, but also the undeniable gap in quality between the two clubs. When Villa lost possession in the right-back position, Spurs transferred the ball swiftly and decisively, cutting the home defence to shreds. Roberto Soldado's finish was clinical. The Villa revival was over, almost as soon as it had started.

This was a performance sadly typical of so many recent showings versus Tottenham, a fourth straight match without Villa scoring against these opponents. Lloris was relatively untroubled, a harsh truth for Paul Lambert to swallow, but truth nonetheless. Andreas Weimann flashed a decent strike wide of the near post toward the end of the first half, and that was about the only effort worthy of note.

Spurs weren't particularly impressive, but didn't have to be to win this game. Townsend was outstanding throughout, and is currently enjoying the kind of purple patch where everything he tries seems to work out. His first-half goal, his first for Spurs, had a slice of good fortune, a floated cross which Soldado and Lewis Holtby both ducked under and ended up beating Brad Guzan. A later drive in the first half demanded a smart save from Guzan, and a second half curler whipped just over the bar. He was always Tottenham's outlet ball, and it was slightly alarming from a Villa point of view to see the number of times he drifted away too wide of Luna to receive the ball.

Lambert has plenty to ponder following this defeat. Benteke's return was the one obvious plus, and he's surely certain to return to the starting lineup against Everton this coming Saturday. But elsewhere, there are decisions looming; decisions which have been looming for weeks. His favoured three midfielders are clearly Fabian Delph, Karim El Ahmadi and Ashley Westwood, for the trio again started (as they did at Hull), but they do not work well together.

They play in a straight line, too flat, and there is not a change of pace among them. Delph, Villa's best player again, has the most attacking intent but doesn't appear to have the licence to break beyond the strikers; he twisted and turned, and pivoted, and probed, against Spurs, looking in vain for a chance to create a genuine opening. His frustration eventually boiled over into a petulant and exhausted foul on Townsend. He resembles a player in shackles, wanting to break free, to win games and operate in the final third. Lambert might consider rejigging his midfield to allow Delph to play further forward.

Westwood continues to struggle and look out of sorts in what is developing into a difficult second season for him. He and El Ahmadi like to occupy the same area, and yet it was notable that Tottenham's Paulinho was completely untracked as he moved toward Villa's penalty area to supply the crucial pass for Soldado's goal. Although he's currently not starting matches, Yacouba Sylla should soon come into Lambert's consideration.

If midfield changes might be on the Villa manager's mind, not far behind must be a dilemma with Weimann. The Austrian gives a lot to Villa, but the formation no longer seems to be working for him as he toils away on the right of the front three, and his once-renowned composure in front of goal is fading week by week. He works fantastically well with Benteke, and would perhaps profit by being alongside him, centrally, but that would require a deviation from Lambert's preferred 4-3-3.

The difficult position Lambert finds himself in is that two or three of his -- for want of a better word -- favourites are in disappointing form. He showed his ruthless side by dropping Matt Lowton, but while Lowton remains out of the side, Westwood and Weimann remain in. The likes of Sylla, and Aleksandar Tonev, who came off the bench to give a bright cameo performance, should be pushing hard for a chance. Will they get one?

It's been a challenging opening to the season for Villa. The first eight league games have seen Lambert's team meet five of the best seven clubs in the division and up next are a sixth, in the shape of Everton. Villa simply have to start asserting themselves more effectively on their home turf, to start dictating matches rather than being dictated to.