Villa must end their Spurs goal drought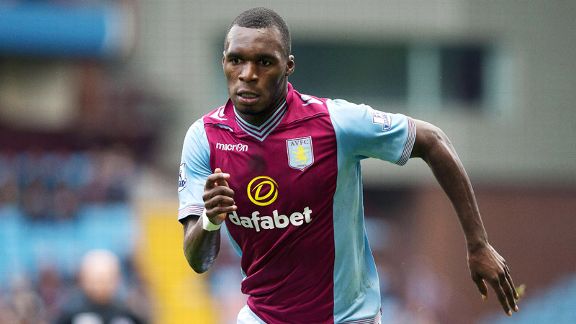 Neville Williams/Aston Villa FC/Getty ImagesThe returning Christian Benteke will look to give Aston Villa its first goal versus Spurs in three matches.
Jermain Defoe, Roberto Soldado, Erik Lamela, Nacer Chadli, Gylfi Sigurdsson, Christian Eriksen, Liam Holtby and England's man-of-the-moment, Andros Townsend: there is no disputing the fact that the current Tottenham side is generously endowed with creative, attacking talent in the forward, wide, and midfield positions.

But while Villa's defence will no doubt be kept occupied by Tottenham's various attacking options during Sunday's Premier League meeting, the key to the game's outcome could hinge on whether Paul Lambert's team can actually do something which has evaded them on the last three occasions they have faced Spurs: break down Andre Villas-Boas' side.

- Report: AVB expects Benteke to return

Villa's record against Spurs under Lambert has been dreadful; three defeats from three games, with not a single goal scored. Last October, Tottenham triumphed 2-0 at White Hart Lane, with second half goals from Steven Caulker and Aaron Lennon -- the injured winger, whose imminent return to fitness, will provide yet another offensive alternative.

On Boxing Day 2012, a most miserable afternoon at Villa Park spoiled Christmas for the home crowd with the visitors winning 4-0 and almost at a stroll; Gareth Bale scored a hat-trick. Most recently, Spurs repeated the same scoreline in last month's League Cup tie. That result meant Villa have not only lost three on the spin against Spurs, but lost comprehensively, conceding ten goals and failing to score once themselves.

In fact, the sequence is a little worse than that for Villa. The 1-1 home draw in May 2012 is the only game of the last five against Spurs that didn't end in defeat for Villa -- in November 2011, Tottenham won 2-0 at the Lane -- and Ciaran Clark's goal in that May 2012 match is the solitary breakthrough achieved in 450 minutes of action. Clark's strike was actually Villa's only effort on target, and that profligacy has been typical of encounters with Spurs. Looking at those last five matches, Villa have scarcely threatened, and barely recorded an on-target shot of any note.

Clearly, Villa have had problems breaking Spurs down of late, and Tottenham's strong defensive record suggests that it is their full-backs and centre-backs which deserve the lion's share of the early season plaudits. Clean sheets against Crystal Palace, Swansea, Norwich and Cardiff in the Premier League; Dinamo Tbilisi (twice), Tromso and Anzi in the Europa League; and, of course, against Villa in the League Cup. Until their surprise 3-0 collapse against West Ham, Spurs had conceded just two league goals in six games -- one each against Arsenal and Chelsea.

Finding a way past Tottenham's back four will be Villa's sternest test. The Spurs defence is a consistent one. Kyle Walker at right-back, Michael Dawson and Jan Vertonghen in the centre, and either Kyle Naughton or Danny Rose at left-back. Naughton has deputised for Rose while the latter has been injured, and will do so again on Sunday. With Moussa Dembele and Paulinho holding sway in the two central midfield berths, Spurs have a dominant core of six, and this group are not easily overpowered.

Villas-Boas prefers his side to dominate the central areas, and sets them up as such. Spurs tend to use inverted wingers, rather than touchline-hugging ones, with -- usually -- Townsend on the right cutting in on his favoured left foot, and Sigurdsson on the left and drifting in. This makes Spurs compact, but not exactly stretching teams in the wider areas, which is possibly why both Soldado and Defoe, whichever of the pair starts in the lone centre-forward role, have struggled for goals. Spurs don't ping an endless stream of crosses into the box. Soldado has two penalties. Defoe is yet to register in the league.

West Ham shocked Spurs by effectively going without a recognised striker, fielding six players in and across the midfield area, denying Tottenham the space to play through them, and breaking from the middle third to great effect. Villa coach Lambert will have taken note. Lambert may feel, just as he did in the last league game at Villa Park, that his 3-5-2 formation warrants another outing.

It may be a sensible choice. The extra centre-back will be useful to cope with the forward runs of Sigurdsson and Eriksen, the two wing-backs -- which would be Leandro Bacuna and Antonio Luna -- able to test Spurs in the wide areas and therefore pull players away from the congested midfield zone. Any formation, however, is only as good as the players within it, and Villa may have the benefit of welcoming back their most important player, and certainly their top scorer and match-winner for this one.

The Spurs fixture was always tagged as Christian Benteke's potential return following the best part of a month out injured, recovering from the hip injury sustained against Norwich on September 21st. Villa won that game, scoring the only goal after Benteke had left the field of play, and also beat Manchester City before drawing at Hull. But despite picking up seven points without him, the Belgian's comeback would be a huge boost.

There has been no official word about his level of fitness, though Benteke was on the bench for Belgium's World Cup qualifier in Wales on Tuesday. Villas-Boas, in his pre-match press conference, seemed to believe the striker would start the game, having been told as much by two of Tottenham's Belgians, Dembele and Vertonghen. For his part, Lambert is usually decisive in these circumstances -- at Hull, fit again Ashley Westwood and Gabby Agbonlahor were immediately restored to the starting line-up after absences -- and won't miss an opportunity to get his favoured XI out on the pitch.

If he's anywhere close to full fitness, expect Benteke to start. If so, Villa's prospects of finally puncturing a resolute Spurs defence, after drawing three consecutive blanks, will increase significantly. It's hard to imagine Benteke, for example, allowing Vertonghen to yank his shorts down to his knees, as the Spurs defender famously did to Villa's Nicklas Helenius during a contentious moment in that recent cup tie. In fact, it's amusing to wonder how Benteke would react if his international colleague tried that on.

A Benteke return would bring added spice to the occasion because of the intense speculation that he was close to joining Spurs in the summer. The narrative appears to have been that Tottenham made their interest known, Benteke submitted a transfer request, Spurs dithered and dallied, apprehensive about the asking price, and eventually looked elsewhere -- Soldado -- and the striker then extended his contract at Villa. Four league goals in five games hints at a Tottenham error of judgement.

The thought of Benteke playing, and scoring, against Spurs on Sunday is an extra delicious one for Villa fans. Then again, any kind of goal from any Villa player, at the right end, would be more than welcome. Against Spurs, goals have been extremely difficult to come by.