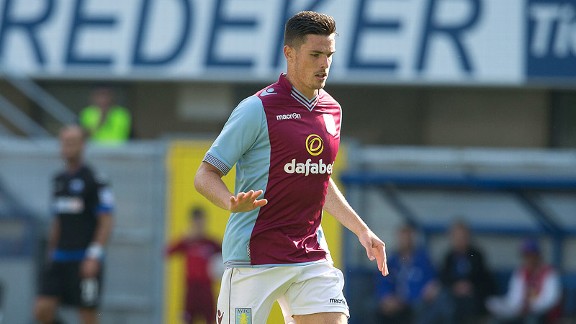 Neville Williams/Aston Villa FC/Getty ImagesCiaran Clark's new deal will see him stay at Villa Park through the 2015-16 season.
Hello, Ciaran. Aston Villa have been expecting you.

Aided and abetted by a touch of good fortune, but largely as a result of an upgrade in his own performances, Ciaran Clark has, at this point in time at least, regained his status as one of Villa's first-choice central defenders.

Having presided over two clean sheets in three Premier League games -- Clark must have pushed Fabian Delph very close to being officially named the club's Player of the Month for September -- as the defender prepares to face the might of Germany in Ireland's World Cup qualifier on Friday (2:30 p.m. ET, ESPN2/ESPN3/WatchESPN), he may well reflect on what could be considered the most consistent period of his Villa career.

It's a handful of matches only, but even so: Clark has been solid, commanding and decisive. Promising signs from a player who always had the potential to develop into a top-class defender yet often seemed uncomfortable, certainly during the more difficult phases of last season. Indeed, the rigours of Villa's tense fight with relegation in 2012-13 took their toll on Clark, who finished the campaign on the sidelines, watching Nathan Baker and Ron Vlaar establish the central defensive partnership which eventually saw the club safe.

Clark didn't finish last season in Villa's starting line-up, and he didn't begin this new campaign as a part of it, either. The summer delivered a contract extension, tying him to the club he first joined as an 11-year-old, but also another challenge, in the shape of new arrival Jores Okore. Baker, who followed the same route as Clark, from Villa Academy through to First Team, also received a new deal, and he partnered Vlaar at Arsenal in August.

With Okore expected to make quick progress, it wasn't unreasonable to consider Clark Villa's fourth-choice centre-back at that stage, and it also wasn't inaccurate to suggest that news of his contract extension was met with a mixed response from Villa fans, many of whom questioned whether the centre-back had really warranted such a reward.

Having nurtured Clark's development for well over a decade, it was a sensible decision by Villa. The alternative was to risk losing him for nothing in a year. On the other hand, there was enough doubt surrounding Clark and his ability to mature and become the player he had always threatened to be, a centre-back once considered to be a surer bet than another who rose through the youth ranks at Villa -- Gary Cahill.

Following a round of central defender merry-go-round -- Baker replaced by Clark when injured on opening day, Clark forced off against Chelsea and substituted for Okore, Clark back on against Newcastle when the dreadfully unlucky Okore ruptured knee ligaments -- it is the Ireland defender who has emerged as manager Paul Lambert's preference to slot in alongside Vlaar.

And he's done well. The concentration is better. The decision-making has improved. There's renewed focus and confidence in his play. In one-on-one situations, he's invariably coming out on top. The occasional slices of luck have gone his way -- such as Brad Guzan saving the penalty he conceded at Norwich, when the ball struck his hand from point-blank range. Last season, Clark was punished for every misjudgement, or at least it seemed that way.

Against Hull last Saturday, he had some impressive statistics (courtesy of Bloomberg Sports) -- Clark won four of five aerial duels and four of five tackles, made 23 successful clearances and completed 8 of 11 long passes attempted.

That actually made Clark the 'best' defender in European football over the weekend, ranking higher than Real Madrid's Sergio Ramos, among others. Of course, he's not one of the best defenders in Europe by any stretch of the imagination, but it's evidence that, in that particular contest, he was very impressive.

Confidence plays a huge part in the performance of any footballer, and there's no denying that Clark's first three full seasons in the Villa first team were laden with pressure and tension. He's never really had the benefit of bedding into Premier League football alongside an experienced centre-back, and being allowed to learn the game at a moderate pace.

He's had to learn fast. He was also shifted around positionally when he broke into the side. Gerard Houllier used him regularly in midfield or left-back, Alex McLeish turned to him at centre-back only whenever Richard Dunne or James Collins were unavailable.

Lambert was the first Villa manager to unequivocally state Clark was a central defender, and nothing else -- almost disdainfully dismissing the very idea of using him in another position. At times, last season must have been a shattering experience for a young defender still finding his feet in the Premier League, with Villa on the end of some heavy defeats and the spectre of relegation looming almost permanently.

This term, there's breathing space between Villa and the bottom three, important victories have been achieved, Vlaar has the experience of a full Premier League campaign under his belt, and the team has shed the tag of being unable to keep a clean sheet. Villa's squad are a season older and wiser. There's a more settled atmosphere among the squad as a whole, and it's evidently rubbing off positively on several players -- Clark one of the most prominent.