Villa must move on without Benteke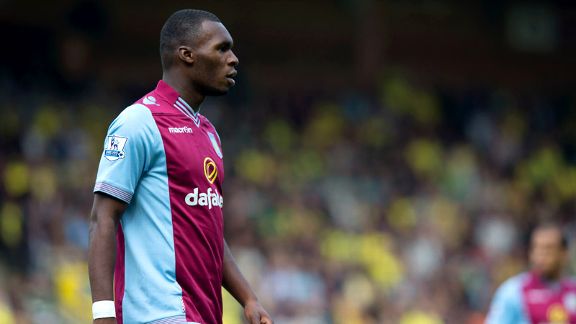 Neville Williams/Aston Villa FC/Getty ImagesVilla striker Christian Benteke is expected to be out 4-6 weeks.
There seems little point, or no point at all, in even attempting to play down the absence of Christian Benteke, ruled out for four, or five, or six weeks, depending on his rate of recovery. He will be missed by Villa, in the same way Liverpool have missed Luis Suarez, and Manchester United are missing Robin van Persie. But while Liverpool have been able to turn to the excellent Daniel Sturridge, and United can call on Wayne Rooney, and Javier Hernandez, to keep things ticking over, the loss of Benteke will be more keenly felt by Villa.

- Report: Villa optimistic of early Benteke return

The Belgian's importance to Villa is huge. The significance of his injury wasn't lost on the Match of the Day producers, who saw fit to feature his attempt to continue playing on at Norwich last Saturday as part of the match highlights package. It's rare that injuries are included in coverage these days; those editors knew that Benteke's setback was almost as important as the result itself. It was a major talking point during the game, in the hours afterwards, and has been for most of the week.

A month to six weeks: it could have been worse. Benteke's problem, a hip flexor injury, was troubling him earlier in the season and going into last weekend's visit to Carrow Road. The rehabilitation doesn't require surgery, but the period of recovery will keep Benteke out of at least two of Villa's upcoming matches: at Hull in just over a week's time and firstly, against Manchester City this Saturday. He'll also miss Belgium's final World Cup qualifiers, but may well be available following the international break.

Until then, Villa must cope without a striker who has become the team's talisman, and leading goal-scorer. Benteke has scored more Premier League goals in 2013 than any other individual, and four of Villa's six so far this season. He is, arguably, the one truly top-class talent in Paul Lambert's squad, the one player who could play for any of the leading clubs in this division, and for several of Europe's finest.

He is not easily replaceable. But Villa have other attacking options, and in this situation, the decision to sign Libor Kozak on deadline day suddenly looks a sound one. It raised eyebrows at the time -- around £5m for a player, a centre-forward, that the team were not desperate for, but Lambert explained the Czech striker's arrival as necessary to provide cover for Benteke. That cover is required sooner than expected, unless the Villa manager is some kind of visionary genius.

It was Kozak who came off the bench to replace the struggling Benteke last Saturday, and Kozak who scored the only goal of the game minutes later, of course. First impressions of the former Lazio forward that afternoon were that he's not in the same class as Benteke -- not as quick or mobile, or possessing the all-round game of the Belgian. But he is strong and can give Villa's attack a focal point. He's actually no slouch either, as demonstrated during the second half when he scampered away from the Norwich defence, played a one-two with Fabian Delph, and managed to get a shot on goal.

Kozak was altogether quieter against Spurs in midweek, but in his defence, in the opening 45 minutes he was staging a one-man crusade, isolated by himself with Marc Albrighton and Aleksandar Tonev struggling to provide support. He was withdrawn at half-time, allowing Lambert to introduce two other strikers from his squad; Nicklas Helenius and Jordan Bowery. There is always the possibility of one of these, particularly Helenius, being selected ahead of Kozak, but the likelihood is that Lambert will pick the player he signed specifically to deputise for Benteke.

However, the key to Villa thriving despite Benteke's absence is perhaps not his direct replacement, but the two players who assist the Belgian. In that opening 30 minutes against Norwich, it was not Benteke who was troubling the Canaries, but Gabby Agbonlahor and Andreas Weimann. It was Weimann especially who had his best game of the season. The pair provide the movement, the pace and the fluidity to Villa's forward play. The loss of Agbonlahor, who sustained a kick on his ankle and retreated after an hour, hampered Villa more than being without Benteke, for it stripped the attack of penetration and left the team without the means of getting behind the Norwich defence.

Neither played in the Capital One Cup defeat to Spurs, and they were sorely missed. The good news is that Agbonlahor is said to be winning his fight to be fit to face City; Weimann was rested and should be raring to go. If Kozak can give City captain Vincent Kompany something to think about by testing him physically -- that could be an intimidating head to head -- Agbonlahor and Weimann have the zip and buzz to trouble the rest of Manuel Pellegrini's back four.

Saturday will be difficult. Something of an understatement: City are absolutely flying, full of goals and authoritative in midfield, with Yaya Toure and Fernandinho utterly imposing. It's a challenging encounter, and Lambert's team are notoriously out of touch at home. But it's also an opportunity for the rest of the Villa squad to make the point that they are more than a one-man team, that there is a way forward while the main man recuperates.