Keep the faith or ring the changes?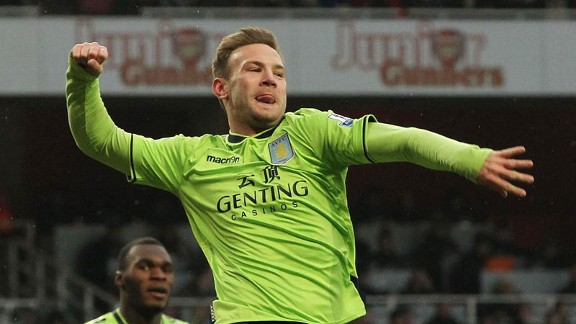 PA PhotosAndreas Weimann is looking a shadow of his former self.
Seasons aren't defined by matches played in September, but Villa's visit to Carrow Road on Saturday could reveal a lot about Paul Lambert as a coach, a tactician, a motivator, and a manager of people.

It hasn't been the happiest of weeks for the Villa manager. His side were outclassed in defeat to Newcastle last weekend, he learned centre-back Jores Okore had ruptured knee ligaments in that match, ruling him out for the season, and he's lapsed back into the kind of lingo oft-used during the most testing periods of 2012-13; players picking themselves up, lifting spirits in training.

Lambert has also spoken out in defence of goalkeeper Brad Guzan, with the sequence of league games since Villa's last clean sheet now extended to 26, a ghoulish statistic hanging over the club like a dark cloud. After the highs of that opening day victory at Arsenal, it's been three straight league defeats for Villa. Against decent opposition, admittedly, but the standard of Villa's performances appear in decline.

Outwardly, publicly, Lambert stands defiant and in control, supportive of his players and resolute in his belief that results will turn around and performances will improve. It's an admirable quality. Lambert has a long-term game plan and rarely deviates from that. Even during the most desperate of times last season he trusted his strategy, refusing to panic - and that tunnel vision focus paid off, eventually.

But privately, and in discussion with his back room staff, the Villa manager must know that his team have been yard or two off the pace in the last two league games, allowing both Liverpool and Newcastle to impose themselves. He'll be concerned at the continued issue of conceding early goals, at his midfield's failure to collectively gel together, and at the fact that Christian Benteke, though having four Premier League goals to his name already in 2013-14, too often seems isolated and lacks support.

It's an undoubted strength of a coach when he knows his strongest team and Villa's line-up, other than some central defensive reshuffling due to injuries, has been very settled to date. But with some of those players falling short of the standard they achieved last season, Lambert has a dilemma. Does he persevere with them, reinforcing his faith, upholding player confidence and allowing them to play through this patchy spell? Or does he consider the players who have been restricted, in the main, to bench duty, and promote one or two to freshen things up?

Many of those players were brought to the club in the summer by Lambert. Only left-back Antonio Luna, and the unfortunate Okore, have been used regularly. Others - Leandro Bacuna, Aleksandar Tonev and Niclas Helenius - have found opportunities scarce, with a single Premier League start (Bacuna v Liverpool) between them. Tonev has made three substitute appearances; Helenius one. Yacouba Sylla, signed in January, has yet to play a single minute in the league this season and must, surely, come into contention soon.

Wholesale change would be a knee-jerk reaction and an over-reaction, but there's sense in switching things around a little for the trip to Norwich. Against Newcastle, Villa's midfield looked flat and though fielding three players in that area is required, in most matches, to avoid being overloaded in that critical zone, it has to be the right three. Karim El Ahmadi has been, by and large, reasonably consistent but including him alongside Westwood and Fabian Delph means Villa stay narrow. Westwood needs to sit centrally, and that's primarily El Ahmadi's game, too.

The Moroccan is uncomfortable in the wider areas - Newcastle's opening goal stemmed from him trying to keep possession near the right touchline and losing it - so tends to drift inside, too close to Delph. In essence, El Ahmadi should be an option instead of Westwood, or Delph. Having three midfielders all operating centrally puts further responsibility on Weimann and, over on the left flank, Gabby Agbonlahor, to offer width, cover and still get forward to support the lone Benteke. It's not really working.

Lambert could combat this by recalling Sylla, a different type of midfielder altogether. He doesn't have the composure of El Ahmadi, but he does have athleticism, decent pace, is prepared to position himself almost to the touchline to offer width, and has the energy to drive forward, disrupting the opposition midfield. He would spread Villa's game, and allow the right-sided forward the relative luxury of prioritising danger areas.

If Villa's boss feels the Frenchman, who was injured throughout pre-season, is not yet ready to figure from the start, he could turn to Bacuna, who is not dissimilar. Again, Bacuna isn't particularly strong technically when on the ball; he's ostensibly a right winger with the capability of dropping into right-back if needed. He's quick and direct. His inclusion would be useful against Norwich, who'll field Nathan Redmond on the left. Redmond, the former Birmingham winger, has started the season well, and selecting Bacuna, or Sylla, would certainly help Lowton out.

The other change Lambert could consider would be a first start for Tonev, on the left of midfield. The Bulgarian would give Villa genuine width on that side, help to nullify Norwich's chief attacking threat, Robert Snodgrass, and improve the team's service into Benteke. It would mean a departure from the 4-3-3 favoured by the Villa manager, with the side shifting into more of a 4-1-3-2 (Westwood holding; Sylla/Bacuna, Delph, Tonev slightly advanced) or 4-3-1-2 (Sylla/Bacuna, Westwood, Delph, with Tonev further forward but across to the left) and fielding two front men. Benteke would obviously continue the centre-forward role, and given his recent record against Norwich, Agbonlahor deserves to retain his place ahead of Weimann, who really does seems to be struggling and snatching at chances - a classic sign of an over-eager striker.

Whether the Villa manager is prepared to leave one of his three first-choice forwards out of the starting line-up remains to be seen. He's a lover of bold, attacking football and fielding the Agbonlahor-Benteke-Weimann triumvirate has been effective on many occasions, but Lambert may need to temper that approach somewhat as Villa are falling behind in games before the strikers can exert their influence - they're simply not seeing the ball often enough, and the team are being unbalanced elsewhere against opposition almost packing midfield with four or five men. Playing in bursts and deploying a counter-attacking policy, almost inviting pressure, won't work every week - something Villa are finding out the hard way.