Defensive curse ends Okore's season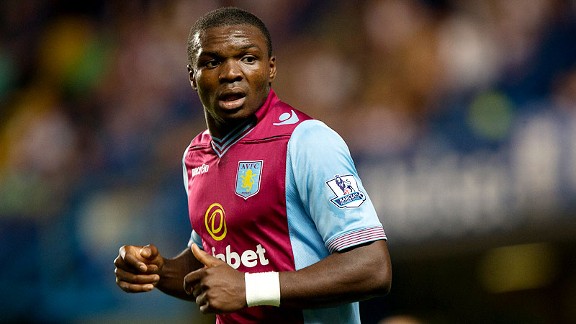 Neville Williams/Aston Villa FCRuptured knee ligaments have sidelined new Villa defender Jores Okore for the remainder of the season.
Villa will get over last weekend's defeat to Newcastle soon enough, but they could be feeling the loss of Jores Okore for the remainder of the season; the length of time the Danish central defender will be unavailable following confirmation of a serious knee injury.

- Report: Okore ruptures knee ligaments

This is bad news for Villa and sadder news for Okore. The 21-year-old ruptured the anterior cruciate ligament in his right knee against Newcastle, colliding with Loic Remy early in the first half. The challenge was innocuous, Remy blameless, and Okore attempted to rejoin the action minutes later. That he limped off the field, and was able to stand, without the aid of crutches, for the official club squad photocall on Monday lent hope to something less than a significant injury. Not so. Results of an MRI scan made surgery necessary and Okore's rehabilitation and recovery will take up to nine months.

That's Okore's debut season in English football now wiped out after just four appearances which amounted to around 170 minutes of Premier League action, plus the whole of the Capital One Cup match against Rotherham. To lose a player so early in the season, and so prematurely in his first season, is difficult to accept. Unfortunately, this is not a new experience for the club's management, which may be wondering if there's a curse on defenders around Villa Park.

The prime example in Villa's story of defensive injury woe is Martin Laursen, who signed in the summer of 2005, played the opening game of the season against Bolton and then missed the entirety of the campaign with a knee problem. Laursen would have glorious moments in claret and blue but his knee was always a concern and eventually forced early retirement. Then there was Curtis Davies, another player sidelined in his first season as a Villa player. Davies snapped his Achilles tendon on only his ninth league start for the club, playing against Arsenal at the Emirates.

There are more, plenty more: the horrific ankle injury which all but finished Wilfred Bouma's top flight professional career; the continued setbacks that dogged Richard Dunne and prevented him from playing a single senior match last season. Going further back, all the way to 1990, is the unfortunate story of Ivo Stas, the Czech Republic central defender signed by Josef Venglos after impressing playing against Villa for Banik Ostrava in European competition. Stas was injured in his first training session and never played for the club.

Those are the headline cases. Aside from these, there has been no end of almost constant setbacks, forcing Villa to change central defenders with frustrating regularity. When Okore made his Villa debut, in the 43rd minute of the club's second match of the season at Chelsea, all four senior centre-backs had been used. Nathan Baker, starting the season alongside Ron Vlaar, was injured in the opening game, at Arsenal, and his replacement on that occasion, Ciaran Clark, was then injured at Stamford Bridge. Villa have had next to no chance of establishing a partnership.

With his awareness, pace, and composure, Okore was beginning to look as if he would emerge as the team's chief centre-back -- Okore plus one. Without him, Paul Lambert will revert to the trio which carried Villa through last season, and bearing in mind the goals against column in 2012-13, that's not a particularly comforting thought. Not that much can be done about it. The timing of Okore's injury couldn't be worse, two weeks after the closure of the transfer window and with 25-man squads submitted to the Premier League. A browse through the list of free agents reveals the name of William Gallas, and the veteran would be an ideal short-term recruit; even if Lambert were so inclined to make that kind of signing, and you don't feel he would, there is no room in Villa's roster.

This is it until January at least. Clark will probably get the shirt ahead of Baker to partner Vlaar at Norwich on Saturday, and Lambert will use Chris Herd and 19-year-old Janoi Donacien, who played several times with the first team during pre-season, as extra cover, should it be required. It's not ideal, but it's a fantastic opportunity for Clark, or Baker, to re-establish themselves.

As for Okore, it's a setback and his recovery will take time. But he's young enough to return stronger, and he could do worse over the coming months than seek out captain and colleague Vlaar for occasional heart-to-hearts; the Dutchman suffered a ruptured anterior cruciate ligament not once, but twice, earlier in his career and knows exactly the battle now facing the young Dane.