Villa: six things we've learned so far this season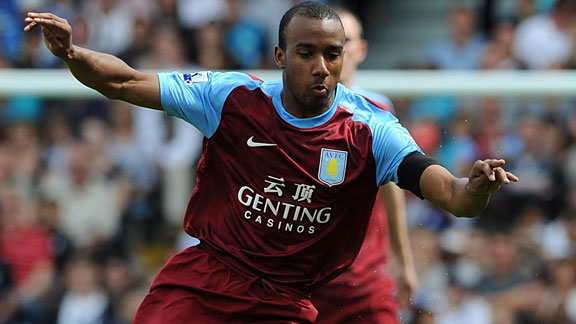 GettyImagesFabian Delph has been one of Villa's star performers this season.
Villa emerge from a mini Premier League holiday when they host Newcastle United on Saturday. With the season just three games old, what have we learned so far about Paul Lambert's fast-improving young side? Early days indeed, but here are six observations, nonetheless:

Christian Benteke would have been a £30 million bargain
If you believed even 90% of what was written in print and across the web during the summer, there was plenty of interest in Villa's Belgian striker, but no actual bid, save for a suggestion of an offer around the £18-20 million from Spurs. Villa would have been looking for closer to the £30 million mark, and, having extended his contract a month before the start of the campaign, Benteke started the new season making the kind of impact that proves he's worth a third of Gareth Bale.

Three league goals in three games, plus another in the League Cup has Benteke on four from four, but it's not the volume of goals that makes him such a threat so much as the range of them. A nerveless penalty against Arsenal, a stunning first-time left-foot effort at Chelsea. Against Rotherham, a towering far post header. And though Villa failed to score against Liverpool, it was inevitably Benteke who came closest after a lovely turn allowed him the time to curl the ball towards the top corner, denied by a smart Simon Mignolet save. To put it bluntly, £30 million would almost have been a bargain - if Benteke maintains this level through the season and shows up well at the World Cup, that price tag could swell by another £10 million.

Delph defying his doubters
Roy Hodgson may not yet be convinced, but Fabian Delph has been one of the Premier League's best-performing midfielders so far in 2013-14, despite facing high calibre opposition in Arsenal, Chelsea and Liverpool during August. Delph has been Villa's key player throughout the opening three league games, playing 270 minutes and achieving, according to the excellent statistical website WhoScored.com a pass completion rate of 80%, and an overall rating of 7.74.

- Gabriel Agbonlahor tipped for England

For a closer study of his influence, compare Delph's contribution against Liverpool: 87% pass accuracy, 91 touches of the ball, five tackles won. Liverpool's Steven Gerrard posted an 84% pass accuracy, with 84 touches and four tackles. Arsenal's Jack Wilshere, potentially obstructing Delph's route to the England squad more than anyone, had double the number of touches (103 v 51) when the two clubs met at the Emirates on opening day, and the Gunners' playmaker successfully completed 92% of his passes, compared to Delph's 75%. But the Villa man won more tackles than Wilshere, embarked on six dribbles against two, and finished with a higher overall rating. He has a way to go, but 23-year-old Delph is clearly beginning to mature as a top-class central midfielder.

Okore is not the new McGrath...
.. yet. Villa fans have high standards when it comes to central defenders. Jores Okore might have technically replaced Richard Dunne in this season's squad, but Dunne isn't the man the young Dane has to emulate. At Villa, centre-backs are judged against impressive predecessors; Paul McGrath, Martin Laursen, Olof Mellberg, Gareth Southgate, Ugo Ehiogu. The 21-year-old hasn't made a bad start. Having entered the fray at Stamford Bridge as a late first-half substitute, Okore cruised through the rest of that match before his first Premier League start, against Liverpool, a few days later. He was relatively untroubled, demonstrating a confidence in possession, a willingness to carry the ball out of defence, and a turn of genuine pace, which had Villa fans purring. Importantly, captain Ron Vlaar looks to be steadier alongside Okore, who may just be the player to tighten up what has been a leaky defence of late.

No favours for new boys
Villa signed seven players over the summer and before the transfer window closed, but early indications are that the onus is on the new arrivals to convince manager Paul Lambert that they're worthy of a place in his side. Only the Spanish left-back, Antonio Luna, began the season in the team, and though Okore would perhaps now be considered a starter, it took injuries to two other centre-backs, Ciaran Clark and Nathan Baker, to see him promoted. As for the rest, Leandro Bacuna has one start from three league games, while winger Aleksandar Tonev and striker Niclas Helenius have yet to appear in the first XI; both have been restricted to substitute cameos thus far, with Lambert not even tempted to change things around too much for the cup visit of Rotherham. Now Czech striker Libor Kozak has arrived, but how he fits into the jigsaw remains to be seen. The message to the new recruits appears to be this: starting roles are earned on merit alone.

A team of two halves?
Villa's league season can be broken down into six 45 minute periods, six halves of Premier League football. Broadly speaking, three have been good, and three have been poor. Slow starts have hampered the team, and meant Villa have fallen behind in each one of the three. Certainly, against Arsenal and Chelsea, Villa fell behind early on; Lambert's team could have sunk without trace at Stamford Bridge, in particular, only staying afloat largely because the hosts preferred to toy with the ball than go for further goals. At Villa Park, Liverpool bossed the first half, taking the lead and generally dictating play, reducing Villa's players to chasing shadows. In each of these three games, however, Villa seemed transformed after the interval - playing more ambitious, incisive football. The trouble is, Lambert will know his team cannot continue conceding first. The habit has to change.

It's not exactly tika-taka...
'Pace and grace,' is how Lambert has described Villa's style but he's perhaps being slightly charitable with the grace part of that. Villa can be an exhilarating attacking side - that's certainly one of the team's strengths, given their striking options - but a little more composure wouldn't go amiss. WhoScored credits Villa with making just 304 short passes throughout their three league games so far, more than only two other clubs - West Ham and Cardiff. Villa's average possession in games has been 38.1%, a league low, though that has probably been adversely affected by playing three of the strongest clubs. It will be interesting to see if that statistic has changed in another month or two. The challenge for Lambert is finding the right balance between maintaining his team's direct attacking threat, and improving Villa's control on games.