Relief all round as Ireland moves on
Over to you, Mark Hughes, the latest coach to take on the challenge which has proved beyond all others in recent years; finding the answer to the Stephen Ireland riddle and rediscovering the player who shone so spectacularly, if relatively briefly, some five seasons ago.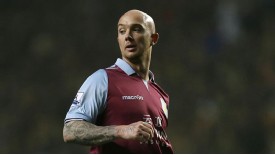 AssociatedStephen Ireland played for Mark Hughes at Manchester City.
When Ireland completed a deadline-day season-long loan move to Stoke, the deal brought relief all round. For the player, desperately craving a fresh start; for Villa's management -- who had feared they would fail to conclude a move for a player who has been, for months, little more than a drain on financial resources; and for Villa supporters, who had given up fleeting hopes of Ireland making a meaningful contribution as a footballer last winter.

That Villa were still trying to extract something useful from Ireland until midway through his third season says much about the talent he once had -- perhaps still has -- tucked away deep inside. With a footballer as gifted as he, there will always be a manager convinced there is something to work with.

Hughes must believe he can succeed where Roberto Mancini, Gerard Houllier, Alan Pardew, Alex McLeish and Paul Lambert either failed or elected to stop trying. The advantage Hughes has, of course, is that he remains the one coach who has been able to get the best out of the player. He was Manchester City's manager during the 2008-09 season, when Ireland scored nine league goals (13 in all competitions) from midfield and had nine assists. A fantastic output.

Ireland was 22 that campaign. He's now 27, young enough still to resurrect a stalling career, but also carrying the baggage which comes with a player who has lost his way in recent seasons. Having been sacrificed by City as part of the prolonged transfer which saw James Milner leave Villa, Ireland arrived in the Midlands during a turbulent August 2010; problematic timing in that the manager in situ when negotiations began, Martin O'Neill, departed before the deal was concluded. There was also the impression that Ireland had departed reluctantly from the club where he grew up.

In theory, Ireland should have brought a fresh, attacking and creative edge to the Villa midfield, which had honest workers in the form of Nigel Reo-Coker and Steven Sidwell, and astute decision-making in the shape of Stiliyan Petrov. While Milner would obviously be missed, Ireland would bring something different to the DNA of the side, giving Villa real invention in the attacking third, flanked by wingers Stewart Downing and Ashley Young.

In theory, it looked an exciting prospect. In practice, Ireland started poorly and never really got into his stride at Villa.

His debut, under caretaker manager Kevin McDonald, was in the humiliating 6-0 defeat at Newcastle; his final appearance for the club the second leg of the League Cup semi-final against Bradford City. Villa won 2-1, but ultimately lost the tie on aggregate. Those two outings, veritable low points in the club's recent history, bookend Ireland's spell as a Villa player, a series of appearances punctuated and interrupted regularly by injury, illness, and non-selection.

"I never got a run of games at Villa. It's been very up and down," Ireland said after joining Stoke. That's certainly an accurate assessment of his three seasons, but what Ireland should shoulder some responsibility for the disparate nature of his career since leaving City. Playing under three different permanent Villa managers didn't help, but on the other hand, Houllier, McLeish and Lambert all gave him opportunities.

What's notable is that, in that first season (2010-11), Ireland featured in 11 matches from his debut against Newcastle up to the first week in December. From that point on, he was removed from the squad and loaned to Newcastle, for whom he made just two substitute appearances amounting to around 50 minutes. Newcastle manager Pardew did not pursue making the transfer permanent.

Last season, Ireland was more or less a regular in the squad, when fit, until that Bradford game in January; again, from then on, he was overlooked completely. Which suggests both Houllier and Lambert were prepared to give Ireland every chance during the first half of the season but then decided, for whatever reason, his services weren't required for the second.

Even during his most productive season, the 2011-12 campaign under McLeish's management, Ireland played 90 minutes in the Premier League on just 11 occasions. He was, somewhat charitably, voted the Supporters' Player of the Year for that season, which perhaps said more about the lack of other suitable candidates, and the Villa fans' desire to see Ireland deliver on his potential, than the player's actual performances.

Perhaps what the midfielder never fully grasped was that being selected for the side was merely the start; to stay in requires performances of a decent standard, and too often his contribution was underwhelming at best, anonymous at worst. While it's true that the team was never built around him, and that he was often required to fill varying midfield roles instead of continually being deployed in his favoured spot just off the striker, it's rare to extend that level of luxury to any footballer.

Ireland just didn't do enough to make himself undroppable, or even one of the first few names on the team sheet. A return of just a single league goal in 47 Premier League appearances (34 of them starts) was disappointing, coming from a player who made his name as a free-scoring, game-changing midfielder.

He won't play for Villa again. His loan at Stoke will run until the end of the season, after which he'll be a free agent. It will be fascinating to see whether Hughes, his former mentor, can coax the best out of the player again, whether Ireland embraces what is an excellent opportunity to re-establish himself as a top-class midfielder, and whether Stoke offer him a permanent contract next June. Over to you, Hughes? More to the point, over to you, Stephen.