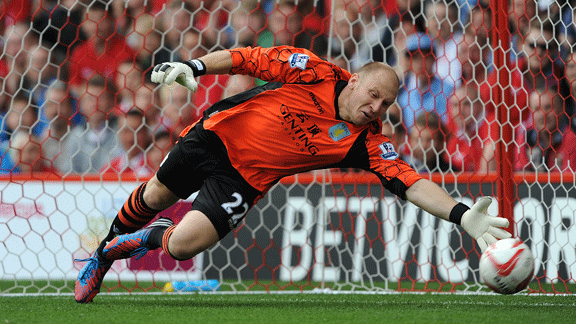 PA PhotosBrad Guzan has usurped Shay Given as Aston Villa's No. 1 this season
Brad Guzan has been making some noise of late. Which is good to hear and long overdue after spending years in the semi-permanent role of No. 2 goalkeeper - used in the case of emergency only.

Having started in Villa's last five league games, Guzan can justifiably discuss his newly acquired status as first-choice. It's not a situation he's used to. To say Guzan has required patience beyond patience would be an understatement. He's been a Villa player for almost four and a half years, and only in the last six weeks has he really made the breakthrough. The shirt is his to lose now, rather than to win. It's a change from all that has gone before.

Football managers often talk of every player having the same chance and reputations counting for nothing. But Guzan might reflect that Paul Lambert has been his first Villa coach to have been true to his word. At the end of last season, Guzan, frustrated to the nth degree by his continual failure to be the first name on the team sheet, stepped away from contract negotiations and left the club. The American took his time - qualities he evidently possesses in abundance - assessed his options, and, while considering other offers, allowed Lambert to have his say. The new Villa boss played it poker-straight - if he rejoined the club, he'd have every chance of finally nailing that No. 1 spot. And so he has.

Shay Given, coming off the back of a disappointing Euro 2012 with the Republic of Ireland, started the season as Villa's first choice but, by the end of August, Guzan was in. He was Lambert's choice for the game at Newcastle; being dropped against one of his former clubs must have hurt Given, but Guzan has barely put a foot (or gloved hand) wrong during a run of consecutive games which started at St James' Park and continued against Swansea, Southampton, West Brom and Spurs.

In that sequence, Guzan has only missed one match, and that was in the League Cup, at Manchester City. Given came in for that one. Such occasional cup encounters are familiar to Guzan. It used to signal a rare call to action for him.

The life of a goalkeeper can be tough. Unlike outfield positions, managers are loath to chop and change too readily, and so, in today's Premier League, a back-up 'keeper is often exactly that: a back-up. Serving bench duty until injury or other misfortune - dramatic loss of form, say - strikes the first choice. No sooner had Guzan signed for Villa, then his place in the pecking order was more or less confirmed: following him swiftly in through the door at Villa Park in the summer of 2008 was compatriot Brad Friedel. One of the Premier League's all-time goalkeeping greats and, at that time, still one of the most accomplished around, even in his late 30s.

Guzan, at the other end of the age scale, was Friedel's able deputy, which was fine. For a while. When he got an opportunity, he invariably shone. In the 2009 pre-season Peace Cup, during which Villa fielded a largely inexperienced team, Guzan saved two Juventus penalties (Iaquinta and Del Piero) in the shootout as Martin O'Neill's side won the tournament. A few months later, in an autumn League Cup tie at Sunderland, Guzan's reputation as a penalty-saving specialist gathered pace with a stunning performance. He saved four spot-kicks, one in normal time and three during the shootout, as Villa progressed to the next round.

Guzan was Villa's 'keeper throughout that League Cup run, though he looked admittedly shaky in the first leg of the semi-final at Blackburn, hesitant under the home team's high balls. But whereas some club managers (sir Alex Ferguson springs to mind) will keep faith with such cup selections all the way through a competition, O'Neill did not. For the final, Guzan was dropped, and in came Friedel. It was a timely reminder that Guzan wasn't totally trusted in the big games.

With Friedel endlessly consistent, Guzan's exposure to the Premier League was minimal: there was actually a two-and-a-half year gap between his first league appearance (March 2009 v Liverpool, when he came on as a sub after Friedel was sent-off) and his second (at home to Manchester United in December 2011). That United game was his first league start. He'd been at the club for over three years by then. And he was only in the side because Given was injured.

That brief spell, a handful of games, in the winter of 2011-12, probably confirmed Guzan's suspicions. He played well: I recall him standing up strongly at Stoke on Boxing Day and keeping a clean sheet in a 0-0 draw. A few days later, he starred in victory at Stamford Bridge. But when Given was fit, then manager Alex McLeish brought the Irishman straight back in.

Guzan could be forgiven for wondering if his future lay away from Villa. It's perhaps his bad luck to have found two of the outstanding Premier League goalkeepers in history keeping him from the first team, but now he has the advantage. Given, quite rightly, has spoken of his desire to win the jersey back and, though he's 36, is far from finished yet. The challenge for Guzan is there.

But the USA 'keeper, who must also have his eyes on reeling in and overhauling Tim Howard as his country's No.1, is significantly younger at 28, an age when stoppers are not yet in their prime. And, although he perhaps doesn't look it, is taller than Given at 6ft 4ins and seems, on the evidence of this season, more than capable of looking after himself in the penalty area. The physical stuff doesn't affect him as it once did, the reflexes are sharp - there's a springy quality to his game - and the eyes have a steely look that suggest, now he's got in front, he won't be taking a step back easily.