A weekend of window shopping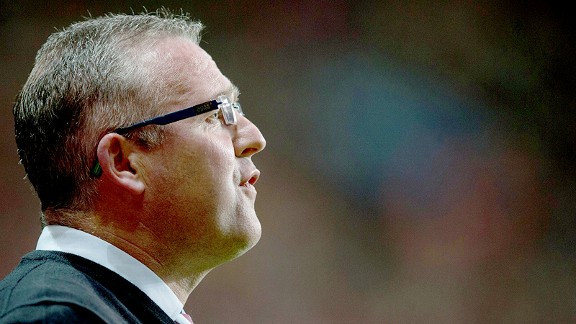 Neville Williams/Getty ImagesAston Villa manager Paul Lambert could still very well have a few last-minute transfers up his sleeve.
For the football-free Villa fan, there is little to occupy the mind this weekend other than the looming closure of the transfer window and the question of whether Paul Lambert will add to his squad.

With Villa's Premier League match against Chelsea, originally scheduled for Saturday, rescheduled and already played, Lambert technically has a free weekend to play with. Technically; the reality is that time will be taken up either making or taking phone calls, looking to progress any late deals, in and out of the club, before the transfer window officially closes at 11pm on Monday (September 2) night.

- Report: Lambert: Villa will bounce back

The Villa manager may even manage to squeeze a match or two in, seizing the chance for a final scouting mission on a potential target. No doubt, if Lambert is spotted in attendance at a particular game, Villa will inevitably be linked with the most suitable player on the field. Unless he's at St James' Park, for Newcastle against Fulham, of course; the Magpies are Villa's next opponents, on September 14. If he's seen at a Football League fixture, or a European match, game on -- speculation overdrive.

It's difficult to second guess Lambert. The Villa manager, possessor of a fine poker-face, gives little away. He's been asked the inevitable question this week, because journalists are required to do so, and he's answered, because as a Premier League manager at a press conference, he's obliged to. But his response has been vague and ambiguous, to say the least: there might be movement, yes, though not major movement.

What is known of Lambert's modus operandi in the transfer market is that he doesn't indulge in long-running sagas -- deals are completed, and announced with very little preamble. Of his six signings earlier this summer, there was barely time for the speculation to break before each of them were pictured with shirt and beaming smile.

That said, there have been some links over the past few days, and two, in particular, stand out. First, Tom Ince, the Blackpool winger. Slightly left-field this (much like the player's position) as Villa don't strictly play with wingers these days, preferring to use Gabby Agbonlahor and Andreas Weimann in the wider attacking roles, and with Aleksandar Tonev and Marc Albrighton to turn to in any case. Yet, with Villa still seeking that attacking midfield type, and Ince capable of playing there too, there could be some truth in a rumour which has grown in prominence this week.

Blackpool would sell for around £8m, having agreed a deal with Cardiff in July, only for Ince to decline the move, citing a desire to remain in the north-west. With reported interest also from Everton, there is competition; but while geographic location isn't in Villa's favour, a decent relationship with Blackpool is. Villa have again re-loaned Nathan Delfouneso to the Seasiders for six months, and there have also been suggestions of Blackpool interest in out-of-favour midfielders Barry Bannan and Stephen Ireland; potential leverage if Lambert is genuinely keen on 21-year-old Ince.

The other persistent incoming rumour is a loan deal for Porto's Senegalese centre-back Abdoulaye Ba. Not a new name to discuss -- Ba was mentioned last season, but since then, Villa's need for a central defender has lessened with the arrival of Jores Okore. Still, despite some evidence of defensive improvement this season, Villa remain vulnerable at the back and it may be a loan is just too good an opportunity to turn down. Porto would apparently want just under £500,000 as a loan fee for Ba, who's 22 years old and frankly huge: he's 6ft 6ins. He could put a stop to any of Villa's set-piece shakiness.

Any late transfers are likely to depend on Villa's success at shifting unwanted members of the squad. Here, movement is all but certain. Shay Given is likely to move to Liverpool, where he'd be back-up to Simon Mignolet, the 'keeper who denied Villa with a couple of fine saves last Saturday. Something of a surprise, for it was felt Given, at 37, would prioritise regular football at this stage of his career, having occupied Villa's bench in 2012-13. To play, or be paid, Shay?

Bannan could stay in the Premier League with a switch to Crystal Palace, where he'd be reunited with Ian Holloway, for whom he played during a loan spell at Blackpool (who themselves are said to be interested, as we've already covered). Celtic's reported interest seems to have come to nothing. Alan Hutton has been tentatively linked with Rangers, while another full-back, Enda Stevens, was loaned to Notts County for a month earlier in the week -- making an emergency debut against Liverpool in the Capital Cup, no less.

That really just leaves the eternal problem of what to do with Ireland. The midfielder doesn't appear to be in a hurry to kick-start his career anywhere, having reportedly rejected a transfer to an overseas club. Middlesbrough have been suggested, and a late, late, loan move may yet materialise.

And that's how it all stands with Villa right now, with the final few days of transfer craziness to come. Nothing for fans to get overly excited about, though one significant deal could always be secured -- completely out of the blue, last August, Villa had a bid for Fulham's Clint Dempsey accepted, only for the player to opt for Spurs instead. No one can ever really know for certain until the window closes.