Roma finally back to winning ways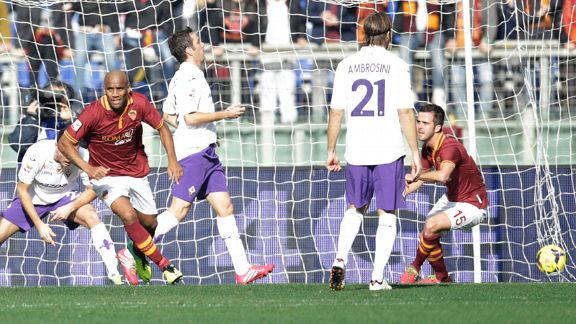 APMaicon celebrates his early goal for Roma against Fiorentina.
After four draws in a row, winning again was a crucial objective for title-challengers Roma. A narrow 2-1 victory over Fiorentina in a very entertaining match showed the best of the club, an ability to overcome a very tough opponent and continue their unbeaten record not only in Serie A, but also against Vincenzo Montella's Viola.

Fiorentina were a familiar opponent last season but Roma won all matches played against them in both the league and the Coppa Italia. There's simply no doubt that both sides are far, far better now than they were a year ago, with Roma having overhauled much of the squad and the coach and Montella having recruited some superb signings this summer. Thus, last season's encounters did not mean much at all this year.

Roma got off to a flying start, despite Fiorentina having perhaps the first real chance, when man of the match Gervinho provided an assist at the far post that Maicon smashed into the net. Really, the home side should have gone on and added more to their tally as they dominated the opening quarter of an hour, but Neto saved a very good Daniele De Rossi header and Fiorentina began to assert themselves.

Dodo deserves some discussion: On the whole, he had a decent match given he was up against Juan Cuadrado and kept him very quiet almost the entire time. The left-back did, however, play a significant role in the goal conceded, losing the ball and failing to run back into the box as Juan Vargas scored from a cutback. At just 21 years old and only having become a starter within the past few months, he's by no means the perfect full-back but he has done a very serviceable job on the flank.

Luckily, the goal conceded did not prove fatal. The home side played pretty poorly between conceding that goal and scoring again, but Gervinho turned on the panache to deliver a fantastic ball for Mattia Destro, fresh back from injury, to score after 68 minutes. The last spell of the game saw Fiorentina push and prod but fail to make Roma break, with Leandro Castan turning in a monstrous performance and saving the result with a simply fantastic tackle at the end.

Other talking points:

Miralmen Pjanic's red card was coming all match. Clearly unhappy with referee Daniele Orsato and booked for dissent, rumours emerged that during halftime the two had a very heated discussion in the tunnel. His second yellow was deserved and Roma will have to do without him for at least the upcoming match against Milan.

Orsato however was no saint -- he missed a number of calls for Roma, including somehow failing to blow for a foul when Kevin Strootman was kicked in the side late in the game.

Adem Ljajic has not been very influential for a few weeks now -- with Francesco Totti fit again, it wouldn't be surprising to see him back on the bench.

Anyone know where Alessandro Florenzi's shooting boots have gone? I miss them.