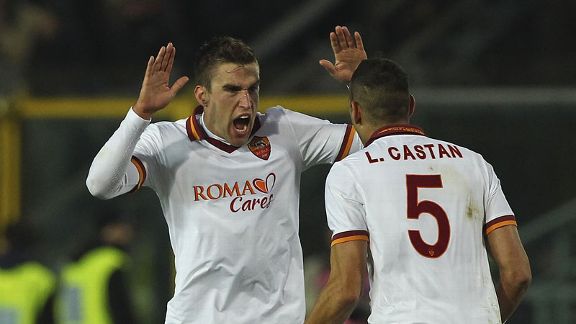 GettyImagesKevin Strootman salvaged a late point for Roma at Atalanta.
This Roma sure are streaky. After 10 wins in a row comes four draws. The fourth of which, a 1-1 draw at Atalanta, involved something new from Roma, conceding first and storming back to earn the point right at the death. So often we see Roma go up and not concede (see: first 10 matches) or even Roma go up and then concede (Torino). This was something new and different, as familiar and frustrating as a draw may seem at this stage.

First the concession: Morgan De Sanctis committed a bit of a howler as the ball popped up over the ground and into the net from what should have been a routine save from a free kick. It was, frankly, rather inexcusable, but the goalkeeper has been in super form this season and mistakes unfortunately do happen. Encouraging was the play that occurred from Roma after conceding. Boring and dour was the play that happened before.

With Francesco Totti out injured and Miralem Pjanic benched because of a slight muscle problem, and to try and avoid another yellow and thus avoid suspension against Fiorentina, it's no real surprise that the team did not look terribly offensive or creative. They looked solid but unspectacular, with Atalanta edging them in terms of possession around the box but failing to ever really test De Sanctis. The defence bent but only broke once (when again it really shouldn't have) and a 0-0 draw looked to be the final outcome.

After the opening goal from Atalanta's Davide Brivio, the game was different. In came Pjanic and Adem Ljajic, who immediately sparked the attack to life. Wave after wave of pressure resulted in a goal from Michael Bradley, which was ruled out for offside after touching the arm of an Atalanta defender. Though clearly a penalty, the referee didn't call it.

Luckily, the side managed to score anyway, with a fantastic dribble from Ljajic finding Kevin Strootman making a run toward the goal line. The result felt like a point snatched, so close to defeat, but in the grander scheme felt disappointing after three other draws against sides that should be easy on paper.

There are two ways to take this. First, the side area still unbeaten and will end the matchday in second no matter what the other results around the league. The other: Roma are failing to take full points against smaller sides and now face Fiorentina truly needing to win. The side has a tendency to play up to the opposition, as evidenced by the wins over Lazio, Inter and Napoli already this season, but next Sunday's match now has even more pressure on it. Last season, the side did remarkably well against Fiorentina despite all the turmoil, a trend Rudi Garcia will hope he can continue.

It's clear that without Francesco Totti, the side are not the same up front. Yet the real issue may just be a lack of conviction and luck. Though on Sunday, chances were few and far between, in the past three matches and beyond there have been genuine chances that goalies continue to save. Strootman's goal and the final half hour of the match will hopefully ignite a stronger mentality for the side to carry throughout the foreseeable future.

Another draw may be disappointing on paper, but not all draws are the same.