Four things we learned from the Cagliari draw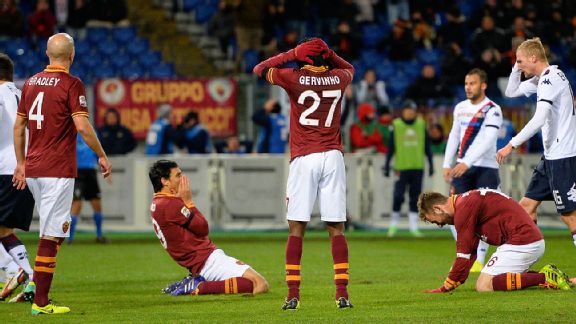 Andreas Solaro/Getty ImagesRoma did just about everything right except score in Monday's 0-0 draw with Cagliari.
A nil-nil draw against Cagliari when the side needed to win to regain first place seems like an awful result, but in reality, the team played well and were only denied a victory by a fantastic performance from Vlada Avramov. Here are four quick takeaway from Monday's contest.

-- Francesco Totti's goals weren't key -- just his attitude. There's been quite a bit of talk about how the offense has suffered without the captain playing, and the numbers certainly back that up. In the five games since Totti's injury against Napoli, Roma have not scored more than once and Monday failed to score for the first time all season. Yet Totti had the same amount of goals as Miralem Pjanic and Adem Ljajic and less than Gervinho. It's not his goals that Roma have missed; it's the belief he brings to the team. With him, the attack seemed to score at will. Without his incisive passing and experience, the side still create chances but have become much more profligate.

- Report: Roma 0-0 Cagliari

-- The defense is the real deal. Roma were probably never really in the hunt for the Scudetto (although it's certainly foolish to think about that too much for any team in week 13), but the side indubitably have one of, if not the best, defense in Serie A. Question marks were raised after conceding twice in two matches but the home team kept a clean sheet versus a Cagliari team that scored eight goals in their last two meetings between the sides. That's ten clean sheets in thirteen matches now, with more superb performances from Medhi Benatia and Morgan De Sanctis, who have hardly made a mistake at all this season.

-- Dodo is growing into a genuine full-back. His crossing leaves much to be desired, but for a 21-year-old with very little match-day experience in his career, Dodo is quickly transforming into a more than decent option for Roma. He completed all eleven of his attempted clearances, completed 86% of his passes, won two out of four headed duels and two out of three tackles according to Squawka. He may never be Douglas Maicon, but he is certainly not a bad pairing to have on the other flank.

-- Being second is still a success. After 13 matches Roma are unbeaten, having conceded three goals, drawn three times and won all other ten matches. Failing to win in three may seem concerning, but the side truly did everything right today except score a goal -- and had Gervinho, Kevin Strootman or Maicon's shots gone into the net, this easily could have been a thrashing instead of a draw. In reality, this league is still Juventus' to lose and the target for Roma continues to be Europe. At this pace, Roma are well on course for a fantastic season, but expectations must be kept in check.