Gervinho back but full-backs not alright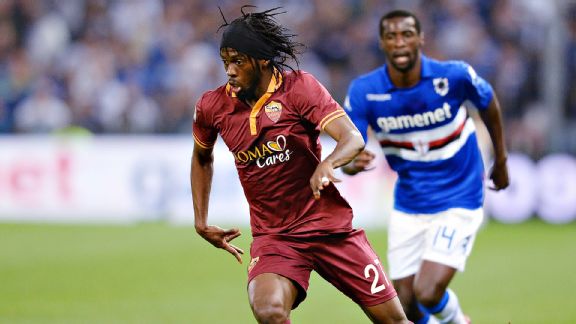 Claudio Villa/Getty ImagesRoma are plagued by injuries, however one expected return for Monday's clash at Cagliari is striker Gervinho.
With the Cagliari match just over the horizon this weekend, the piling list of injures at Trigoria certainly does not seem like a good omen. With two attackers on their way back into the squad, a number of midfielders and defenders may not make Monday's home clash.

- Report: China's richest man eyes Roma

The good news: Gervinho and Mattia Destro both seem fit and ready to go. The former looks like he's all better from a left quadriceps injury and should be set to start. Destro, having not featured for Roma in ten months, almost certainly will be on the bench and should start getting regular minutes to see his fitness increase. Finally, Medhi Benatia is almost certain to get a clean bill of health to play as well.

The bad news: a lot. Daniele De Rossi's toe problem hasn't gotten much better and he looks a major doubt for Monday, though he did some training with the group on Friday so might just make it. Marco Borriello's ankle woes are still an issue but he may be fit enough for the bench. Francesco Totti is certainly out for Cagliari but seems to be making steady progress.

Those are the injuries known prior to Friday. As of Friday, the list has increased: Vasilis Torosidis has sustained a lesion to his right adductor and is set to be out for two to three weeks.

Torosidis has not quite been a starter this season but has done very well to fill in as a full-back whenever needed, which has been quite often so far as Douglas Maicon has gone through injuries and a suspension himself.

Oh, and Federico Balzaretti has tendonitis and may miss the match as well.

Altogether, this means Roma's lineup come Monday could look something like:

Morgan De Sanctis; Douglas Maicon, Medhi Benatia, Leandro Castan, Dodo; Michael Bradley, Miralem Pjanic, Kevin Strootman; Gervinho, Adem Ljajic, Alessandro Florenzi.

The upside here? Bradley is much more similar to De Rossi than he is to Pjanic so should De Rossi miss the match, the American can at least replace him without completely interrupting the midfield flow. Up front will see the return of the two wide men who were so devastating when Totti's passes found them on the counter and thus will require Ljajic to alter his game somewhat and utilize them as much as he can. Otherwise it's a mostly full strength eleven and Dodo has improved this season; Balzaretti may well be the least-missed absentee of the regular starters.

However it's hard to understate just how good De Rossi has been this season and all of the astronaut training in the world still might not be enough to get him healthy in time. It's much more preferable that he miss one match than try to play through injury and make it worse, but it will take an awful lot from Bradley to prevent the shield in front of the defense from being missed too much.

Furthermore, having so many injuries at once can easily interrupt the balance of the side. The attack noticeably fell off after Totti and Gervinho were absent; playing without De Rossi, Totti, and Balzaretti at once might prove similarly disorienting.

Without the captain and with the vice-captain looking to be a major doubt, a solid performance over Cagliari would do wonders to keep the side's momentum intact and raise belief in the group before the pre-Christmas jousts against Fiorentina and Milan.